The Prince Ripstick is here! An aggressive-looking and sounding racquet for the aggressive player! Rip to win.
When I got the new Prince Ripstick demo, I couldn't help but laugh out loud. Talk about a BOLD design with exciting colours, large o-ports and a thick beam. Tennis racquets rarely offer much in terms of interesting design these days, but the Prince Ripstick puts that to bed. And this racquet is as aggressive as it looks. You get loads of spin and power, but surprising comfort from the O-ports.
Read more about the Prince Ripstick at our affiliate Tennis Warehouse.
Spec check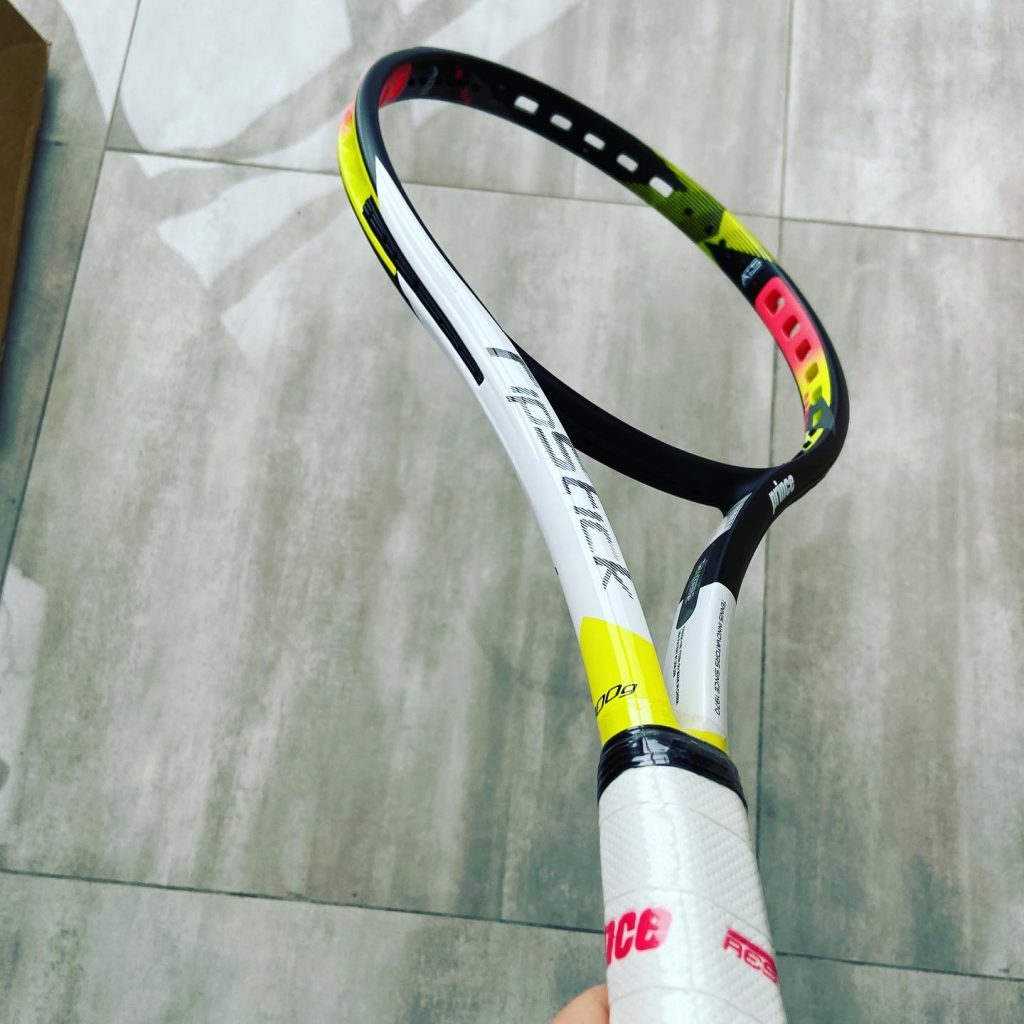 This post focuses on the Prince Ripstick 300, but there is also a 280g version that I will include in my full review.
Head size: 100 sq inches
Weight: 300g (mine was 301.7g)
Balance: 31.8 cm / 7 pts HL
Swing weight: 293.5
String pattern: 16×18
I strung it with Toroline Caviar 1.24 at 55 lbs (25 kg) and got the following strung spec
325g / 11.47 oz, 32.3 cm / 5 pts HL, 327 SW
A pretty beefy spec for a so-called "tweener racquet" focused on power and spin (I'm not complaining).
How does it play?
I had a lot of fun hitting with the Prince Ripstick. It makes you want to go for your shots because the power and spin comes effortlessly. If you hit with a flatter stroke or trajectory, this racquet might make the ball sail on you, but if you like to rip and whip and generate top spin, this is for sure a weapon to consider.
Groundstrokes: Great on groundies if you hit with spin – otherwise tough to control
Volleys: Stable and fast at the net, but the power level can be too much
Touch: I enjoyed it on drop shots – you can get a lot of different spins on the ball
Slice: It carves a nice slice for an open pattern
Serve: Easy power and easy kick! FUN to serve with
This is perhaps not the racquet I play my best tennis with (I need more control), but it does put a smile on my face. It just inspires you to RIP the ball and as long as you're not in a tense match where every millimeter counts, it can really be a great friend on the court.
Comparison racquets
Babolat Pure Aero 
HEAD Extreme
Wilson Clash
Like I mention in the video part of the review, stringing o-ports requires some patience and they do eat strings faster due to the increased string movement, but they also enables a 69 RA stiffness racquet to be relatively arm-friendly (so thumbs up for that).
These are my first impressions, I will give a more in-depth review including the 280g version in a week or two.
What do you think of the design and idea behind the Ripstick?