Andrei Rublev has started 2020 in spectacular style with two ATP titles! He is known for his impressive racquet head speed and aggressive game. But what is Andrei Rublev's racquet?
Andrei Rublev's racquet is currently blacked-out as he is under sponsorship with Wilson and is, by all indications, using a HEAD Gravity Pro (click to read my review). They might still be negotiating, or waiting for his contract to terminate, but the results Rublev has had with the Gravity Pro speak for themselves. It is obviously not all about the racquet, but last year he seemed uncertain about his choice as he was switching between his regular Wilson Six One 95, an H22 and an H19.
Ps. If you want to purchase Andrey Rublev 's tennis gear, check out my affiliates Tennis Warehouse, Tennis Warehouse Europe or Tennis Only (AUS). If you buy anything through my links, Tennisnerd gets a small commission. DS.
Andrei Rublev's Racquet – Specs unknown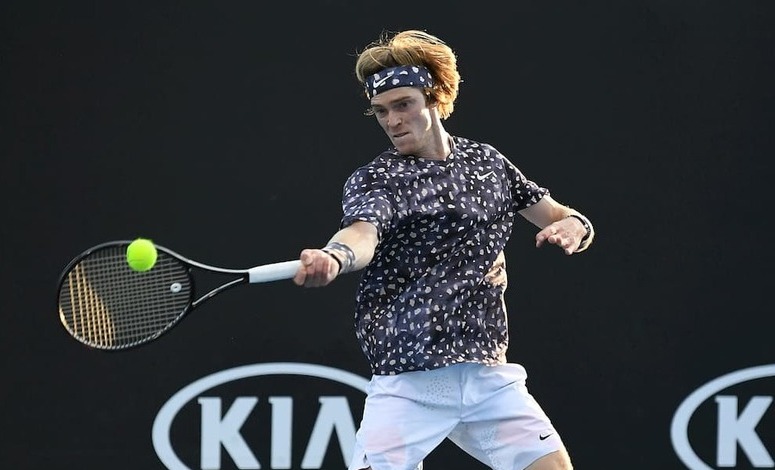 Sadly, I do not know the specs for Rublev's racquet. He used to play with a Wilson Six One 95 with some lead tape at 12 bringing the weight up to 360 grams strung. He strung that racquet with Luxilon Adrenaline 1.30, but now with the Gravity he seems to have made the switch to HEAD Lynx Tour strings.
The HEAD Gravity is a very different racquet from the Wilson Six One 95. Thinner beam, larger head size, teardrop head shape and so on. To be able to swing this as fast as his old racquet, I am sure he has reduced the weight somewhat. If anyone knows more about his current specs, please comment below!
No matter what racquet Rublev uses, you cannot overlook the fact that he is an exciting player to watch with huge potential in the game.
If you want to find out what racquets other ATP pro's use – check out this page.