I previously wrote about Bernard Tomic's controversial press conference and him being fined 15 000 USD by Wimbledon. Now his racquet sponsor, HEAD, has stopped their sponsorship.
Has the consequences of Bernard Tomic's press conference where he said he was bored of tennis and alluded to playing ten more years just for the money gone too far? You be the judge. After the 15 000 USD fine from Wimbledon, HEAD issued the following statement: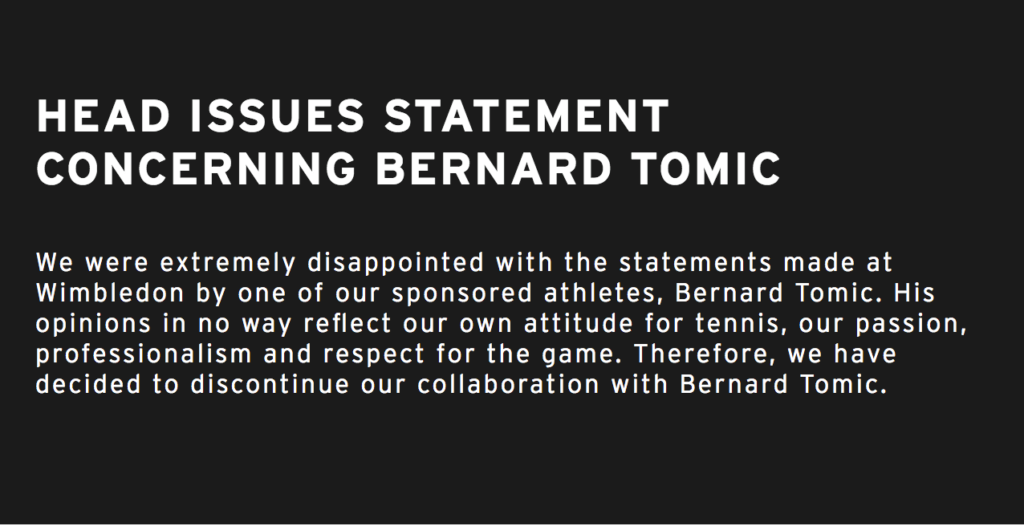 Tomic has been playing with HEAD racquets for a long time and the racquet he's been playing the last couple of years is the HEAD Pro stock 260.5 (in a HEAD Graphene Radical XT MP
 limited edition paint job) which is HEAD racquet lingo for the Radical IG Pro
– an excellent stick that has quite a big fan following and is hard to come by these days. What did the HEAD IG Radical Pro so great was the stability, the "just-about-right-" flex (RA 62) and the stability (balance was close to even).
The racquet is extremely string sensitive but works great with hybrid setups. Tomic is using a combination of Signum Pro Tornado 17
and Babolat VS Team Natural Gut
.
It will be interesting to see how long Tomic's clothing sponsor Nike stays with him. Are they preparing a statement as I write this? Tomic is using Nike Vapor Tour 9.5
, Nike Ace Henley shorts
 and Nike Mens Advantage Henley
 shirt (white for Wimbledon).
So the big question is: What will Bernard Tomic do now? I've seen online polls were people can vote on whether he should quite or not. That seems a bit drastic to me. I think he definitely needs a new coach that can work with him on his mental approach and get him to understand that you really only get one shot to be a professional athlete and if that is not what he wants in his "heart of hearts", he should definitely quit, but I think most professional tennis players and sportsmen go through highs and lows in their career mentally. Tomic has been extra vocal of his lack of motivation, but you obviously see other players throwing matches away and not giving it their best effort, so he's not alone. He definitely needs to see a sports psychologist and try to do a 360-makeover to his mental tennis game.
Because there is no doubt that Tomic is a talented player. There is a reason he's featured in my number one favorite tennis game of all time (Top Spin 4 to Xbox 360
) and he can be quite entertaining to watch on a good day with his awkward flat groundstrokes and cunning movement of the tennis ball. He is still young and has a chance to turn it around and I much prefer him to give it his best effort than to just give up and do something else. But obviously, that's all up to him.
There has been some comments that it's weird that HEAD stands behind Sharapova and her doping case, but decides to "fire" Tomic due to lack of motivation. What do you think of this? Separate stories and cases or just a crazy decision? Please comment below.