Matteo Berrettini jumped up the rankings during 2019 and is currently at position number 8. His powerful game can be a true joy to watch, but what is Berrettini's racquet?
Berrettini's racquet is a HEAD Extreme pro stock and according to a Tennisnerd reader and Italian tennis forums (grazie mille!), he uses the TGT 285.2 (HEAD IG Extreme Pro) with silicone and lead tape added, to make it 326 grams with a balance of 32.6 cm (unstrung). This should create quite a hefty swing weight, my guess around 350 or just below.
Matteo strings his racquet with Signum Pro Firestorm
at 23 kg or 51 lbs (which might change slightly depending on the conditions). It does sound like a very powerful setup for a pro player, but with Berrettini's wristy technique and racquet head speed, he still manages to control the power pretty well.
If you want to find out more about Matteo Berrettini, check out his ATP player page.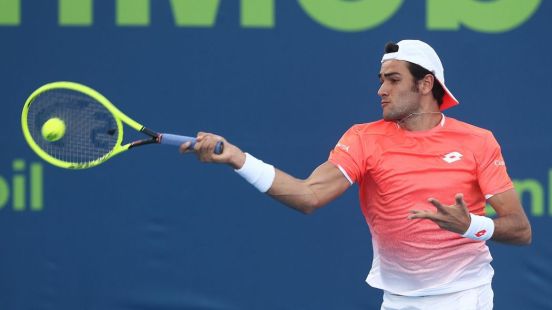 Berrettini's Style
Berrettini plays pretty much like his racquet and physique suggests, with BIG power. He can absolutely murder the ball on both the backhand and the forehand wing, and has a huge serve. His issue is that he tends to overhit when the tempo increases. Partly because it is not easy to move fast when you are 1.96 m (6′.5″) and 95 kg (209 lbs) and also because his style is based on power and spin, which requires a longer swing. Still, he has won a title on grass, which means the potential for bigger things is there.
At times this style of play must be limiting, but he has still managed to climb to the top ten of the rankings, which means he has found a way to manage it in a good way. He is also only 23 years of age, which means he has a lot of time to improve. And he would need that to be able to consistently beat the players ranked above him. This was evident at the 2019 ATP Finals, where he lost his matches quite badly. Let us call it a learning experience.
My Video about Matteo Berrettini's Racquet