When you think about Christian Garin's racquet changes you start to wonder how he is doing mentally. Results-wise, not great.
The 25-year-old from Chile has a 3-5 win-loss record in 2022 and his recent losses to Alejandro Tabilo and Federico Coria, were not too pretty. Maybe we can read something from his Garin's recent racquets changes? In the last few months he has played three different racquets. First: his HEAD Radical pro stock, which he used for several years. Then he switched to a Wilson H22 in Blade V8 paint job, but that didn't last long. In his last match against Tabilo, he was using a Yonex Ezone 98 (not sure exactly which version).
If it's the current version, you can check out my Yonex Ezone 98 racquet review here, but it can also be the popular DR 98 version or something completely different. Garin is not alone to woved by the Ezone 98. Kokkinakis made the switch earlier this year and had great results and Shapovalov has also made the move.
You can buy the Yonex Ezone 98 from Tennis Warehouse or Tennis Warehouse Europe.
What can Garin's racquet changes mean?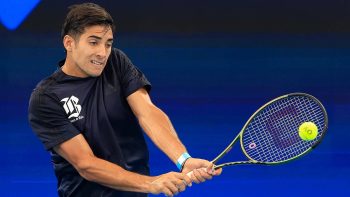 They can mean a few things.
His contract with HEAD is out and he wants to get a better deal.
He wants to try something new and see if he can get more out of his game.
He feels lost about his game and turns to racquets (I am there all the time!)
He is not alone in being a racquet switcher extraordinaire. Dimitrov and Verdasco are two great examples that often show up with different models. But in recent years, they've been relatively loyal to their racquets.
Like I always say in my consultations, we all want the ideal racquet for our game. But focusing too much on the racquet can lead us astray and make us feel disconnected to our tennis. In the end, this can harm our enjoyment of the sport and our results on the court.
I'm not sure what's going on in Christian's life or his game, but these racquet changes strike me as a sign of chaos. I hope he figures it out and finds his frame and his game.