David Nalbandian is one of my favorite players to watch. He hit the ball heavy and clean and had the game to beat anyone. But what is Nalbandian's racquet?
David Nalbandian retired in 2013 and can now be seen more on the amateur rally circuit and with a padel racquet in his hand. His highest ATP ranking was number 3 in 2006 and he reached the final in Wimbledon 2002. Nalbandian's biggest title came when he famously beat Federer in the 2005 ATP Masters Final. He was also a finalist in the Davis Cup on three occasions – 2006, 2008, 2011. You can read more about David Nalbandian's tennis background on his personal website (which does look a little dated). This post mainly deals with Nalbandian's racquet.
Nalbandian's double-handed backhand was a true thing of beauty. He just had a really impressive ball-striking ability and his shots always seemed to be extremely heavy. He was sometimes criticized for not being in better shape, but I am not sure that's the whole story. If you beat the big three in a row as he did in the Madrid Masters in 2007, you can't be out of shape (although your conditioning can always be better, I guess). PS. For racquets of the big three, check out this video DS.
Nalbandian's Racquet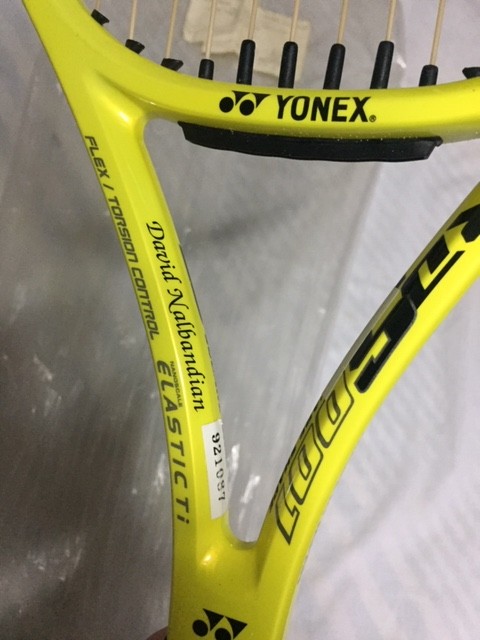 Nalbandian started his career with a Prince Graphite OS Longbody that he used until 2004, when he switched over to Yonex. There seems to be some debate around whether he moved over to the Yonex RDX 500 MP in extended-length and then switched to the RDS 001, or if he got a pro stock racquet from the start painted as the RDX, which then became the mold for the RDS 001. Pro player racquets can be a rabbit hole since it is sometimes hard to find information as the companies like to keep paint jobs and pro stock molds hushed up.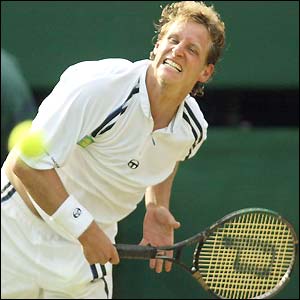 Greg Raven has shared Nalbandian's racquet specs from 2009 on his website. The specs were taken by Casey Maus of Star Stringing and David Mindell at the Indian Wells in 2009.
Nalbandian's personal racquet was also for sale on Stringforum a while back by the seller "Foxshop".
Nalbandian's racquet was very heavy with a high swing weight.
Racquet Model: Yonex RDS 001
String: Luxilon Big Banger Original 16 at 50 lbs

Head size: 98 sq inches
Length: 28 inches
Weight: 377g
Balance: 32.3 cm (6 pts HL)
Swing weight: 377
So a real beast to swing, but if you have the technique of Nalbandian, it will create a very heavy shot.
David Nalbandian – hot-headed maestro

Nalbandian was a brilliant player, but he had his ups and downs. I think most remember the outburst he had at the final in Queens in 2012 when he kicked a wooden panel that ended up in a linesman's leg. The scene wasn't pretty. The linesman was bleeding and Nalbandian defaulted and Marin Cilic given the victory.
He did have a temper and got into plenty of spats with umpires over his career. He also broke plenty of racquets. But let's not think too much about that. Instead, let's remember his professional career as a successful one and his game as one of beauty and efficiency.
What do you think of David Nalbandian's and his big game?