I play-tested three models in this ProKennex racquets review and they are all good options for players suffering from tennis elbow.
This ProKennex racquets review covers three new models:
ProKennex Ki Q+5 300
ProKennex Ki Q+5 Tour (300)
ProKennex Ki Black Ace Pro (305)
The links above are all leading to Tennis Warehouse Europe, who sent me the demos. For ProKennex racquets in the US, you can go to Tennis Warehouse. Sadly, they are not available at Tennis Only. I don't know why. Any purchase from any of these links will send a small commission to me, which will help me run Tennisnerd and create more content. Much appreciated!
If I would put these racquets into more familiar categories, I would say that the Q+5 300 is a Pure Drive, the Q+5 Tour 300 is a Blade 98 and the Black Ace Pro 305 is a Pro Staff. Let's go through them one by one. You can also jump straight into the video review below.
ProKennex Racquets Video Review
I play-tested the three ProKennex racquets alongside four other players. The opinions varied slightly, but I was alone in finding the yellow Q+5 300 to be the best one. It again shows how personal racquets are. The consensus among the better players in the play-test was that the ProKennex Black Ace Pro (305) was the best one in terms of feel and performance. I see their point of view because it's a very good racquet, but I played better tennis with the Q+5 300.
The Q+5 300 Tour landed in between for pretty much all play-testers except for Joao, who really enjoyed this frame.
What makes ProKennex Racquets Different?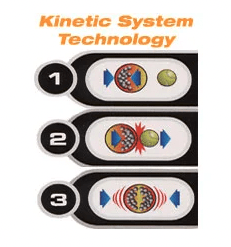 ProKennex product focus is creating arm-friendly racquet that perform well on court. To do that, they use their Kinetic technology where microbearings are placed inside four chambers inside the racquet and move along with the racquet to absorb shock at the impact with the ball. This technology really works well and I have not sensed any discomfort with these racquets, even strung with a full bed of poly strings.
I tried Solinco Hyper-G Soft, String Project Rocket, Babolat Xcel, and Mayami Big Spin in these racquets at various tensions. The stiffer the string, the lower I strung it.
ProKennex Ki Q+5 300
Why was this my favorite among the racquets? Because it gave me impressive plow-through, stability and control without skimping on comfort. Yes, its almost even balance, 330 swing weight and thicker beam (not thick though at 21.5 mm) makes it move slower through the air than the other two, but I just found excellent plow-through and control from this one and it suits my flatter game style.
Pros:
High forehand winner potential if you swing it like Delpo!
Stable as a rock for 300 gram racquet
Arm-friendly despite 65 RA stiffness strung!
Cons:
Can feel sluggish (struggled on my one-hander)
Too powerful for some
Best strokes: Loved it on forehand and returns
Solid performance on: Volleys and serves
Weaker on the one-handed backhand and not the most spin-friendly
ProKennex Ki Q+5 300 Tour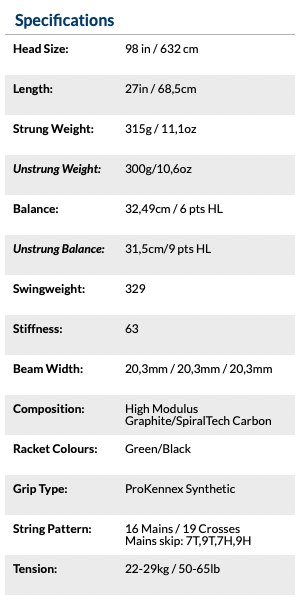 This landed in the middle of everything. It's a Blade or even H22 in many ways. Solid, thinnish beam, good control. An all-round performer. But it didn't feel quite as solid as the regular 300 and I preferred the 16×20 pattern. Still, a versatile frame for all-court players!
Pros:
No weaknesses
Stable for a 300g racquet!
One-hander felt much better than its yellow brother
Cons:
No real cons, but no real standouts either
Best strokes: One-hander
Solid performance on: Pretty much everything else
ProKennex Ki Black Ace Pro 305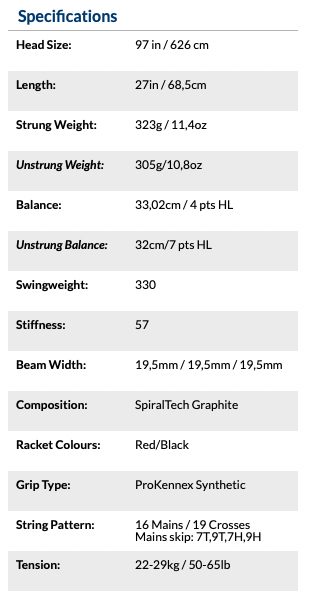 Watch out fans of player frames and plush feel! This one flexes at 57 RA strung, has a 330 swing weight and is quite whippy thanks to its 19.5 mm beam. The more advanced players of the play-test really enjoyed this one. One said that it was a far superior Pro Staff!
Pros:
Spin to win
Fast feel despite high swing weight
The feeling at the net is sublime
Cons:
Could catapult the ball at times
Smaller sweet spot
Summary
There you have it. Three excellent racquets, not only for players suffering from tennis elbow. All five players put these racquet aside respectfully and I'm not keen on sending them back to Tennis Warehouse Europe.
I might be buying myself two ProKennex Ki Q+5 300 and play them until my arm heals completely or I have managed to channel Delpo's forehand. It has the feeling of a Six One 95 with a bigger head and less head-light feel. SOLID!
If you have type of arm situation – check these frames out!