One of the most anticipated racquet launches in 2019 is the new Babolat Pure Strike. My friend Henrik Wallensten gave the Pure Strike 100 a glowing review and now I have finally been able to try it myself. Here are my Babolat Pure Strike 100 2019 first impressions:
Let me quote from "Hank's" previous review: "The hitting-partner I played with when testing the new Strike 100 is using the 2017 Strike 98 and he was totally blown away when he got the chance to try the 2019 Strike 100. He instantly said it felt much more solid than the 98 2017 version and asked when he could buy this frame." People thought it was almost like a marketing post from Babolat, but after playing with this frame a few times now, I can understand the comment. It really seems like a big improvement over the previous Pure Strike 100. So here are a few of my first impressions of the Babolat Pure Strike 100 2019.
Babolat Pure Strike 100 2019 – Specs and tech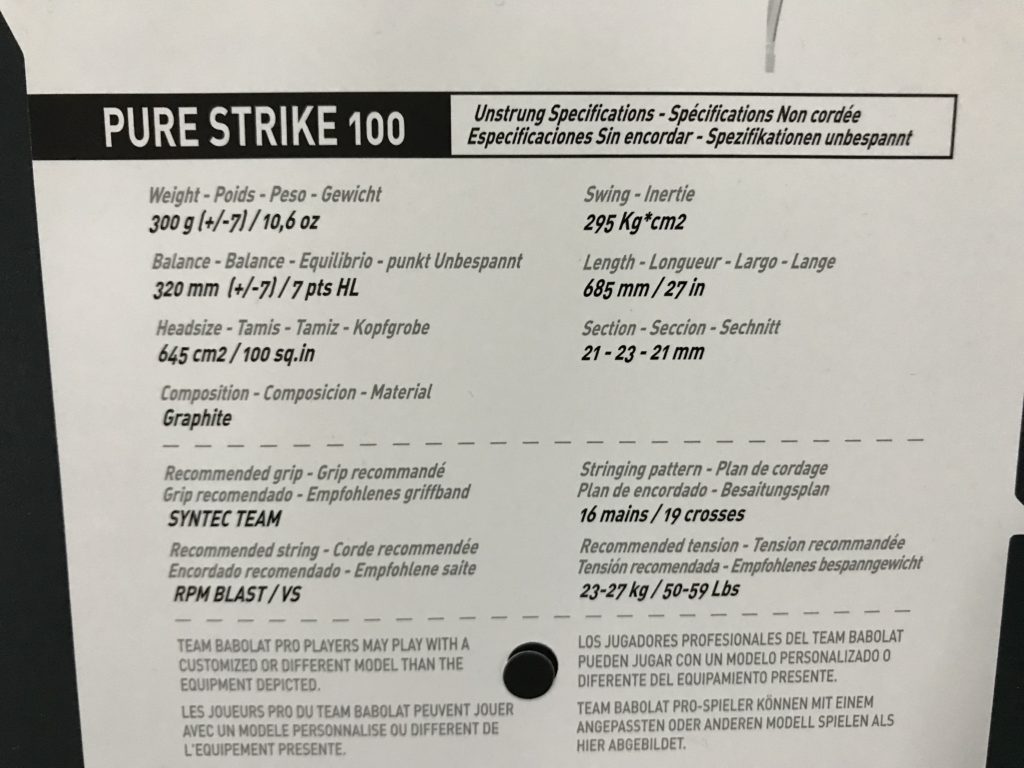 What is not listed in the image below is the stiffness rating, which is 72 RA strung. The racquet does not feel that stiff because the dampening of the Cortex Pure Feel system seems to work very well, but the racquet is very powerful. So I strung up my first few sessions with MSV Co Focus Hex Yellow 1.23 at 24 kg / 53 lbs. If you go much lower than this, I think the racquet will be a bit of a rocket launcher.
The racquet feels solid on impact and is perfect for volleys and picking up low balls and driving them hard towards the other side of the court. It is very much a point-and-shoot racquet, where the balls go where you direct them. Perfect for aggressive players who like to flatten out balls for winners.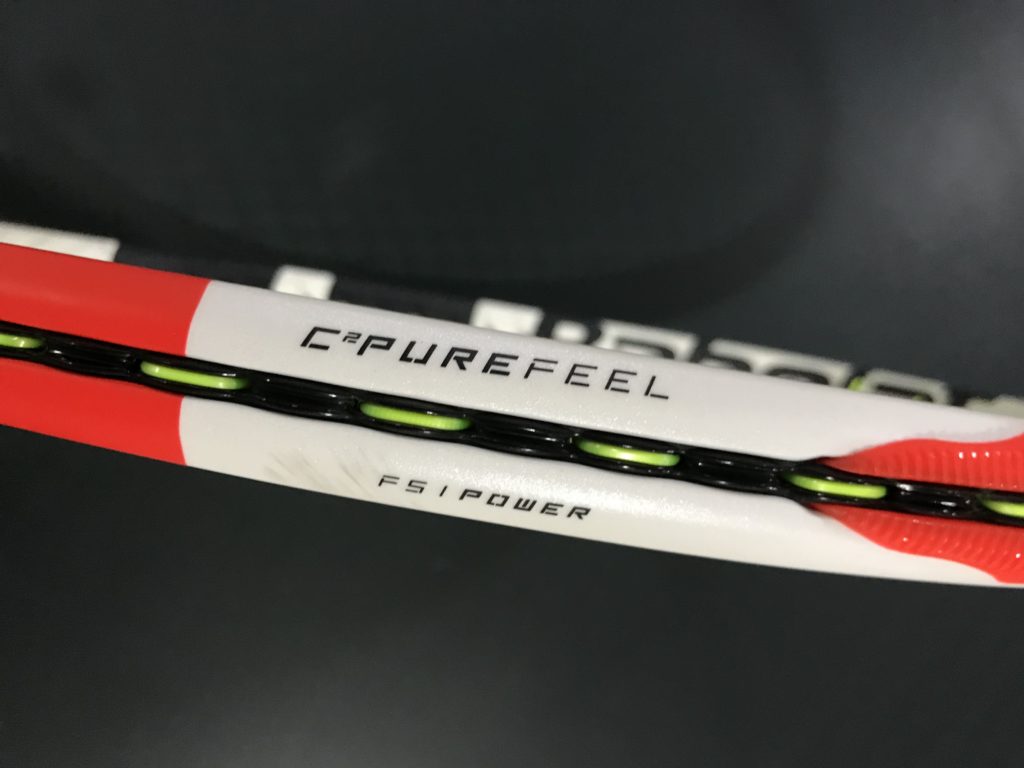 Babolat Pure Strike 100 2019 – How does it play?
The muted feel of the Babolat Pure Strike 100 2019 is not too muted and I felt connected to the ball. I had no issues with comfort despite playing with a poly string, but we will see if something pops up down the line. But I usually feel after only 60 minutes if a racquet is jarring and is emitting lots of vibrations.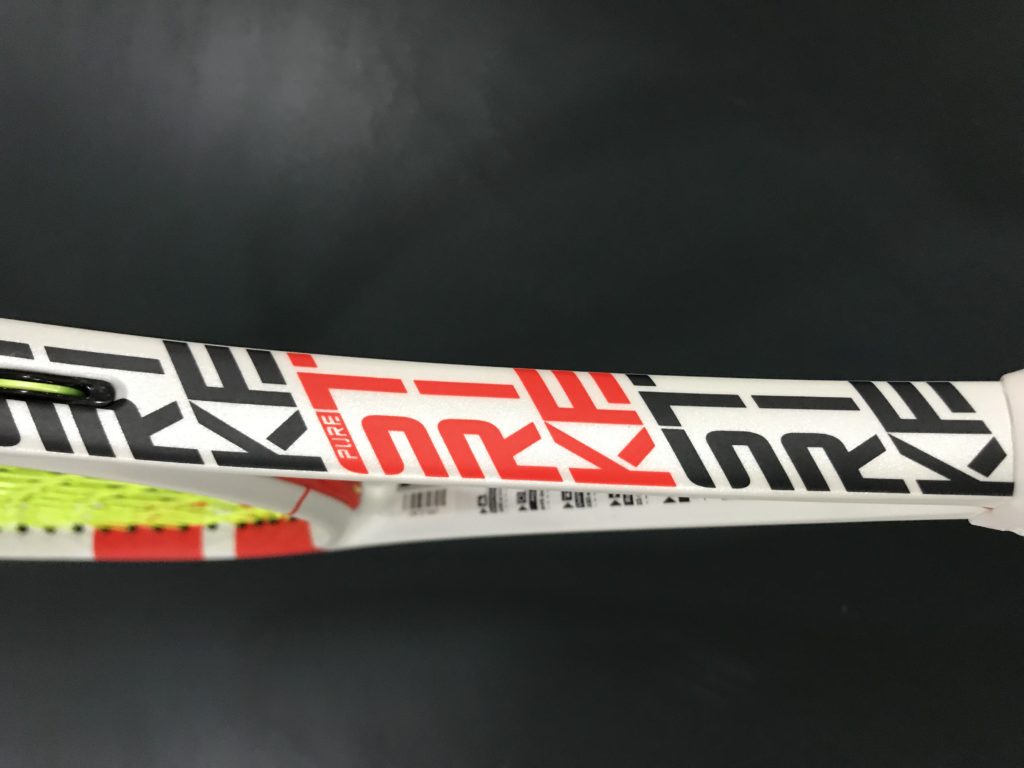 The Pure Strike line is definitely for attacking players who value directional control. When I was moving well I could blast winners from all areas of the court, which made this racquet a lot of fun to use. This kind of power is intoxicating, but it can lead you down a false road of confidence/optimism because as soon as you are a bit slower on the court, the balls will sail for you. I am curious to play with this more and see how it does on "off days" too.
I think attacking players who like to go for their shots will love this racquet. Perhaps they might want a bit more precision and then the upcoming 98 sq inch racquet will likely suit them better, but the 100 sq inch offered much better control than a Pure Drive in my opinion.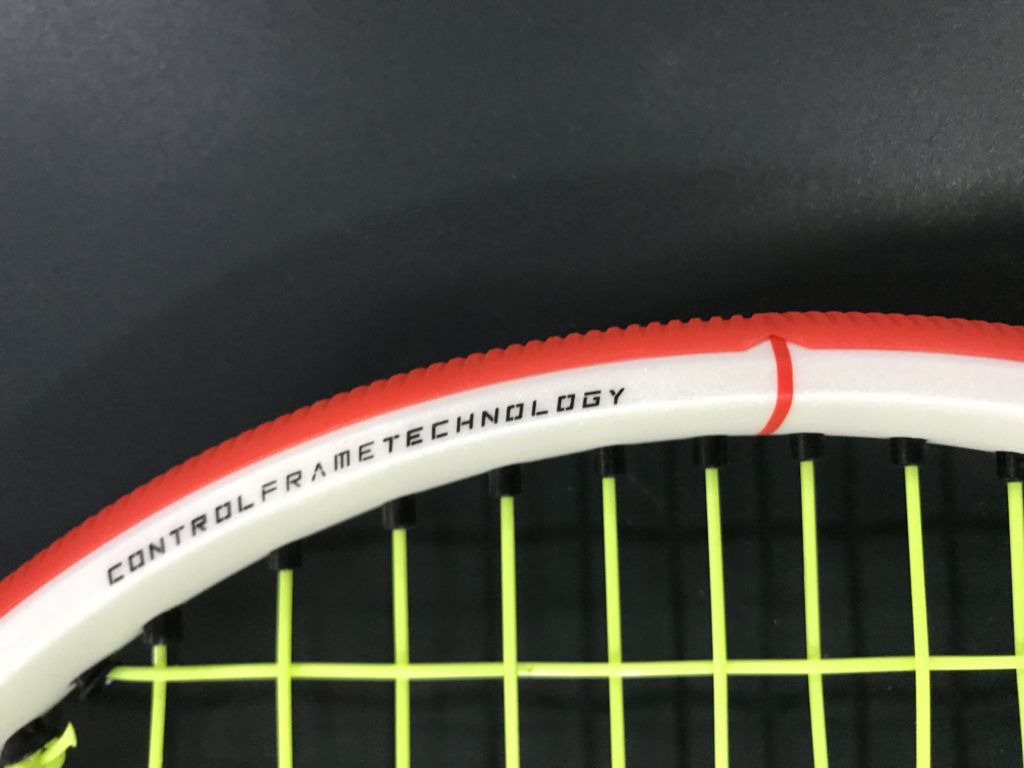 Babolat Pure Strike 100 2019 – Video review
Since I want to make sure my patrons/financial backers get something little extra, they already have access to the Pure Strike 100 2019 – First Impressions video on Patreon. I will, of course, create a full-blown review for this racquet, but it will take some more time. If you want to see some gameplay, I would love if you become a patron of Tennisnerd. It only costs $2 a month and you will get extra content such as "The School of Tennis Racquets" and lots more.
I deeply appreciate all the support I get from you guys. Not only financial but also the written messages etc…

Babolat Pure Strike 100 2019 – Summary
My first impressions of the Babolat Pure Strike 100 2019 are very good. This is a definite improvement over the predecessor. This one feels more solid and dampened, but not overly so that you don't feel the ball. It packs a lot of power, but the power is quite controlled as long as you either put some spin on the ball or at least time it properly. I had a blast hitting flat shots for winners with the new Pure Strike and my arm felt no discomfort after two hours of play.
If you want a powerful frame that still offers good directional control (better for flatter hitters than for example a Pure Aero) than the new Pure Strike is definitely worth checking out. I think Babolat have done their homework here and understood what problems there were with the 2017 version and have made some significant improvements. This line of racquets is yet another fine release in a year that has already seen the Wilson Clash and the HEAD Gravity racquets. The battle is ON!
Have you tried the Babolat Pure Strike 100 2019? What did you think of this racquet?
***
Support Tennisnerd!
You can buy racquets with any of these affiliates and a small commission goes to Tennisnerd. You can also buy one of our lightly used racquets or a Tennisnerd t-shirt (25 euro shipped worldwide paid via Paypal, Revolut or Bank Transfer). Another way of supporting Tennisnerd is becoming a patron where you will get exclusive content every week.
Buy tennis gear and products from: