Our friend and tennis nerd Christian Andersson has tried the new Babolat Pure Strike 98 and these are his first impressions.
The new Pure Strike 16×19
has now been released also in Europe a little later than the releases of the Pure Strike 100 and Pure Strike Team. The 2017 Pure Strike version called Project One 7 must be one of Babolats most popular and well-reviewed frames. As of today, I am still using a weighted up Pure Strike Team 2017 version as my "go-to-frame" that I have a  hard time leaving. I have been curious to test any of new Strikes but ended up getting a demo of the 16×19 version first.
Babolat Pure Strike 98 – Design, tech, and specs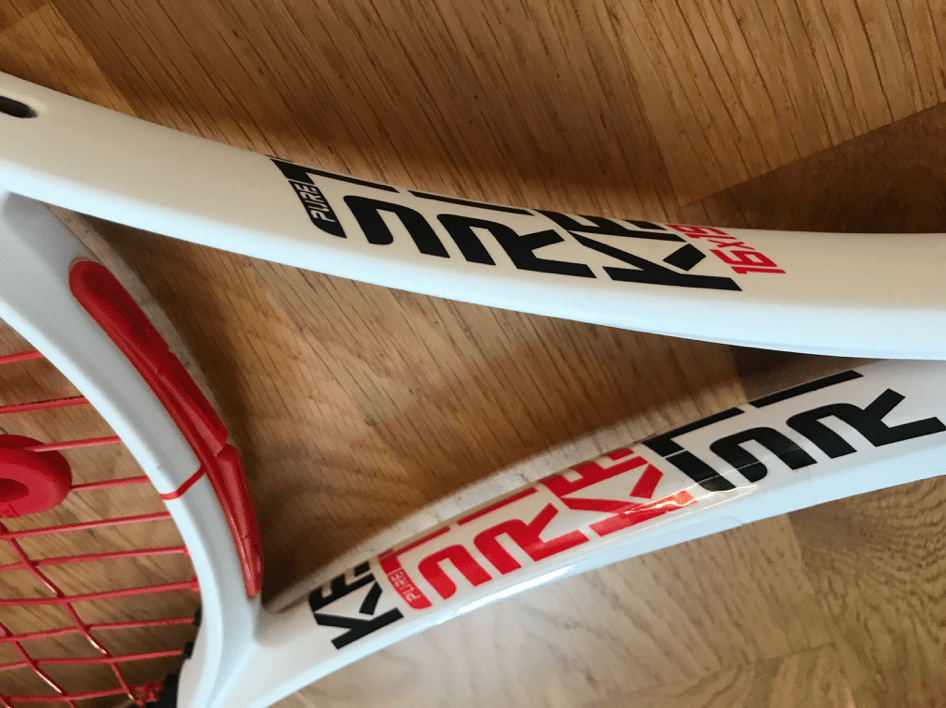 The new design follows the old one in many aspects and I like it! But If I should complain about something I think they could have left out the "mess" of Pure Strike letters at the throat and bottom and left it cleaner. But the addition of red and darker gray feels "fresh". String pattern and string spacing seem to be the same as the old one, which is a tiny bit tighter than the 100/Team versions. 
The unstrung advertised specs are:
Weight: 305g
Balance: 32cm
String Pattern: 16×19
Head Size: 98sq
Beam Width: 21mm / 23mm / 21mm
Flex: 70-72ra unstrung, 66-68ra (Strung)
Measuring the strung specs of this specific frame without an overgrip and dampener ended up like this:
Weight: 327g
Balance: 33,6cm
Swing Weight: 339?!
I was pretty shocked by the high swing weight. I cannot guarantee this value since I used the manual method and the Swing Tool app, but I am sure it must be well over 330.
Babolat Pure Strike 98 – QC Tolerance
As you can see this frame is also balanced about 0.5cm more towards the head in, making it less headlight than expected. TWH had 327 SW as average in their review, but I have also seen 334 and 330 on some other sites.
This frame was also around 4-5 grams heavier than advertised. Balance and weight seem to be in line with their variations though +-7grams and +-7 centimeters.
In my opinion, this is too much of a quality control tolerance. I mean if you get both factors in the +7 direction and your second racquet goes towards the minus direction you have two completely different frames!
My modified 2017 Pure Strike Team has about the same balance, and only about 4-5 grams lower static weight and a swing weight of about 325. 
The Babolat Pure Strike 98 – How does it play?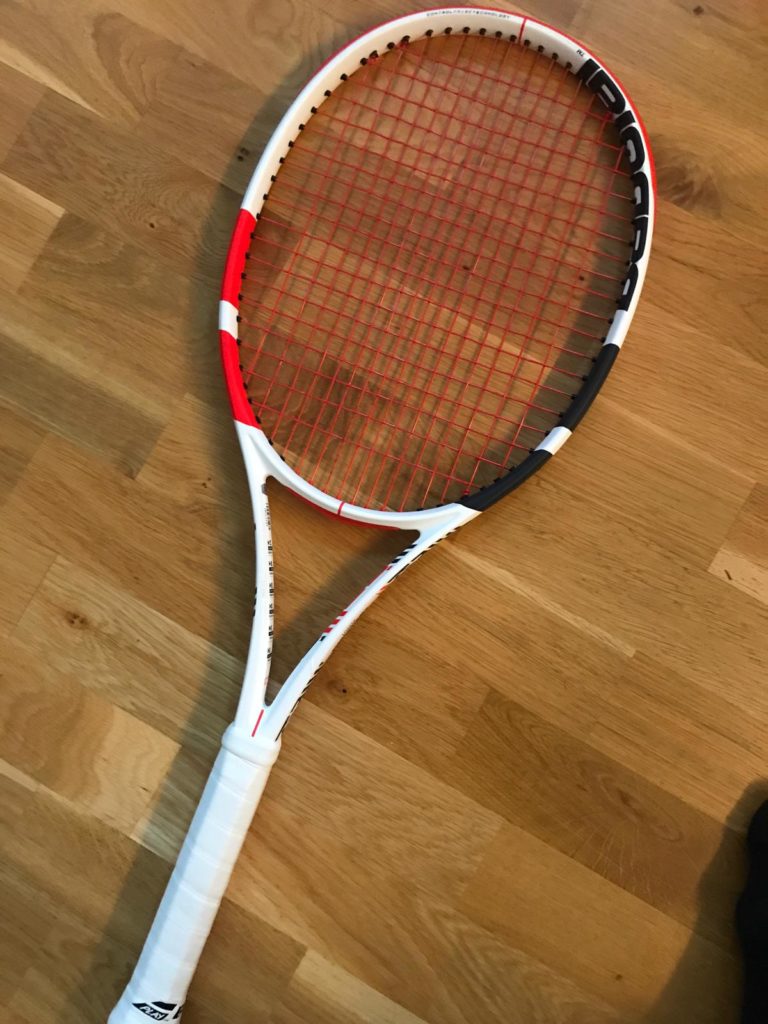 The demo arrived strung with Pro Kennex IQ Hexa 1.25mm at 53 lbs.
The first thing I noticed was that this thing was really heavy to swing. I was like night and day between this and my Pure Strike Team.
It felt very solid on impact, and low on vibration, but quite dampened. Power, spin and control all felt very nice. The launch angle was a bit lower than my Teams, but I had no issues really to quite quickly adapt my shots to it quickly. Serves and slices also felt fine.
But the big problem for me was that I felt immediately that I could never swing this one for a long time. I also felt that my wrist took a toll after just 5 minutes of hitting. It pretty much reminded me of the latest Pure Drive which felt soft and stiff at the same time in a strange combo. That one also had a higher swing weight than previous iterations and also utilizes the Pure Feel technology.
How does it play?
I did let a couple of my friends borrow it and hit and they both said the same thing that it was very difficult to swing and that it felt harsh to the wrist/lower arm.
I know this is not at all in line with some other reviews. But with this high swing weight and higher end of specs window of the frame, I guess it can be quite different experiences to be found among testers later on. Swinging the Head Gravity Pro was much easier side by side to give a comparison.
My Pure Strike Team
offers easier power, plusher and more responsive feel with less control but I can wield it forever without any arm related issues, getting tired or loose racket head speed.
With more time I might have tried adding weight to the handle to make the frame more headlight to see what difference that would make to the feel of head heaviness, but of course, it won't change the swing weight.
Conclusion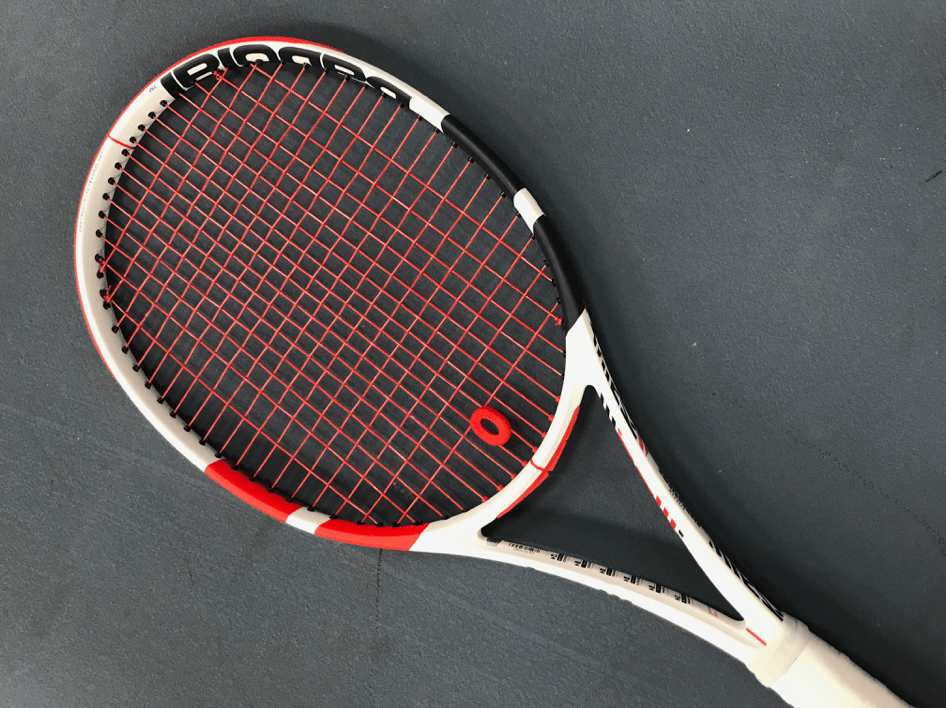 If you have used the previous two versions and have had no issues with your arms, and are not sensitive to a higher swing weight (as well as a more dampened response) I think you will enjoy this one too. But I also think many previous users might not like this update due to the feel of it.
Like with the RF97 Autograph, if you are lucky to end up in the lower end of the static weight and swing weight it can be a different story so do not take my words here for granted. But I would not recommend buying this frame blind if you are not sure that you are a really strong player. But in the right hands, it will be a serious weapon that does most things well.
Thanks Christian for your review! We see many companies struggle with quality control in the tennis industry and it can be very frustrating for the buyers. What is your experience here? Please comment below.
Buy the new Babolat Pure Strike 98 (or something else) from one of our affiliates and a small commission goes to Tennisnerd: