In a new segment we would like to call "Classic racquets" it is time to shine the light on some popular racquets from the past. This time our tennis friend, stringer and racquet nerd, Christian Andersson gives us a Dunlop Hotmelt 300G Review.
Dunlop has made some great success with their later models like the Dunlop Srixon CX 200 but it is still not a brand that you see as often as other established brands either on the tour or at the local clubs used by recreational players – at least not here in Sweden. In my opinion they create high quality and nice playing frames that might be a little underrated at times. That is why I was excited to do this Dunlop Hotmelt 300G Review.
My interest in this frame grew since I noticed users in different tennis forums seemed to enjoy the re-issue as well as the original of this frame. Dunlop Hotmelt 300G was once the choice of the ATP players James Blake, Amelie Mauresmo, and Mardy Fish. So, when I had the chance, I did pick up three of these frames at a very good price.
This re-issue version of Dunlop Hotmelt 300G was launched at the beginning of 2014 while the original was launched back in 2002. They should be very similar, but it is said that the re-issue feels just a tad stiffer than the original.
Dunlop Hotmelt 300G Review – Design, tech, and specs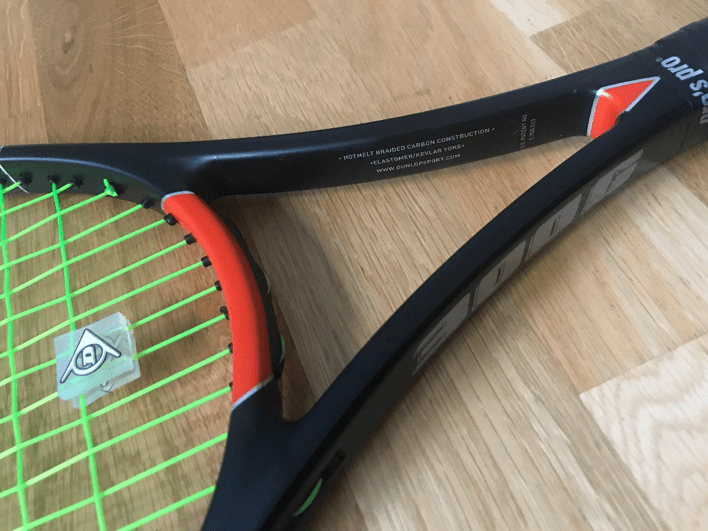 The design of the Dunlop Hotmelt 300G is quite simple with its matte black and orange paint job. When holding this racquet, it feels very much like a Pro Staff 97 to me. Even when putting the Dunlop over the Pro Staff 97 it is very similar. The mains are slightly longer on the Dunlop due to its 98 sq inch head size.
Most frames today have a ton of different advertised technologies but in this case, it is quite limited since this more of a traditional old school graphite frame.
Muscle Weave – A unique patented graphite weaving process providing increased frame strength and stability
Hotmelt – The hotmelt manufacturing process is performed at 250 degrees. This creates a molten graphite skin over the entire frame. The purpose of this is to gain more power than a traditional graphite frame.
The unstrung advertised specs of the Dunlop Hotmelt 300G are:
Weight: 290g / 10.8oz
Balance: 335mm (3 pts HL)
String Pattern: 16×19
Head Size: 98 sq in
Beam Width: 21,5mm / 21,5mm / 21,5mm
Flex: 65 RA
Like my previous review of the Yonex Vcore 100s, this frame is on the lighter side in the swing weight department. The difference is that this is players frame with a softer flex, thinner beam and a lower level of power to be expected.
The three frames I bought were very well matched, and the strung weight of all three including an overgrip was 316g and a balance of 32,9 – 33cm. So, they are all a bit more headlight and a few grams heavier unstrung than the original specs indicates. Ready to play with the dampener shown in the picture (3g) I got the swing weight to ~315.
Dunlop Hotmelt 300G Review – How does it play?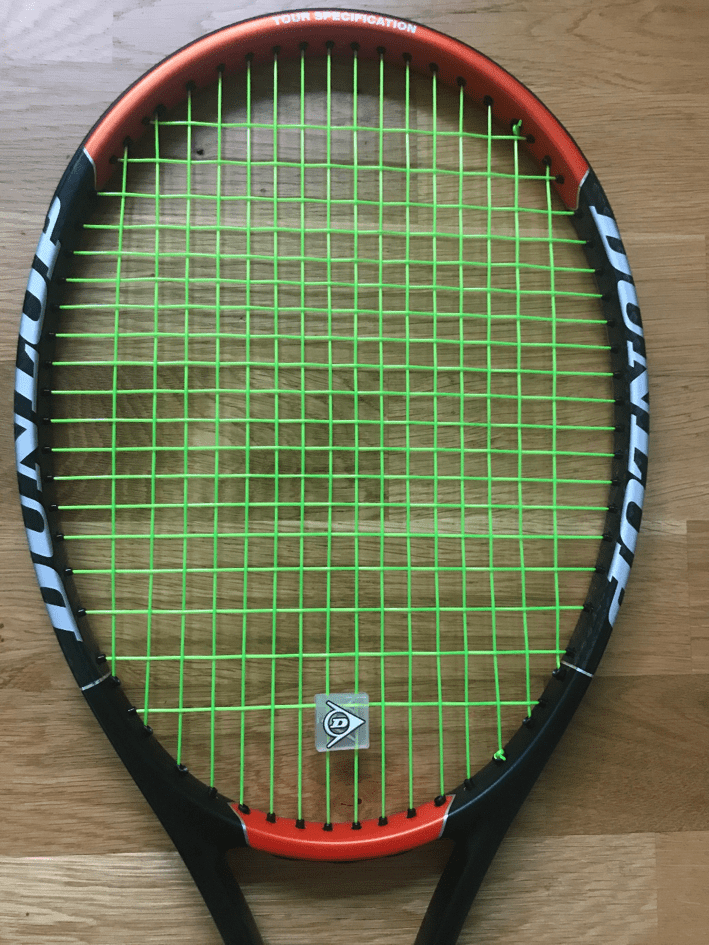 I strung the frame with a budget string I have tried a bit from Pro's Pro called Eruption
(click to buy this low-cost string) in 1.24mm. It is a shaped string that looks like Solinco Hyper G (click for the review) and plays quite similar also actually, but a bit softer and more powerful. I went with a tension of 50 lbs (22,5 kg approx).
First thing I noticed is that this racquet really cuts through the air easily when you swing it. The maneuverability feels outstanding with the lower swing weight paired with the thin beam. But at the same time this racquet initially really screamed for customization and more weight to it for me.
When hitting the ball, I immediately noticed that it is a lower powered frame with not much of the free power and a little lack of plow-through and stability. It is the most apparent when you do not hit totally clean. But when you hit the sweet spot it felt totally fine and with no vibrations and very comfortable. The feel of it is more on the dampened side than the crisp.
From the baseline it was very easy to generate good spin and compared to my modified Pure Strike Teams this frame offers more of the "point and shoot" making me really have the confidence to go closer to the lines without missing. Up at the net, this racquet felt very fast and with good control and feel of the volleys. Also noticed I did enjoy hitting dropshots since I could really feel the ball well.
Dunlop Hotmelt 300G Review – How does it play with some customization?
In the second hitting session, I did add 4 g of lead split between 3/9 plus 4g  of "tack" in the handle to counterbalance and keep the headlight balance. The swing weight went up to 320s and it changed the frame quite a bit with increased stability and plow. At this spec, I liked the frame more, but it could take quite a lot of more weight without feeling too heavy and sluggish.
The Hotmelt 300g hits a quite a loopy ball with good spin so I found the launch angle to be slightly higher than some others given that it has a decently tight 16×19 pattern which I find perfect. It will not eat strings very fast compared to more open 16×19 alternatives.
Serving was nothing out of the ordinary, but it was easy to really get the head moving fast even after the modification and I could make good kick serves easily.
Dunlop Hotmelt 300G Review – Summary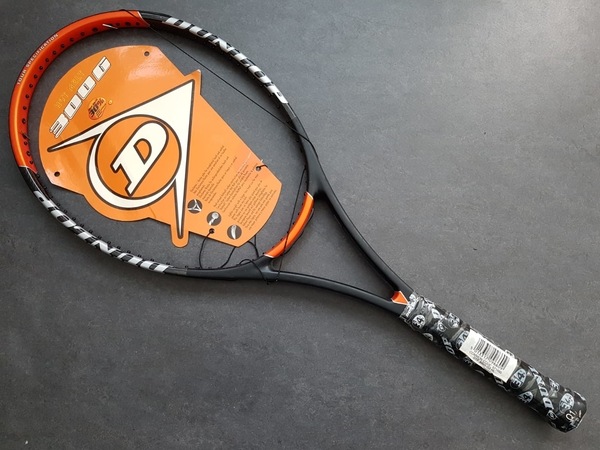 The Dunlop Hotmelt 300G is something for you who are looking for a softer type of Pro Staff 97
type of racquet. Offering more flex and feel, where you will also have a perfect platform for customization to your liking. It will also provide a high level of comfort if you are struggling with arm related issues.
For you that hits a one-handed backhand, I think this frame is a very good choice since it is so easy to handle and swing.
But remember that this is a controlled old school graphite frame that gives you only what you put into it. It is still easy to use for almost anyone, but not a choice for a beginner needing help with depth and power. For the more advanced player, you will most likely want to add quite a lot of weight.
Since you can find these frames quite cheap I think they are a steal, so don't hesitate to try them out if you get an opportunity!
Thank you, Christian, for this excellent review about a true classic. I personally also really like the performance of this racquet and it shows that you can find a lightly used racquet on the cheap and make it into a great weapon! Do you have a classic racquet review you want to contribute to Tennisnerd? Please e-mail hello@tennisnerd.net!