Nick Kyrgios creates headlines worldwide for his fantastic tennis talent but also sometimes questionable behavior. He has become a bad boy of tennis and has created a hate/love relationship with tennis fans. I have been testing Nick Kyrgios racquet setup, and here are my thoughts.
Nick Kyrgios Racquet Setup
Nick Kyrgios is a person that is difficult to wrap your head around. What goes on in his mind during a match or a practice session is only something he can know. But when he is set on playing good tennis, he can beat almost anyone. He has beaten the best players in the world multiple times but also put up performances where looks completely disinterested. Maybe this is partly why he remains interesting to follow.
For us tennis nerds, the kind of power he generates is mind-boggling. Yes, most of it is due to his ultra-fast arm action, which involves lots of spin and pace and is far from a traditional tennis forehand. Most of the power comes from his technique, but the racquet setup sure plays a role as well so I simply had to test it.
The specs

(pic from Tennis World USA)
Kyrgios is using a Yonex Xi 98 that he strings with a non-commercially available Yonex Poly Tour Pro-style string (it is similar, but softer) at 55 lbs. His specs are 343 grams strung with a Yonex leather grip. I am not sure about the balance of his racquet, but when I weighted mine up to the same specs in weight by adding a Yonex leather grip, 4 grams at 10 and 2, and an over grip. I think it was pretty much as close as you could come Kyrgios actual racquet without spending the 3000+ USD it sold for on a racquet forum.
On the court, the racquet sure played with lots of power. The Xi 98 is definitely the crispest Ezone I've tried – the ball explodes of the string bed similar to a Pure Drive. This resulted in me thumping some balls for winners, but also having a hard time finding my range as I prefer more control-oriented racquets. Still, it was fun to hit with all this power and in the setup, I tested I sure did not feel that the racquet was neither sluggish nor unstable.
Yonex Ezone Xi 98
The specs of the Yonex Ezone Xi 98: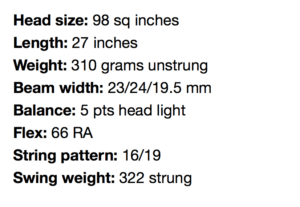 I tried to channel my inner Kyrgios during this play-test and sometimes it went great and other times I just went too crazy and played stupid tennis. The issue with being creative on the court is that it works at times and other times inconsistency suffers, especially if you don't have even 10% of the talent of Nick Kyrgios. I tend to play fun tennis because that is what I believe in and like, but I realize it is not good for winning matches.
Regarding the Yonex Xi 98 I think it is a good racquet, powerful and stable, but for me, the power is simply too much. The stiffness is not advisable for sensitive elbows and wrists, but I did not feel any soreness after a session, despite sensing the stiffness while hitting. If you want to use this racquet, I would go for a slightly softer string setup.
I really enjoyed the power on serves, the stability on volleys and the slightly lower launch angle than for example a Yonex VCORE 98, but I personally prefer the Yonex DR 98 or Ai 98 as they have a more comfortable response.
On another note, it will be interesting to see how Kyrgios follows up his recent string of good results (winning the Acapulco ATP 500) and if he can find a more stable place in his mind to play more consistent tennis.
This is what the Tennisnerd followers on Instagram think about Nick Kyrgios: