There are some players that divide the tennis watching audience into two camps. Let's call them the Bad Boys of Tennis. This post deals with Kyrgios, Paire, and Fognini.
For this selection of "bad boys of tennis", I went with some currently active, strong players that stir up headlines and interest in the tennis-loving community.  Some players love watching them and some can't stand their strong personalities and behaviors on and off the court.
There are many more examples we can talk about. Marcelo Rios was a famous hothead while a genius on the court. There are also lower-ranked players that are far crazier than these three. I'm keen to hear your thoughts about bad boys (or bad girls for that matter) of tennis.
Nick Kyrgios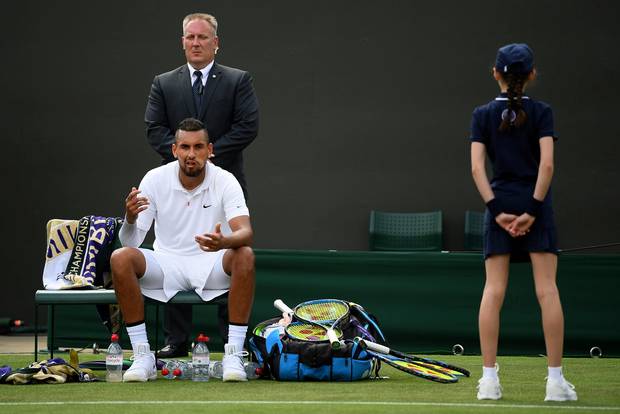 Nick has had a mixed relationship with the crowd ever since he came onto the scene. His talent is undeniable. He has beaten the big three, won six ATP Tour titles, and won close to 9 million dollars in prize money.
Despite his accolades, he claims to have a mixed relationship with the game of tennis. Australian star Nick Kyrgios has admitted that he always planned to retire from tennis at the age of 28, just two years from now. … "I definitely don't love this sport as those legends do," said Kyrgios. "I feel like Federer, Nadal, and Djokovic, wouldn't be able to live without tennis."
'I don't really like tennis – I'd rather play basketball'
Most people know about Kyrgios' love for basketball and playing/streaming Call of Duty. His on-court antics are also famous. Everything from informing Stan Wawrinka that Kokkinakis slept with his then-girlfriend, to walking out from matches, smashing plenty of racquets, and hitting tweeners during normal rally points. Pretending not to care and tank for a while and then turning on again to turn the match around.
Still, there is a softer side to Kyrgios. He has the Nick Kyrgios foundation in support of underprivileged youth. He donated 33 800 dollars for the Australian bushfire relief. He personally delivered food to fellow citizens of Canberra during the Covid-19 pandemic. It's hard to argue against his good heart.
Many pundits think he has the talent to fight for grand slam titles, but perhaps his heart is not quite there. No matter what, he is a fascinating character and helps create interest around the sport thanks to his creative game and feisty and interesting personality. He arguably draws big crowds and interest to the sport and I think tennis is richer for him.
What racquet does Nick Kyrgios use?
Where are you in the Kyrgios debate? Is he a clown or king?
Benoit Paire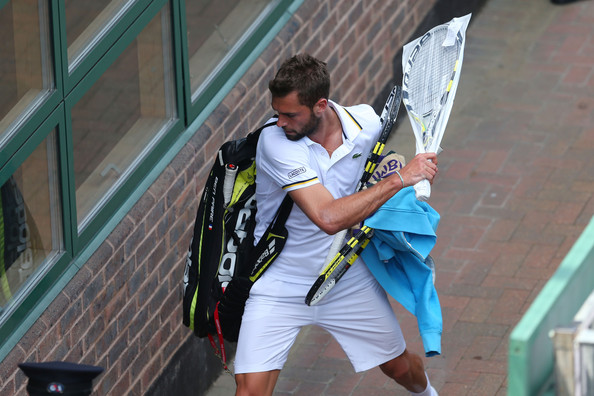 The bearded showman, known as La Tige (the stalk), is perhaps most famous for his drop shots that bunch back over the net again (there is one drop volley that has been on loop on TV and on social media). He isn't always known for giving it his all in matches and the pandemic has seemed particularly rough for players like Paire, Monfils, and Kyrgios that thrive on audience interactions.
In an Instagram post, Paire said the tour had become "sad, boring and ridiculous", while he also stated his aim was to lose in the first round of each tournament so he could escape life in a bubble. In the past year, Paire has played 23 matches, losing 20 of them, often limply, and retiring four times.
Still, Paire's career has overall been pretty successful (although some claim that he has not done his talent justice). He has won three ATP titles, all on clay, his favorite surface.
Paire is, like Kyrgios, quite adept at smashing racquets. He doesn't like the tennis establishment and doesn't seem to care much for the tradition of the sport.
"Simply, I hate Wimbledon and I'm glad to leave as soon as possible," he said in 2014.
"Frankly, I don't give a damn about this match," he could be heard shouting after a defeat at Monte Carlo ("a cemetery").
There is an interesting article about Paire during Lockdown by Barney Ronay called "Benoît Paire is trapped inside tennis as sport's lockdown king of pain".
Here is a quote from that article:
February's Australian Open was "shit", "really crap", "shameful" and "grotesque". At the Argentina Open in March, he spat on the court, sulked and folded. In April he was banned from the French Olympic team due to "deeply inappropriate behaviour".
French Tennis Federation president Gilles Moretton called Paire's behavior totally incompatible with the Olympic spirit and didn't send him to Tokyo 2020.
It is not the first time Paire has been barred from the Olympics. In Rio 2016, he was kicked off the team after losing his second-round singles matches for poor behavior and breaching team rules.
After having a pretty horrendous pandemic tennis results-wise, Paire seems to be back in decent form of late with a quarter-final and a few match wins in the bag.
What racquet does Benoit Paire use?
Update: Yesterday Paire had his biggest win of a long time when he beat Denis Shapovalov at the Cincinnati Masters.
Fabio Fognini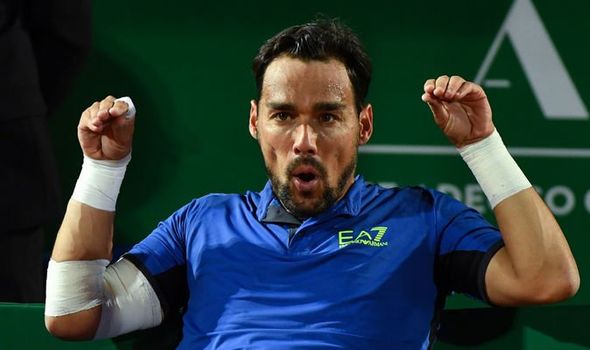 Fabio is an enigmatic character. He struts around the courts like he is strolling the streets of Rome with a gelato in his hand. But despite his relaxed walking style, he has plenty of fire inside. Sometimes he uses it to smash a racquet or say something offensive in Italian.
Recently Fabio used the word "frocio" which is an offensive word for "gay" during a match. Then he had to backpedal and wore a rainbow-colored headband and posted a picture with "Love for all" on social media.
Fabio said that the heat went to his head. Whether that's enough of an excuse for his language is another story.
Fabio Fognini was defaulted at the Barcelona Open for abusing an official and smashing a racket in anger – with a ball girl extremely close to the incident. At a set down and 4-4 in the second, Fognini was defaulted by the chair umpire. It has not been confirmed what the reason was, but it has been suggested he abused a line judge after being called for a foot fault.
At the Australian Open earlier in 2021, Fabio had another heated moment with countryman Caruso.  Fognini, the 16th seed, prevailed 4-6, 6-2, 2-6, 6-3, 7-6 (14/12) in nearly four hours after a fierce battle on John Cain Arena. But rather than the traditional polite congratulations, the pair argued furiously in Italian for several minutes, gesturing and wagging their fingers.  Fognini told Caruso — in colorful language — that he had been lucky with some close calls, which Caruso took exception to. Eventually, the court supervisor had to step between the pair and tell them to cool off.
These are just a few recent examples of many, of course. Fognini is a hot-head, but like with Kyrgios, there is no denying his talent. He has won a Masters 1000 title in Monte Carlo, has been ranked within the top ten players in the world and has won a total of 9 ATP tour titles, all except one on clay.
Fognini's shot-making is kind of like his temper. He can rally in a relaxed and almost nonchalant manner from the back of the court, then he suddenly explodes into the ball and hits some amazing angles and fierce winners.
What racquet does Fabio Fognini use?
The Bad Boys of Tennis
These three "bad boys of tennis" are always fun to watch, because you never really know what you're going to get. I also think tennis needs these types of unpredictable, dramatic and engaging personalities to stay "above the fold" and maintain interest. If everyone played robotic tennis and didn't show emotions, we'd be in a pretty bad and boring place. Not everyone can play with the grace of Federer, the fighting fury of Nadal or the clockwork precision of Djokovic.
So the tour needs some bad boys. Or what do you think?