If you are a tennis nerd, I'm sure you're familiar with Tennis Warehouse. In a recent video two reviewers (Andy & Chris) announce they are switching to Yonex DR 98 Plus.
Lots of people follow the Tennis Warehouse Youtube channels so I'm sure these will affect the sales of the Yonex DR 98
 Plus a great deal. I previously wrote a post about Yonex launching their SV and DR racquet lines in extended length versions (read it here), but I'm surprised how popular plus length racquets are.
What are the pros and cons of an extended or plus length racquet then? Below the post you will have a comparison of the strung specs of the regular Yonex DR 98 and the Yonex DR 98+.
What you can see is that the swing weight for the Yonex DR 98 Plus model is higher, but that is pretty much it. Not sure why the stiffness rating is different, but that can be coincidence. An extended length racquet is supposed to give you a two things: reach and more power. The downside is that you have more to swing, but in a relatively light-weight package such as the Yonex DR 98, the extra swing weight is not that cumbersome and since it's originally a rather plush frame, the extra power can come in handy.
Chris Edwards (NTRP 4.5) is moving from the Babolat Pure Drive Plus
 and Andy Gerst (Open level) is switching his regular length Yonex DR 98
to the extended length version, not a huge transition for either player.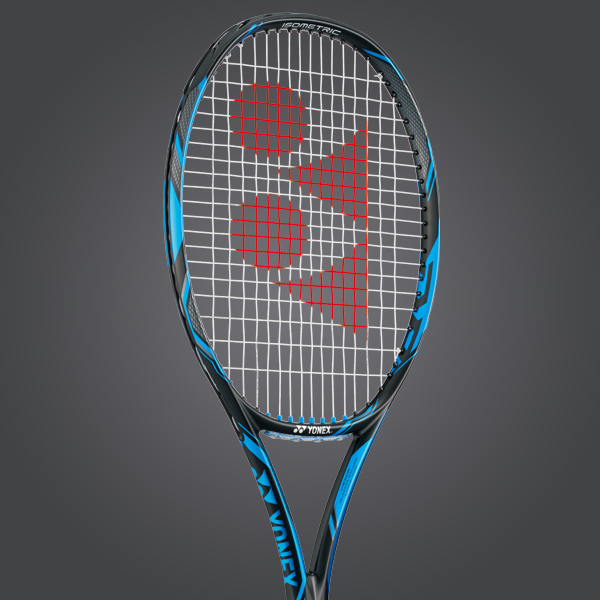 Switching to a new racquet is not a process that happens over night however, it takes lots of hours with a new racquet to be completely in tune with it on court in a match situation. Remember that practice is one thing and the more tense match situation makes you tense up and rely on your muscle memory more, while at practice you can focus on feeling ball on your strings because it's not as important where it lands.
I'm myself playing around with my new Babolat Pure Strikes at the moment and trying different strings. So far I really like them (it's one of the few racquets I haven't needed to customise at all so far!), my only concern is that the stiffness might take its toll on my shoulder so that's why I'm trying to find a softer setup that I can use extensively without any joint pain.
Are you switching to a racquet? Which one and where are you in the process? Don't hesitate to share in the comments!
Racquet comparison – Yonex DR 98 and Yonex DR 98 Plus
YONEX DR 98
Head Size: 98 sq. in. / 632.26 sq. cm.
Length: 27in / 68.58cm
Strung Weight: 11.5oz / 326.02g
Balance: 12.7in / 32.26cm / 6 pts HL
Swing weight: 324
Stiffness: 62
Beam Width: 23mm / 24mm / 19.5mm /
YONEX DR 98 PLUS
Head Size: 98 sq. in. / 632.26 sq. cm.
Length: 27.5in / 69.85cm
Strung Weight: 11.5oz / 326.02g
Balance: 12.95in / 32.89cm / 6 pts HL
Swing weight: 335
Stiffness: 63
Beam Width: 23mm / 24mm / 19.5mm /