The Volkl C10 Pro is a legendary racquet but a bit too heavy for many players. Hence, this Volkl C10 Evo Review.
Volkl C10 Evo Review
The Volkl C10 Evo is taking the feel of the C10 Pro (check out my Volkl C10 Pro review) and making it lighter and more approachable for intermediate to advanced tennis players who like old-school feel and playability. But when you reduce weight, the trade-off is obvious. You lose some stability, plow-through and power. When they reduce the weight (from 325g of the C10 Pro to 310g of the C10 Evo) they change the balance of the racquet, so there is a bit more mass in the head, but I still felt like the racquet might benefit from some customization.
Volkl C10 Evo Specs
Head Size: 98 in / 632.26 cm
Length: 27in / 68.58cm
Strung Weight:11.4oz / 323g
Balance: 12.99in / 32.99cm / 4 pts HL
Swingweight: 319
Stiffness: 63
Beam Width: 20mm / 20mm / 20mm
Composition: Graphite
Power Level: Low
Stroke Style: Full
Swing Speed: Fast
Racquet Colors:Black/Yellow
Grip Type: Volkl Synthetic
String Pattern:
16 Mains / 19 Crosses
Mains skip: 8T,8H
One Piece
No Shared Holes
String Tension: 50-60 pounds
Tech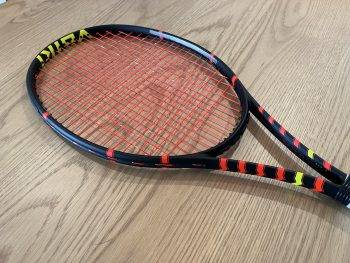 Technologies include Super Grommets which increases the power and vibration dampening of the string bed. The Twin Absorber Handle System along with a V-Tex butt cap is there to improve comfort and dampening. Otherwise it is a pretty no-frills, feel-inspired racquet.
How does it play?
You can watch my video review of three new Volkl racquets below. This include the Volkl C10 Evo, the V1 Evo and the V8 Pro.
The Volkl V1 Evo is a racquet made for advanced players. The narrow frame makes the sweet spot rather small, but it feels great when you hit it. The power level is low so you need to really go for your shots to hit a heavy ball with this racquet. The swing weight is not high for the kind of control racquet it is, which means some customization improves how the racquet performs in my opinion. It is, in many ways, what I would call a platform racquet.
Feel and touch are outstanding features of the Volkl C10 Evo. Even with a full bed of poly, like the Volkl V-Square I tried it with, it delivers an excellent sensation when impacting the ball. The downside is that it doesn't give you anything for free. You need to swing hard for it to generate some pace, and it is not the most spin-friendly racquet, although the V-Square four-sided poly really helped to open up some spin potential.
This racquet is kind of a throwback, but for players that love that C10 Pro performance but want to be able to play it with their desired specs, the Volkl C10 Evo is a great choice. It is a demanding low-powered racquet that leaves it up to the player, so many intermediate players will likely struggle with this one. But I also know many players that will love the feel and the "vintage playability".
You can check out the Volkl C10 Evo and other tennis things at Tennis Warehouse or Tennis Only.
Have you tried the Volkl C10 Evo? Let me know in the comments.