The Volkl V1 Classic is what the name tells you – a classic! This Volkl V1 Evo Review talks about the evolution.
Volkl V1 Evo Review
The Volkl V1 Classic has been around for over 20 years and was among the original "tweeners" on the market. The idea behind it is to offer a light racquet for intermediate players that offers great all-around performance and excellent comfort. When Tennis Magazine reviewed the racquet in 1995, they labeled it as "an extension of the arm", which made it very popular during the 90s. I understood what they meant while doing this Volkl V1 Evo review because it is an excellent tennis racquet, still, after all those years.
Since you can still buy the V1 Classic, what is different with the V1 Evo? Let's have a look.
Tech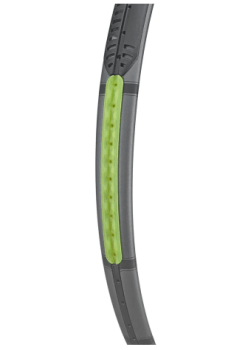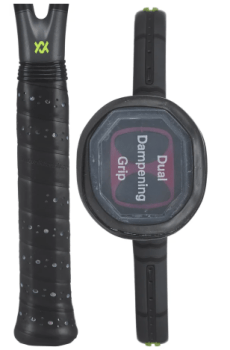 In the evolution of the V1 Classic, Volkl includes a Vario Beam, Big Grommets (to increase string movement, I assume), and a Dual Dampening Grip (softer feel on impact). Comparing the racquets, the V1 Evo has received some extra weight, turned the balance a bit more towards the grip, and reduced the stiffness—all good things, in my opinion. The specs should be interesting to loads of intermediate players out there.
Specs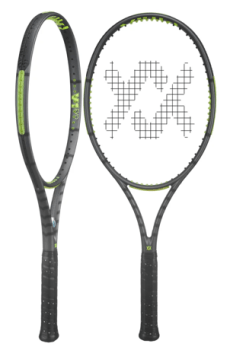 Head Size: 102 in / 658.06 cm
Length: 27in / 68.58cm
Strung Weight:11.3oz / 320g
Balance: 13.09in / 33.25cm / 3 pts HL
Swingweight: 326
Stiffness: 64
Beam Width: 27mm / 25mm / 22mm
Composition: Graphite
Power Level: Low-Medium
Stroke Style: Medium-Full
Swing Speed: Medium-Fast
Racquet Colors:Silver
Grip Type: Volkl Synthetic
String Pattern:
16 Mains / 19 Crosses
Mains skip: 8T,8H
One Piece
No Shared Holes
String Tension: 50-60 pounds
How does it play?
As you can see in the video below, I recently tried three different Volkl racquets and this was the winner of the bunch. It is just easy to use, pretty forgiving, excellent feel, nice comfort, decent power, good spin potential. Yes, for an intermediate player looking for a versatile racquet, it is pretty much all there. I can see why this type of racquet has won rewards in the past, because the usability is great. The only real downside is that the dampening in the handle can mute some of the connection to the ball.
You also need to be aware that Volkl racquets have a pretty rectangular grip, so if you come from an even-sided grip like a Wilson or even a Babolat, this can require some adjustment time, but it is usually not a big deal.
I strung up my Volkl V1 Evo with Volkl Cyclone 1.25 at 51 lbs (23 kg) and I think it created a controlled, yet not too stiff response. If you want more power, I would string it at a lower tension or try it with a softer string like a softer polyester string, a hybrid or even a multifilament string. You can dial in your power level and feel with the right string setup.
The Volkl V1 Evo is not a power racquet, because the stiffness is lower, but is a versatile, relatively forgiving and comfortable racquet for intermediate players that work well across styles. Since the frame profile is narrow, the racquet moves faster than you'd think for a 102 sq inch racquet.
Summary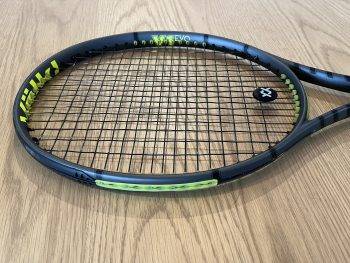 The Volkl V1 Evo is the evolution of a classic and it is a good one. I would say that this is better than the original. Some more weight for stability, lower stiffness, but retained the good stuff. This is definitely worth a go if you are looking for a versatile and comfortable racquet that offers a nice blend of power, spin and control.
You can purchase the Volkl V1 Evo from Tennis Warehouse, (or anything else) which sends a small commission our way and helps the site stay alive. At the moment of writing, the Volkl V1 Evo is not available at Tennis Warehouse Europe, but you can find it at Tennis Only in Australia.
Have you tried the Volkl V1 Evo and what did you think of the racquet?