The Volkl V-Cell 10 320 is an interesting racquet. On the heavier side, with a maneuverable swing weight and higher stiffness.
I was intrigued by the specs of the Volkl V-Cell 10 320. What do you get if you make a 320g unstrung racquets, keep the swing weight on the low side and add a stiffer layup for free power? That is what this review is all about.
Design
Design is always subjective. The racquet looks pretty good to me, it's beehive-inspired with the pattern running inside the beam. One thing irked me, however – there was a black gap on 10, 2, 4, and 8 on the racquet head, which kind of "stole my eye" as I was hitting the ball. I found it distracting while playing. Maybe I've just lost my mind, but I rarely get annoyed by the visual parts of the racquet while playing.
Technologies
V-Cell = cellulose-based carbon placed in the shaft and head to improve comfort and stability. Seems to work similarly to foam-filling by the sound of it.
REVA = Dampening in the handle, similar to what Yonex does with their Vibration Dampening Mesh.
Head Size:

98 in / 632 cm

Length:

27in / 68,5cm

Strung Weight:

335g / 11,8oz

Unstrung Weight:

320g / 11,3oz

Balance:

31,98cm / 7 pts HL

Unstrung Balance:

31,5cm/9 pts HL

Swingweight:

319

Stiffness:

67

Beam Width:

20,5mm / 22,5mm / 21mm

Composition:

VCell/Graphite

Racket Colours:

Black

Grip Type:

Volkl VSENSE Grip

String Pattern:

16 Mains / 19 Crosses

Mains skip: 8T,8H

Tension:

22-27kg / 50-60lb
What stands out when you look at the specs? Well, it's an interesting mix of a stiffer frame, with decent mass but lower swing weight. It kind of finds its own category as most heavier racquets are either softer or have a higher swing weight.
Pretty fun to play, but I did prefer its lighter 300-gram brother for the whippiness and room for customization.
This racquet is relatively comfortable for a 67 RA strung racquet though so I wouldn't be worried about high stiffness if you use the right string setup.
How does it play?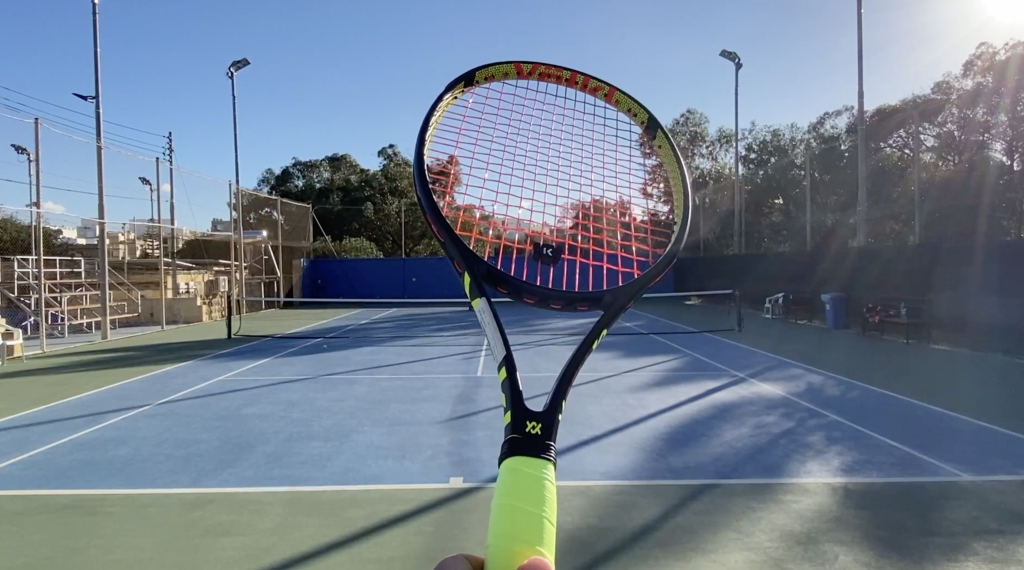 It's an interesting frame. Pretty user-friendly for its weight class with the low swing weight. Flows through the air easily, offers an interesting blend of power and control. It suffers a little bit of an identity crisis. Is it a control frame? Is it a heavier power frame?
It definitely lands on the side of control in the end, but I don't find quite the confidence I need to go for my shots like I can with some other racquets in the same spec range like the Yonex VCORE Pro 97 D or the HEAD Prestige MP. The tighter patterns of those racquets work in their favor, while this one neither offers great spin potential nor directional control.
It handles volleys well. Touch shots are no problem. You can get decent pop on serve. I just lack a little bit of control, which is what I would normally look for in a racquet coming in at 320g.
Summary
I think there are a bunch of attacking players out there that will fall in love with the Volkl V-Cell 10 320, but it didn't quite capture my interest in the way I had hoped it would.
Either I want a faster racquet to whip up more spin or a tighter pattern for better control. It kind of lands in the middle of these categories. For some that could be a great thing, for me, it didn't quite do the trick.
If you're interested in the Volkl V-Cell 10 320, check out my affiliates: Tennis Warehouse Europe, Tennis Warehouse or Tennis Only.