The new Yonex VCORE Pro racquets were announced today. I have tested four models: 97D, (replacing HD), 97H, 97 and 100.
This is the refreshed, "neon-style" update to the 2019 edition of the VCORE Pro. The paint job is nice and durable, the specs are similar and they have changed the name of the 330g to H and the HD (high-density) to D. What else is different with these new VCORE Pro racquets compared to the previous generation? Now they introduce a technology called FlexFuse, which is a shock-absorbing polymer integrated into the graphite's resin for increased racquet flex and a softer, more plush feeling. The feel of these frames compared to the previous VCORE Pros is definitely improved.
Below you can see the specs of the new Yonex VCORE Pro racquets.
Yonex VCORE Pro specs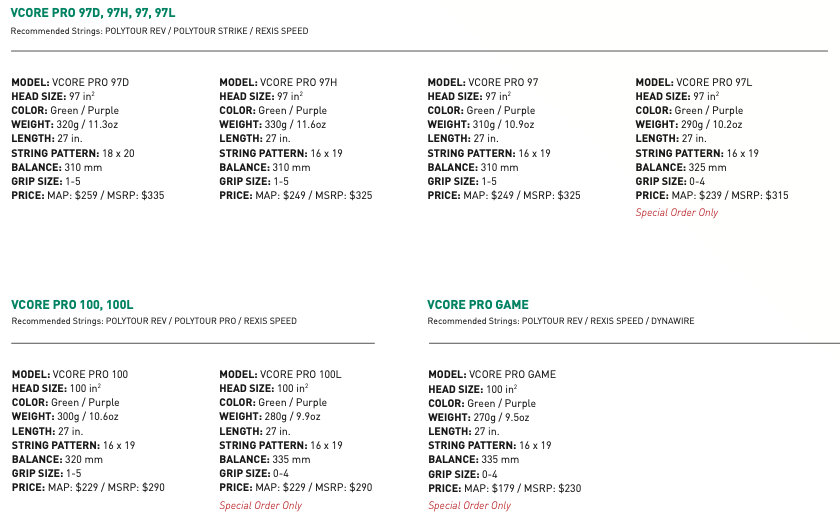 As you might see, there are not huge spec changes from the previous generation. What I have noticed with my racquets, is that the specs are close to the listed (Yonex quality control is one of the best in the business), but the swing weight are overall higher on each model. I strung up my VCORE Pro 100 and 97D with a new lavender colorway of the Yonex Poly Tour Rev string (1.25) and the VCORE Pro 97 and 97H with the Yonex Poly Tour Pro 1.25.
My strung specs were:
Yonex VCORE Pro 97H – 351.5g (12.4 oz) 32 cm balance (6 pts HL), 347 SW
Yonex VCORE Pro 97D – 340.5g (12 oz), 32 cm balance (6 pts HL), 335 SW
Yonex VCORE Pro 97 – 331.1g, (11.7 oz) 32 cm balance (6 pts HL), 327 SW
Yonex VCORE Pro 100 – 316.8g (11.2 oz), 32.4 cm balance (5 pts HL), 318.5 SW
If you are familiar with the previous models, the 330g/H was averaging at 332 SW strung, the 97D/HD 327, the 97 318, and the 100 about 323 when you look at the Tennis Warehouse data.
This means that they have bumped up the swing weight significantly on each 97-model except for the 100. In some cases it's good, in some cases, it's a bit too much. Maybe I was unlucky with the swing weight QC here (curious to see the TW figures when they are released), but I think that metric needs to be taken seriously from now on.
How do they play?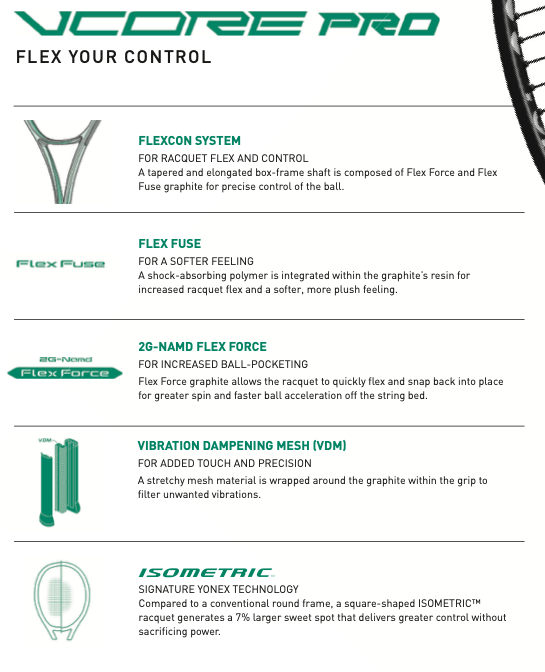 The stability and solid feel are improved across the line-up. I also feel like the racquets offer a more comfortable response. Yes, it's slightly muted, so I don't feel the most connected to drop shots and deft-touch-volleys, but overall the sensation and comfort when hitting the ball is nice.
Let's talk through them one by one. If you want to check the stiffness and average specs, check out the Yonex VCORE Pro racquets on Tennis Warehouse here.
Yonex VCORE Pro 97 H
A rock-solid beast of a racquet. Give it to Stan the Man (uses the older 95D) or Hubert Hurkacz (uses an older version of the 330) and they would probably approve. It hits a cannon of a ball with some control. The downside: swinging a 347 SW racquet takes its toll on you after a while unless you love heavy frames and are in peak physical condition. I loved hitting flat, penetrating groundstrokes with this frame, but when I had to defend or react fast, it was difficult to maneuver. I don't see this racquet as a viable option for 95% of players on anything below the ATP tour. I had a lot of fun with it when I connected well (like with the RF97 Autograph), but over time it's too much to handle.
Great for flat, aggressive groundstrokes. Top spinners who rely on whippy shots – stay away. I prefer it over the RF97A though, with more power and still a softer feel.
Yonex VCORE Pro 97 D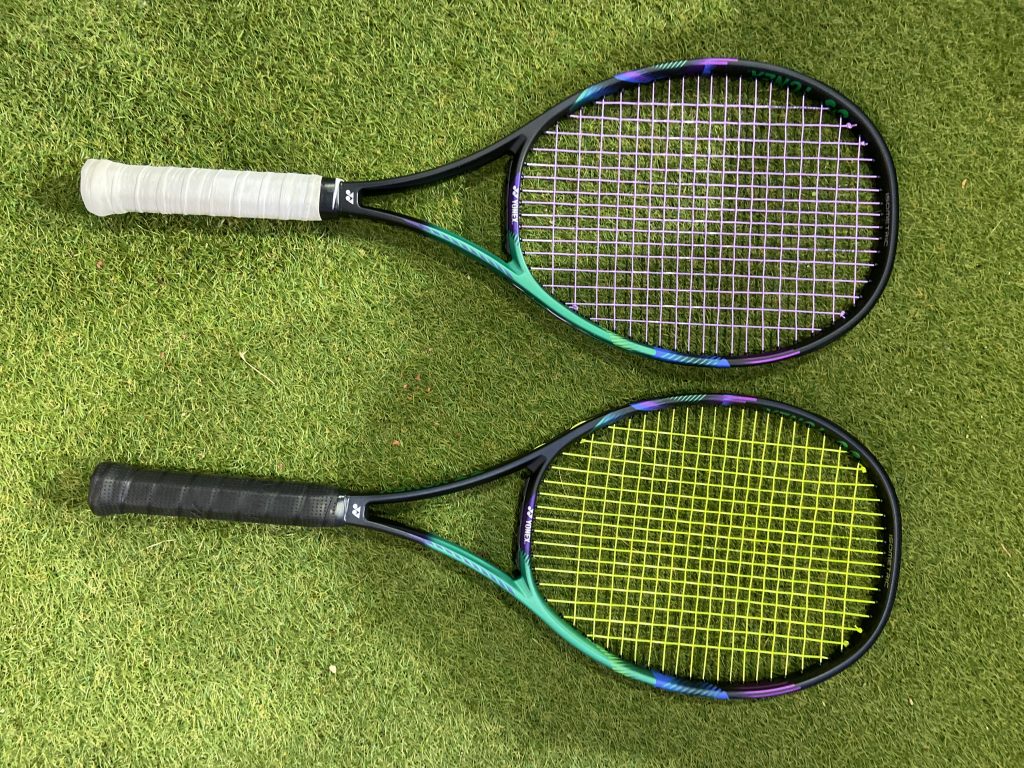 I was a big fan of the Yonex VCORE Pro 97 HD version that came out in 2019. They did make this one heavier though and although the feel is more solid, it's more difficult to maneuver. I feel like it's a bit more refined than the previous generation, but again the swing weight is a bit too much for most players. I actually preferred the H version because it gave me a bit more for free even with a shorter swing, while this one offered less power, but still a lot of racquet to manage.
Although it feels slightly improved in feel and stability, I would go for the older version due to a more manageable swing weight, but maybe I was just unlucky with the specs.
Check out VCORE Pro 97D on Tennis Warehouse
Yonex VCORE Pro 97
This is where the extra swing weight made the most sense! The previous generations of the 310g version always felt unstable and needed weight to be more solid, while this one is ready-to-go as is! The best racquet of the bunch in my opinion and a clear improvement over previous generations. Better stability, improved feel and comfort, good balance of power and spin, and still maneuverable.
I sometimes miss the massive plow-through effect of the H-model, but this one is more realistic to use in a match. It doesn't hit quite as big a ball as the H, but if you can generate your own power and want a controlled racquet, this one is an interesting choice. I actually prefer this stick over racquets such as the Radical Pro or the Pro Staff 97. A bit better comfort and feel in my opinion.
The true play-test winner.
Yonex VCORE Pro 100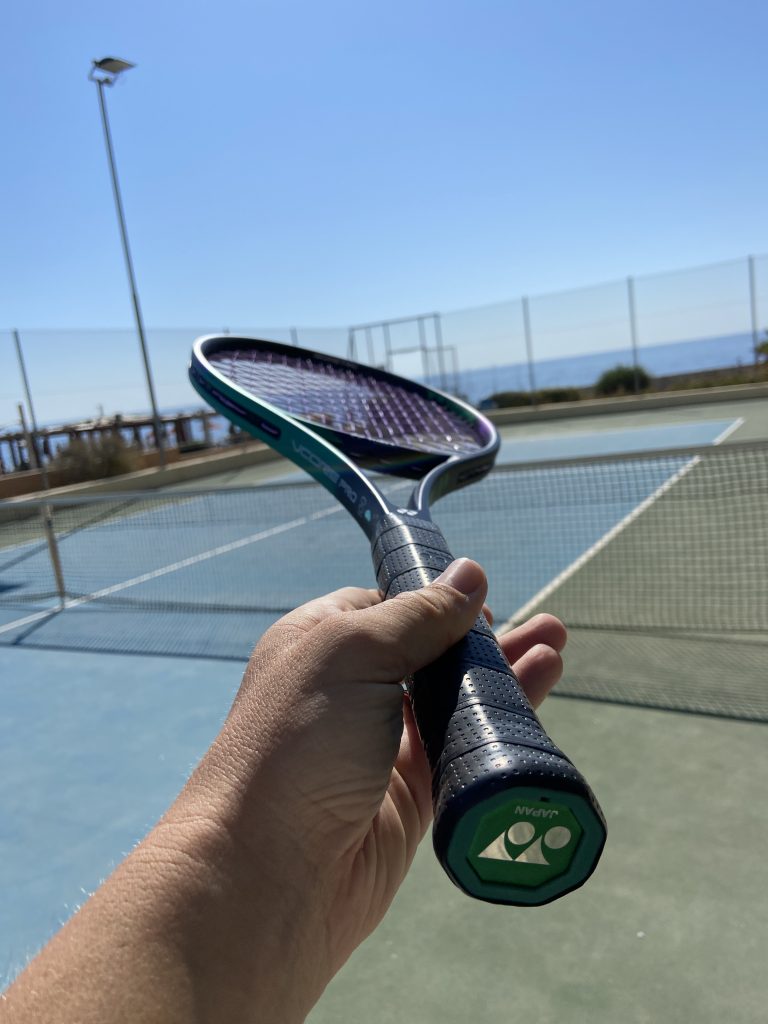 A more forgiving VCORE Pro! The older 100s always lacked stability and it still lacks some of the punch of a true tweener frame, but this is a definite improvement. More solid, still relatively whippy, nice sweet spot. It competes well with a Gravity Tour, Prince Phantom 100X and the Wilson Pro Staff 100. A control-oriented 100 sq inch racquet, without any standout features, but who does most things well.
If you're into the Yonex VCORE Pro line but want an easier racquet to use, this is the one.
Check out the VCORE Pro 100 here
Summary
These new Yonex VCORE Pro racquets were fun to hit with and review. I will keep playing with them and adjust or add stuff as I get more hours, but I have played all of them quite a bit along with my hitting partners and I'm pretty set on what I feel. The added swing weight makes sense for the 97, while the H and the D get too heavy for most players. I had the most fun during this play-test when I slapped flat balls with the 97H, but over time in longer matches, it wore me down a bit. You also have to be a bit careful with all that swing weight putting extra tension/pressure on your arm.
For me, the VCORE Pro 97 was the clearest improvement. The FlexFuse did these frames a world of good in terms of comfort and feel and the added swing weight of the 97 remained of the side of still being playable/enjoyable even when you're not fresh. A very nice frame for attacking players looking for a controlled racquet with decent spin, but a controlled launch angle.