Yesterday I posted my HEAD Radical Pro 2021 Review (first impressions) on my YouTube channel. If you don't subscribe, please consider it!
You can also find the video in the post below. I will publish a full-scale review of the both the HEAD Radical Pro 2021 and HEAD Radical MP 2021, but it will be a little later on. I usually want a little more time with the racquets before I can give a more detailed opinion about them.
The HEAD Radical Pro 2021 has a new beam design and a new mold. It's thinner, feels softer and flexes more than the HEAD Graphene 360 Radical Pro that I review here. I did enjoy the great control of the predecessor but feel more connected to the ball with his racquet. I also feel like I get a little bit more pace and spin with this one, it just feels slightly livelier and more forgiving.
HEAD Radical Pro 2021 Review
The paint job for the new Radical Pro has not yet been revealed, nor the specs. The mold is new and the beam slightly thinner, that is clear. My unstrung specs were: 314.7g, 292.5 SW and 31 cm balance. With overgrip and Lynx Tour Orange 1.25 strings, I measured it at 337g, 328.5 SW, and 32 cm balance. A spec that is right in my wheelhouse. I have been looking back at the racquets I have played my best tennis with and they have all been around 340-350g, 31.5-32 cm and 325-335 SW strung. That's the range where I'm most comfortable and the Radical slots right in.
I felt like the racquet swings fast and feels lighter than its weight. Perhaps thanks to the new beam design. This is definitely a faster racquet than the HEAD Gravity Pro and plays more like a slightly more spin-friendly and faster HEAD Prestige MP.
The idea with the new Radical's is to make a "people's racquet" that works for a variety of styles and suits all-court players. It's quite similar in the category of a Wilson Blade for example, for players who like to be creative and use the court like a canvas (that sounds a bit pretentious but you know what I mean).
How does it play?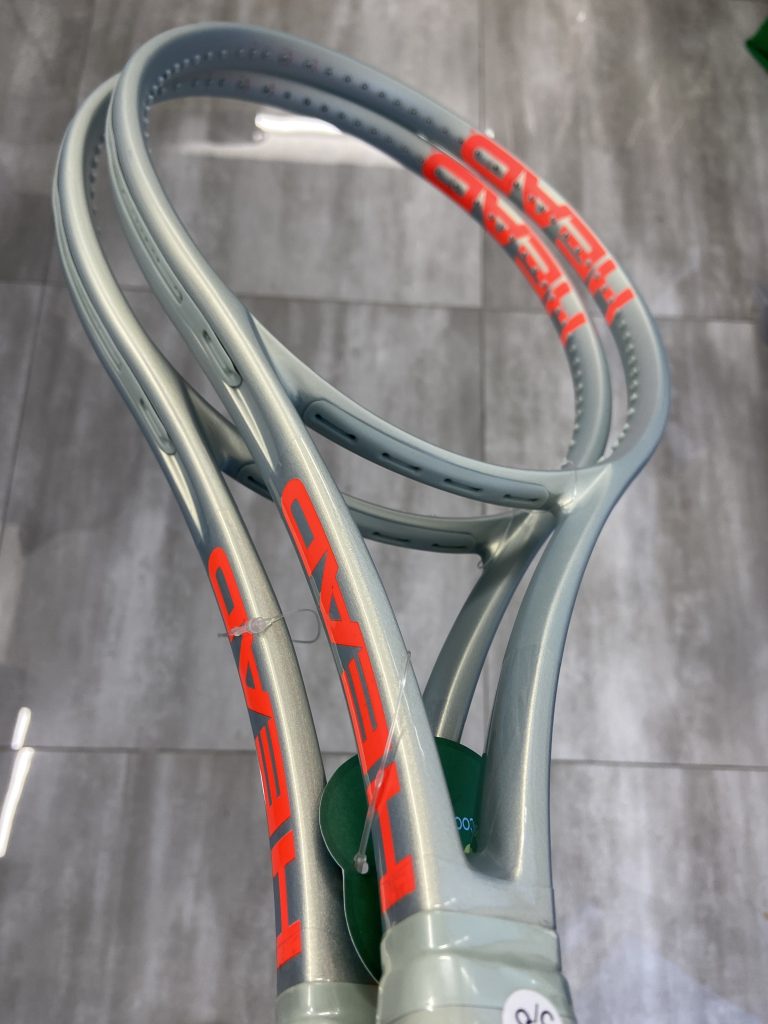 The Radical Pro is not the easiest racquet to use. The sweet spot is pretty small and the racquet is definitely made for more advanced players. On days where I feel and play great the racquet accentuates my strengths and allows me to play "freely", but on days where am I slow on my feet and not "on my game", it punishes me.
I do really like it though. For an advanced player racquet, it's pretty user-friendly and I approve of the 16×19 pattern that is tight, but still allows me to get more lift on my ball than for example the Heysil Tour 98 that I am using frequently right now.  The power level is pretty low, similar to the latest Blade, so you need a full swing to get good depth on your strokes.
The grip shape is, like all recent HEAD racquets except the HEAD Pro Tour 2.0, a more rounded TK82S pallet (similar to Wilson). If you love the more rectangular HEAD TK82 pallet or the older TK57/76 pallet, you can always switch the pallet later on.
Does it make the cut?
I really enjoy the new Radical Pro and it could very likely make it onto my MRR-list (match-ready-racquet list) – more about that on my Patreon page. It definitely feels ready to be used in a tournament – no customization needed. If you are looking for a racquet with some free power and a large sweet spot, I think the Radical might be too low-powered and difficult to use. But if you love the Radical line of racquets and look for a modern take on the control racquet, the new Radicals could be the racquets for you.
Have you tried the new Radicals?