It's a beast to swing, but when you play well it delivers! Here is my Wilson Blade 102 SW Autograph review.
I felt hesitant about this Wilson Blade 102 SW Autograph review. Mainly because I am not used to playing with 28-inch length racquets, but also because the oversize head size (102 sq inches) will make the racquet powerful and those two things combined will make it into a sledgehammer. It's quickly apparent that the Serena Williams autograph racquet is not for everyone. I actually think the target group is even smaller here than with the Wilson Pro Staff 97 Roger Federer Autograph. The extended length and the high swing weight makes it quite difficult to use, but really enjoyable when you're connecting with the ball.
If you want to buy the Wilson Blade 102 SW Autograph, check out Wilson.com.
Design
This racquet is like a bit of a throwback to the Wilson kBlade. Black and gold, a classy look to some and slightly tacky to some others. Serena has personalized the frame with some gold lettering on the racquet such as "Be seen. Be heard." and her autograph. It otherwise follows the typical Wilson design these days, predominantly black with gold accents.
Tech
This is the only racquet as far as I know in the current Wilson line-up that still incorporates the dampening technology Countervail (a carbon layer in the layup that is supposed to dampen vibration). It also includes another Wilson classic called Parallel drilling which is supposed to create a more comfortable and forgiving string bed.
Specs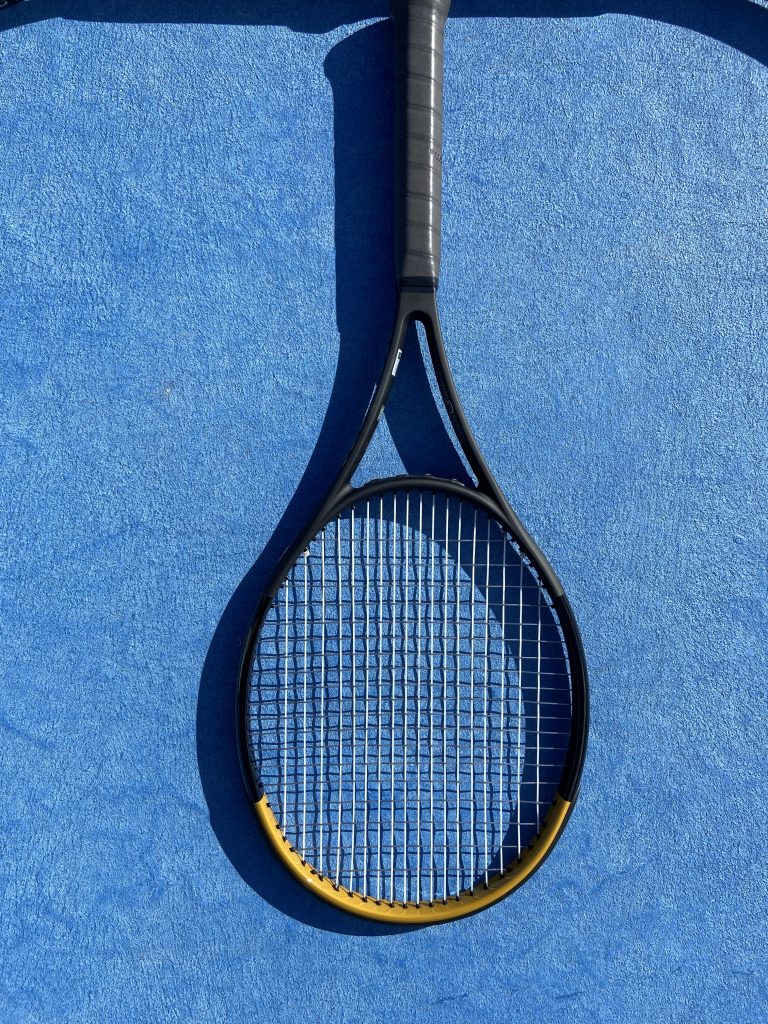 The specs of the Serena Williams Autograph are not for the faint of heart. Unstrung specs:
Head size: 102 sq in
String pattern: 18×19
Beam: 22.5 mm
Stiffness: 69 RA strung (according to Tennis Warehouse)
Balance: 33 cm
Mine came in pretty much on spec, which is great: 306.3 cm, 33 cm balance, and 320 SW.
I strung it up with Wilson NXT Comfort 1.30 at 56 lbs in the mains and Luxilon Alu Power 1.25 at 54 in the crosses.
Strung specs: 323.5g, 34 cm, 353.5 SW.
Who is it for?
With this kind of extreme specs, the player demographic is small. 28 inches and a 350+ SW will not make for an easy-swinging experience. The oversize head size also adds some power to the frame, so it's not that easy to control unless you have a solid swing and great footwork.
I think the extended length will help double-handed backhanders and players looking for extra reach and pop on their serve. It felt more natural to play with two hands on the backhand than my normal one-hander.
Advanced players who like a hefty frame and can control the power, should give this a go. The rest would likely find it too much.
How does it play?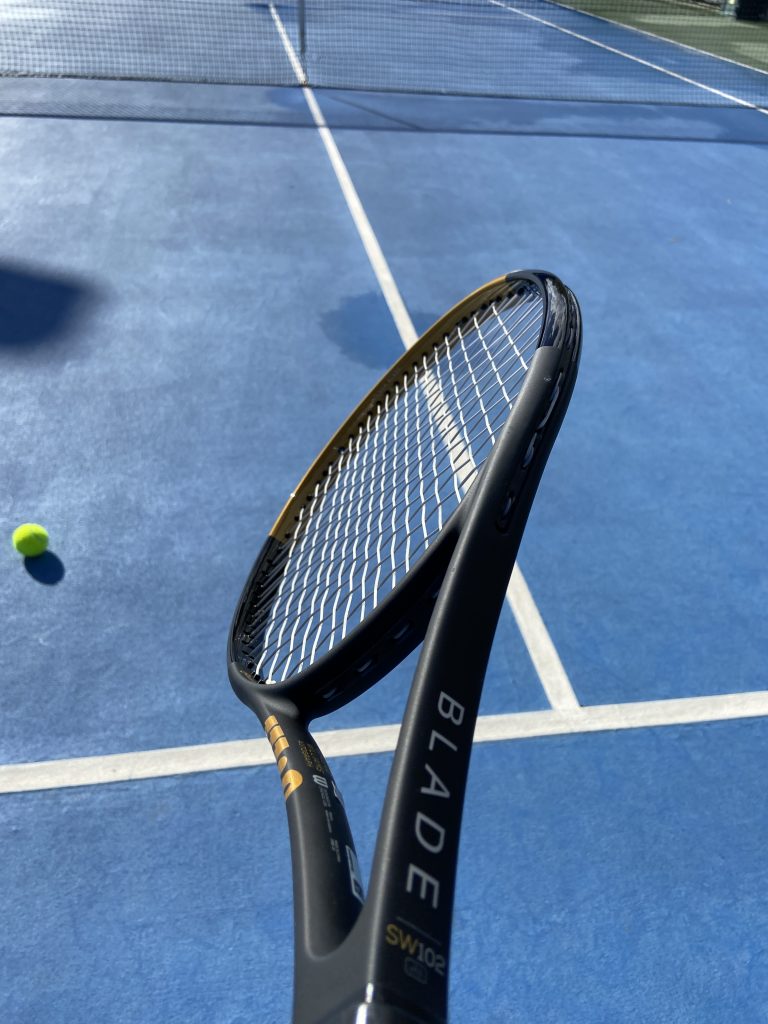 This was a tough review to do because it's quite different from what I usually play with. It's actually different from most frames on the market.
At first, I was struggling to control the frame and contact the ball properly with the 28-inch length. There certainly was a longer break-in period of this frame. For the first 30 minutes, I couldn't find the court! But when I started to find my rhythm and relaxed my swing, the racquet gave me easy depth and provided me with impressive touch and feel for such a stiff frame with a dampening tech. Drop shots were surprisingly one of the shots I enjoyed the most with this beast of a racquet.
It took me a while to groove with it on the forehand and the one-handed backhand required me to choke up a bit on the grip to find the optimal contact point. The extended length gives a shorter player (I'm 5'9) a bit more access to power and reach, so it's interesting to try if you have never played with XL racquets before. 28 inches is a bit much for me, but 27.25 to 27.5 is something I am open to.
Most players will struggle to maneuver this one effectively. But if you can, you will hit a whopper of a tennis ball!
Pros and Cons
+ Stable
+ Powerful
+ Plow through
+ Feel
– Too much racquet to swing
– Very difficult to control
– Timing the ball with a 28-inch racquet requires an adjustment period
Stroke by Stroke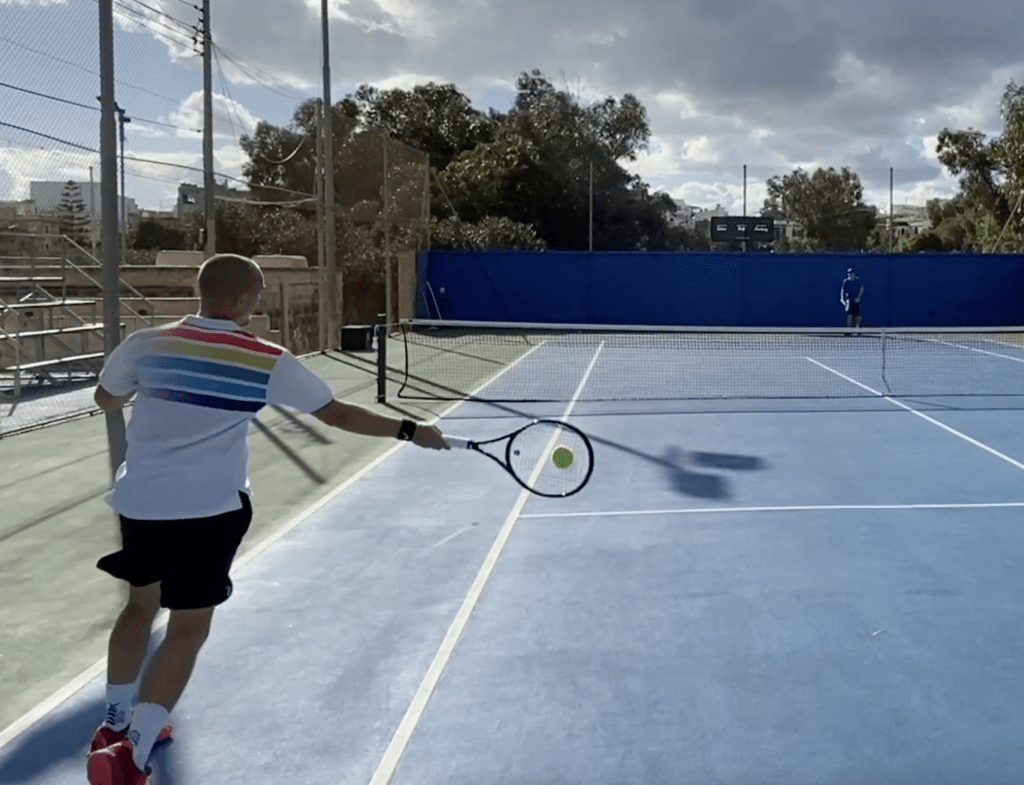 Serve – BIG on serves. Get the racquet on the ball and you'll feel like Serena.
Volley – Obviously very stable at the net. It helped my maneuverability issues to choke up on grip.
Groundstrokes – I struggled with the timing at first and never really loved it on my one-handed backhand.
Touch shots – Surprisingly excellent for me on touch shots.
Returns – Easy to block back returns, but full swing returns will be hard to time.
Comparison
There are not many other racquets to compare within this category, so let's focus on the previous Autograph version. The specs are very similar except for the head size. I found a bit more control and precision with this one and preferred it over previous Serena Autograph racquets. I think it would be even better in a 100 sq inch head size, but I generally prefer smaller head sizes.
Summary
A solid update to one of the most demanding racquets available to retail buyers. Unless you are a huge Serena fan or an advanced player with a penchant for extended frames, I don't think this racquet should be on your list. But if you want extra reach, power on serve, and have the technique and footwork to handle it – the Wilson Blade 102 SW Autograph is quite a weapon.
Check it out on Wilson.com
Let me know if you have tried this racquet and what you think about it!