The Wilson Clash is one of the most hyped-up racquets since the Babolat Pure Strike 2017. When Wilson is talking about "racquet revolution" a lot of people want to bring their salt shaker. Can you revolutionize the racquet industry today? Here is my Wilson Clash Racquet Review – First impressions…
Before I started this Wilson Clash Racquet Review – First impressions post, I thought long and hard if I should try to keep my enthusiasm at bay or let it out in full. As most tennis nerds know, the honeymoon period is a dangerous place. But after my first hit with the hyped-up Wilson Clash, I am in a positive mood. After testing hundreds of racquets and setups over the years, I do not need more than an hour or two to know if I will like a racquet or not. And after a couple of hours with the Clash, I can already say that I like this racquet a lot.
What surprised me the most with the Clash is the stability despite the low weight. What is going on here? My racquet weighed 308 grams strung. That is a very low weight for me, and I thought I would have to add some lead tape just to hit with it against an advanced player. But I always test racquets both in stock form and customized, so that was not really an option. Each racquet/product deserves a fair and honest review.
So I strung up the Clash with Luxilon Alu Power Rough 1.25
 at around 22 kg. This is a low tension for a 100 sq inch racquet I admit, but I wanted to see how it played at low tensions since I had heard about the stiffness rating in the 50s. Also a stiff string such as Alu Power Rough plays best when strung low in my opinion.
Wilson Clash Racquet Review – First Impressions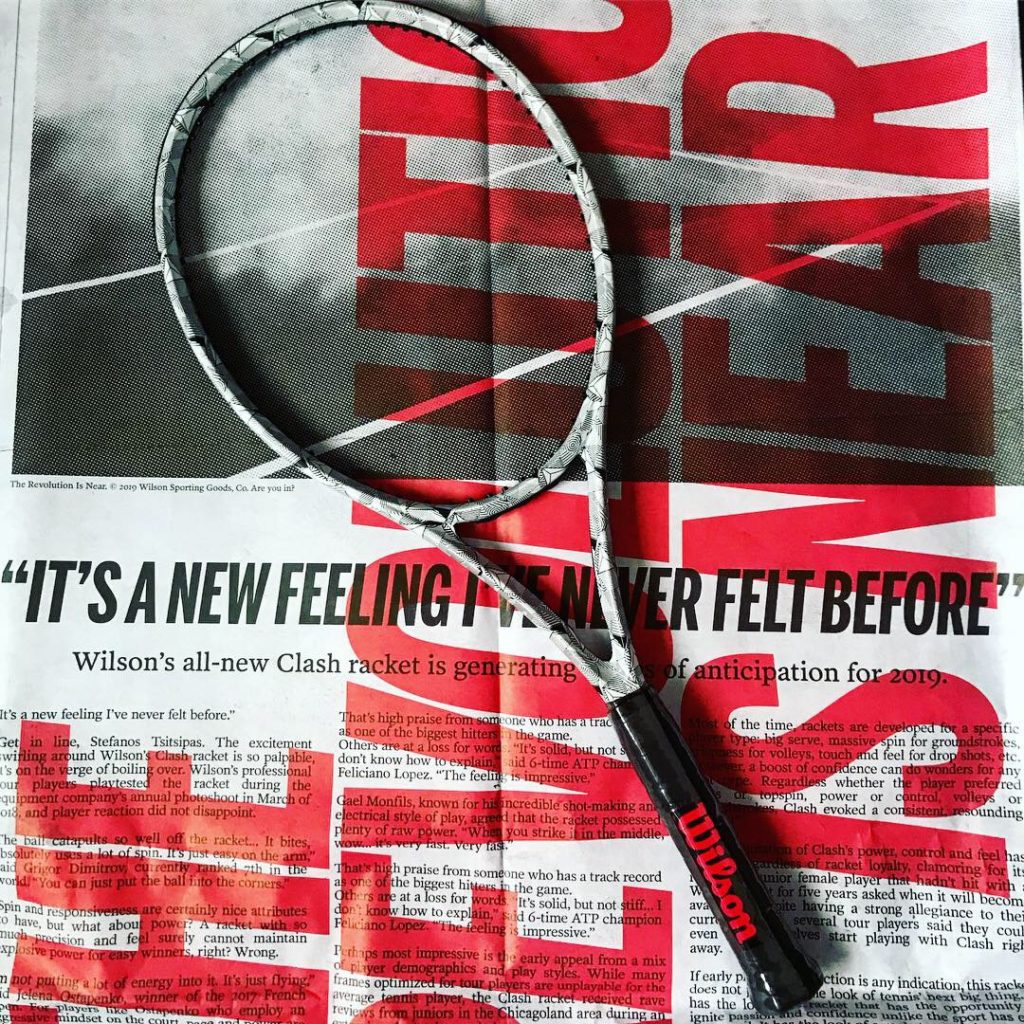 I do not yet have the listed specs but this is my estimation:
Head size: 100 sq inches
Weight: 310 gram strung (295 unstrung)
Beam width: 24 mm
String pattern: 16×19
RA: 60 unstrung/57 strung.
Balance: 31,8 cm strung
The racquet was easy to string and similar in pattern to the HEAD Graphene 360 Extreme Pro
 (Amazon link) that I am also testing at the moment (review to come). But the response of the string bed was quite different. When you hit with a Pure Aero or HEAD Extreme you can feel the stiffness of the frame when it makes contact with the ball. I am not saying they are overly harsh, but you need to think about your setup with that kind of racquet. With the Wilson Clash in my hand, I was not bothered at all by the stiffness of the frame. But that does not mean it flexes like crazy and draws all the power from your shots. No, you get the kind of Pure Aero playability with a softer-feeling frame. I have no idea how it can play that stable with a low weight and pretty head light balance.
It definitely plays like a beefier racquet. And with good feel! I was impressed with the control and feel I got when playing with this racquet compared to other powerful sticks. Okay, it is not as powerful as a Pure Drive or Burn, but it does pack a punch. On volleys and serves I could miss some of the mass from heavier racquets, but on groundstrokes, I felt dialed in early on. As soon as I ramped up the head speed, the racquet performed.
Wilson Clash Racquet Review – First Impressions – What is Next?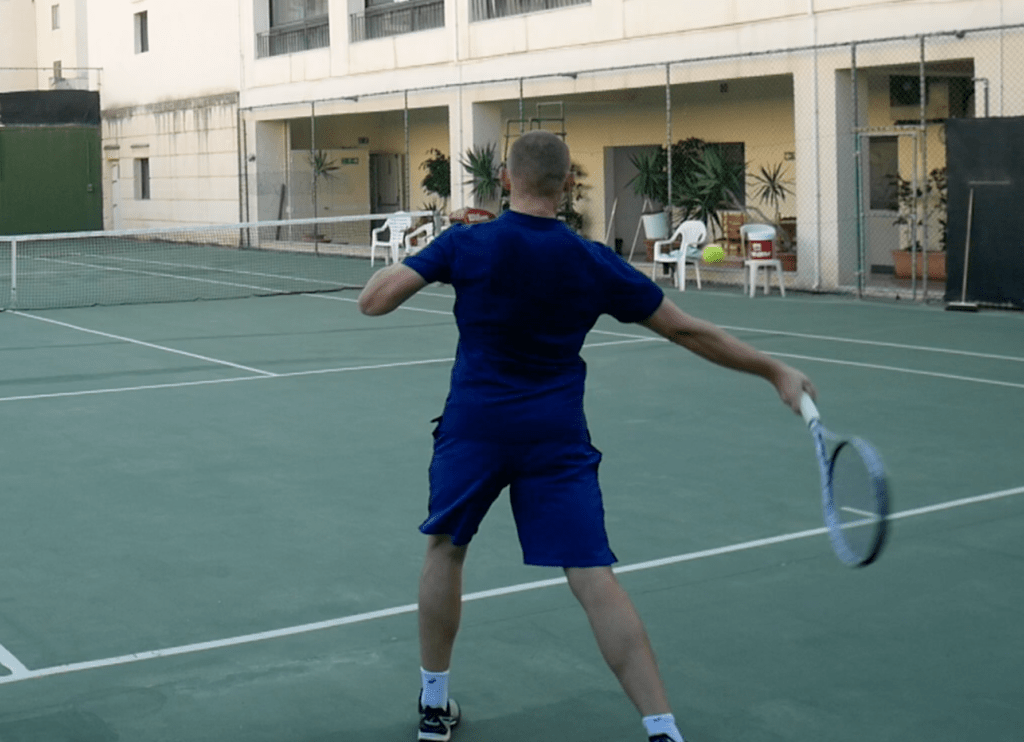 Not sure what Wilson has put into the Wilson Clash racquet, but it sure feels like a great mix of power and comfort. I usually play with a dampener but did not bother with the Clash since I wanted to really test the arm-friendliness of this racquet. I will now add some lead tape
to increase the stability and plow-through. I think this will primarily help my volleys that felt a bit weak in stock form.
I do not normally play with low weight racquets, but despite having a static weight just below 300 grams unstrung, the Clash does play remarkably stable. Especially considering the low stiffness rating. Is there some magic involved? The beam construction? Some new material? Wilson will release the specs, tech, and price on the global introduction of the Clash on February 1st so then we will know. It will be commercially available in a different paint job than the cool prototype paint on Feb 15th.
Normally I gravitate towards smaller head size racquets with tight patterns, but the Clash was really easy to use and reminded me a lot of my beat-up Babolat Soft Drive that plays like a dream. It has that softer feel, yet offers good power and forgiveness. With 295 grams unstrung it also offers plenty of room for customization. The string pattern is spin-friendly but relatively dense in the middle to offer more control. This is key for me as I like to hit flat and rarely do the windshield wiper motion to maximize spin.
Wilson Clash Racquet Review – First Impressions – Who is it for?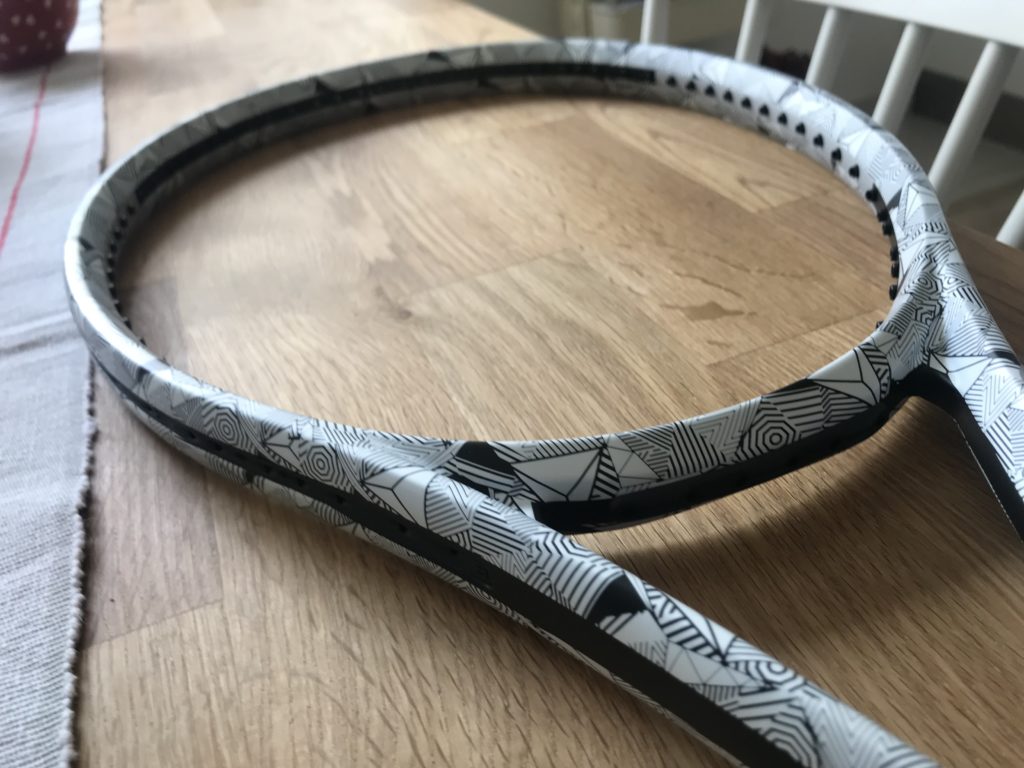 The Wilson Clash is definitely a competitor to the Pure Aero, HEAD Extreme and other popular 100 sq inch racquets. It offers plenty of spin and power but in an arm-friendly package. I definitely think Wilson has managed to create some interesting here and it is a completely new stick in their product line with the low stiffness. The playing demographic for this racquet is quite large, but it is definitely best suited for players who like to hang from the baseline and annoy their opponents with plenty of spin and depth. I did like that it felt more controlled than a Pure Aero and that makes it appeal more to a flat hitter like me
Is it switchable? Definitely, if you are into 100 sq inch racquets! Personally, it would need some more weight and I would need some more playing time with this racquet to see if it can draw me away from my Dunlop Srixon CX 200 Tour 18×20 (click to read my review). However,  my initial reaction is that it is the best 100 sq inch racquet I have tested all year. It has the spin and power of the top competitors but offers a bit more control and comfort. Really a nice blend and possibly a racquet revolution in some way…
Wilson Clash Racquet Review – First Impressions video
Are you interested in the Wilson Clash? Please let me know in the comments below!