I was a bit surprised when Wilson announced that they were releasing a signature edition of the racquet that Federer started out with, the Wilson Pro Staff 85. Here are my thoughts after playing with the racquet.
First off I'm a long-time Federer fan and his rivalry with Rafa is one of the reasons I'm such a tennis nerd today. Yet, I still find it a bit too much to have Federer's face above the grip. I know the idea comes from the old Wilson Pro Staff Jack Kramer Autograph, but it still looks a little bit strange. I thought the RF-letters would have been enough, but that's just a subjective cosmetic thought. In general the racquet looks great in its matte black finish.
I've recently been playing with an older Wilson Pro Staff 85 so it's nice to compare if there is any difference between these racquets.
I strung up my Wilson Pro Staff RF 85
 with a hybrid with Gosen OG Micro Sheep synthetic gut
in the mains and Ytex quadro twist
in the crosses.
It doesn't take long to appreciate the relatively large sweet spot of the Wilson Pro Staff RF 85 and how easy it is to swing with its head light balance and thin beam. It's not a top spin machine, but that doesn't mean you can't hit all types of shots with it. I feel the small racquet head really helps me on the one-handed backhand and when it comes to volleys it really gives you the utmost precision and feel. For players with classic strokes or who like to come to the net and play aggressive, this could still be a racquet to take into tournaments.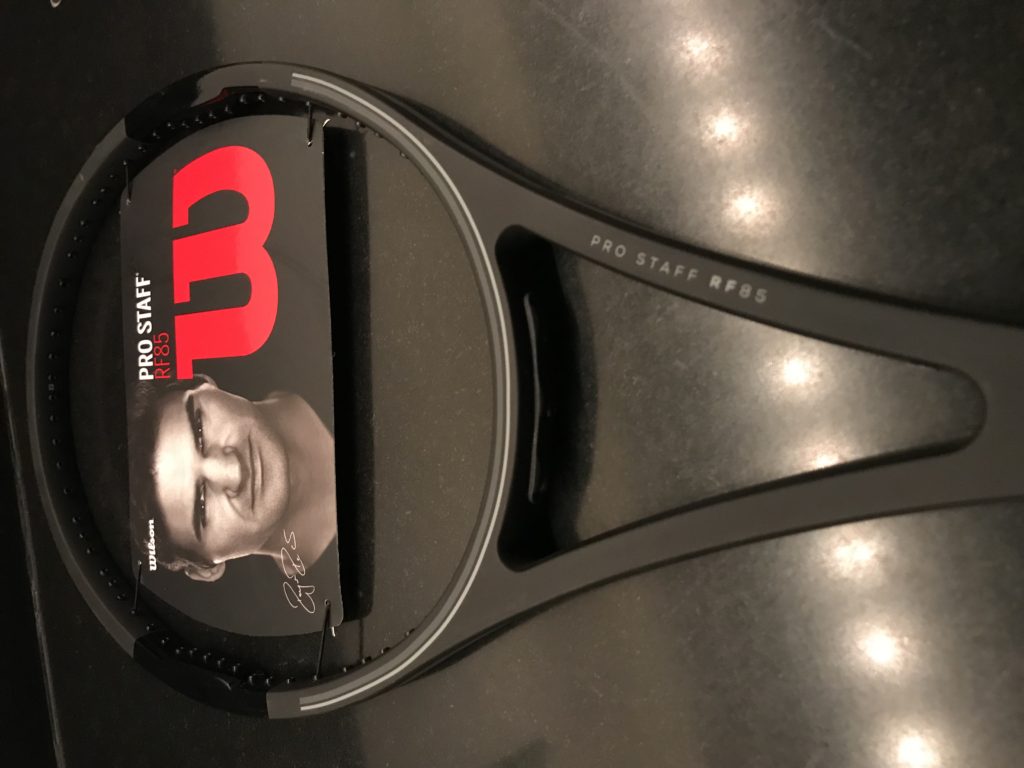 Comparing the new Wilson Pro Staff RF 85 to the older one is not that difficult. The new RF 85 feels slightly crisper straight out of the box. Probably in part due to that the older version has had many more hours of hitting which has softened the graphite. Otherwise the new RF 85 feels right at home and is such a joy to hit with. It really helps you clean up your technique  and I'll gladly keep one in my bag just in case I feel like working on a particular shot or I crave that braided graphite feel and that ultra-thin beam.
The Wilson Pro Staff RF 85
is simply still a great racquet. Admittedly it's a little bit pricey at 249 USD, but the old Pro Staffs are not easy to find these days and this is a beautiful limited edition gem that I'm sure you'll treasure for years to come. If you don't play with it so much, just put it on the wall as a tribute to one of the greatest tennis racquets of all time.
If you do get a Wilson Pro Staff RF 85 to play with I'd definitely recommend you to not string it up with a full poly string job. The racquet plays most beautiful with set of natural gut
, but also works well with a hybrid
or a multifilament
 string setup.
Wilson Pro Staff RF 85 specs:
Head Size: 85 sq. in. / 548.39 sq. cm.
Length: 27in / 68.5cm
Strung Weight: 12.6oz / 357.2g
Balance: 9 pts HL
Swingweight: 329
Stiffness: 66
Beam Width:17mm / 17mm / 17mm /
Composition: Braided Graphite
Power Level: Low
Stroke Style: Full
Swing Speed: Fast
Racquet Colors: Black
Grip Type: Wilson Leather
String Pattern: 16 Mains / 18 Crosses
Mains skip: 7T,9T,7H,9H
One Piece
No Shared Holes
String Tension: 50-60 pounds
Have you played with the Wilson Pro Staff RF 85? Or do you own a previous version? Please comment below!
What racquets do the ATP pros use?

Racquet buying guides
Here is a great racquet buying guide to get you started.
What tennis racquet should I buy?
Top tennis racquets to buy right now
The Gear of the Year 2016
Tennis racquets for juniors
Tennis racquets for kids
Buy the Wilson Pro Staff RF 85 and other tennis gear:
EU
Racquet Depot
Pro Direct Tennis
USA
Tennis Express
Do It Tennis
Amazon.com
Do you like Tennisnerd? Don't miss a word or video by stalking us on social media. Every like and follow is appreciated!

YouTube
Instagram
Twitter
Facebook Page