I have played my first couple of hours with the Yonex VCORE 95 and wanted to write a Yonex VCORE 95 Racquet Review – First impressions post. The update to the VCORE SV 95 is a positive experience so far.
There are not many 95 sq inch racquets being released these days. 97 sq inch racquets have become the new norm for control frames, 98 is the new in-betweener, and 100 sq inch remains more of a power frame although I am sure in five years that might be the norm as a control racquet. Just look at what they did with the HEAD Graphene 360 Speed Pro
(read my review). Since I am a fan of 95 sq inch racquets, I really looked forward to this VCORE 95 racquet review. And it did not disappoint.
The Yonex VCORE 95 is pretty much a smaller and softer VCORE 98 (read my VCORE 98 racquet review here). The VCORE 98 did a decent job at everything but did not really wow me and at times I felt it lacked control. The feel was however relatively comfortable and it did provide good spin, so that made me curious about its smaller brother. I applaud Yonex for sticking with the 16×20 string pattern in this one as the string bed feels more controlled than the VCORE 98.
Yonex VCORE 95 Racquet Review: First impressions – Specs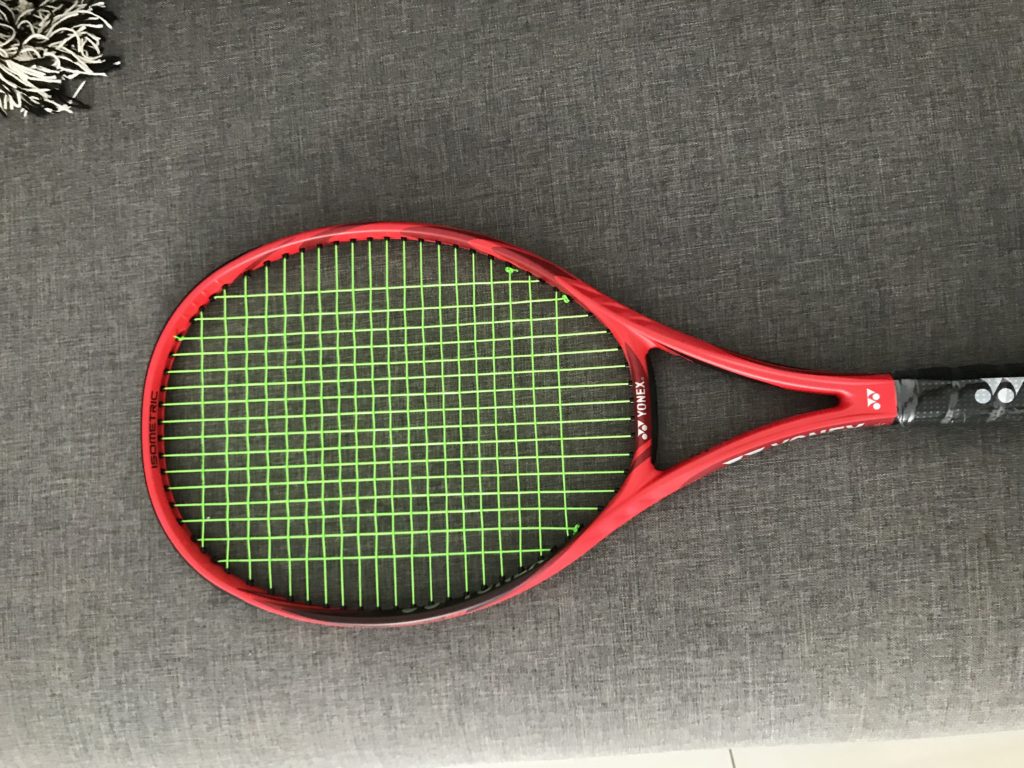 Head size: 95 sq inches
Weight: 310 grams
Length: 27 inches
Beam width: 21/21/20 mm
Balance point: 31 cm
Materials: H.M. Graphite, Nanometric XT, Namd
Stringing pattern: 16×20
I found the 310 gram stock weight a bit light for a 95 sq inch racquet and it made the racquet unstable at times. This is hopefully remedied with some lead tape
in the hoop, but I am still wondering why they don't release it as a 320-gram racquet straight away. Only advanced players will be looking at a 95 sq inch racquet and in 95% of the cases, they will add lead tape. So a 320 gram unstrung weight like the good old Yonex VCORE 95D that Stan Wawrinka uses under various paint jobs would be the way to go in my opinion. I guess they wanted to make a racquet that swings really fast, Denis Shapovalov-fast, however, you still need more mass to counter shots from players that hit big. I hope a couple of grams at 3 and 9 will improve the stability enough.
LIke I wrote above, the response of the string bed is nice and plush and I think they did a good job in lowering the RA from 65 strung of the SV version to the 62 RA strung of this fire-red version. I just want to point out that this is no "wet noodle". I strung it up with Solinco Hyper-G
1.25 at 22 kg and felt that it complemented the frame nicely.
Yonex VCORE 95 Racquet Review: First impressions – Performance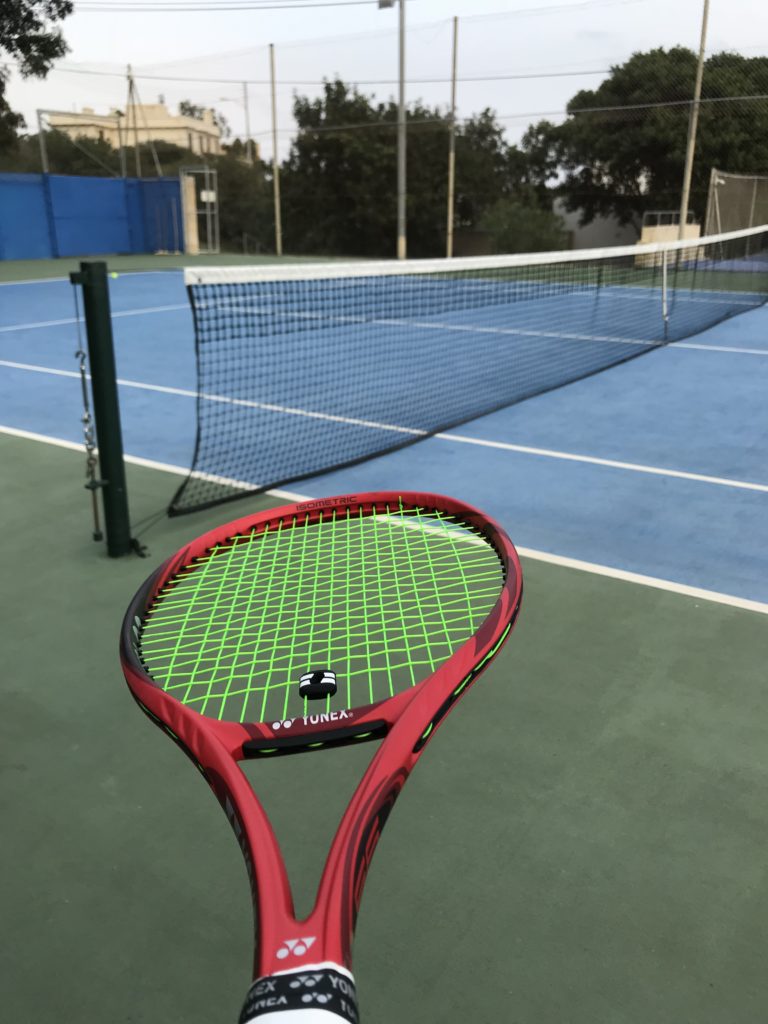 The Yonex VCORE 95 does most things well. I liked the touch on volleys, the sweet spot feels bigger than on most 95 sq inch racquets and the 16×20 string pattern provides good spin but not an erratic launch angle which I sometimes found on the VCORE 98. The design is spot on, the racquet moves quickly through the air and for some reason I really felt at home with it on my one-handed backhand. It is like Yonex knows exactly what one-handed backhand players need (just ask Denis and Stan).
I did like the Yonex VCORE 95 better on more spin-oriented shots than when you hit flat. On flatter shots it felt a bit inconsistent, but I think that might be due to the lack of plow-through. When I added some extra spin on my shots, I felt I got really nice power and spin from the frame and it was quite addictive to hit with it.
I hope I can give you more information when I have played it with some lead tape in the hoop. That is definitely required for this frame to shine, but I can already say that this is a nice platform stick ready for customization. If you want a stable frame around 330 grams, I would look at a bigger head size, because this one definitely needs a 340+ gram spec to play well.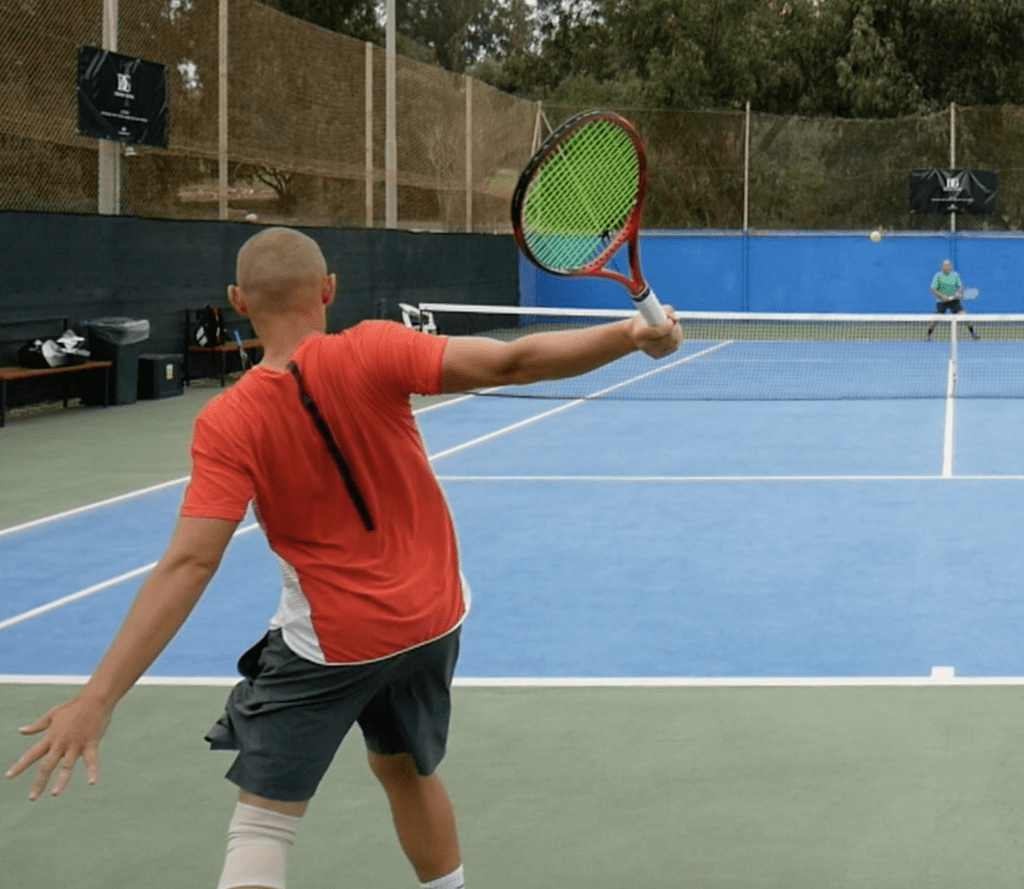 What do you think about the Yonex VCORE 95? Is it something you would be interested in trying? Please comment below!