I must admit that I had some doubts before testing this racquet. While I used to happily play with various HEAD racquets, I have not really enjoyed a HEAD racquet since they introduced Graphene. Did they get it right this time? I hope I can answer that in this HEAD Graphene 360 Speed Pro racquet review.
Graphene is a form of carbon that they say is the strongest material ever tested (source: Wikipedia) and HEAD won Popular Science's "Best of What's New Award" in the recreation category for introducing the material into the HEAD Graphene Speed Pro
in 2013. I am not sure it helped sales for that year, but HEAD definitely decided to stick with Graphene as a key component of their tennis racquets.
The second iteration of HEAD graphene racquets was called Graphene XT, where they claimed to have shift weight towards the tip and grip (which is also called polarization) "to provide better manoeuvrability and increased swing weight". Graphene XT also introduced graphene into the shaft, making it more stable. However, a lot of players complained that the Graphene racquets were too stiff, increasing the risk for tennis elbow and wrist injuries.
The third iteration of Graphene, Graphene Touch was aimed at dampening shock. HEAD added a shock-absorbing material to the frame construction and claimed that it would reduce vibrations and increase feel. Personally, I felt the racquets became a little too dampened and it was hard to tell where you hit the ball.
HEAD Graphene 360 Speed Pro Racquet Review – What is new this time?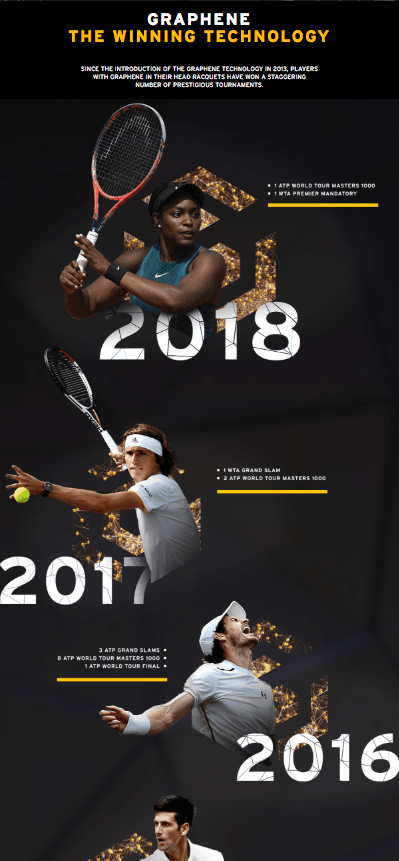 I found it funny that HEAD markets their Graphene racquets (like in the image above from the HEAD website) with images of players such as Andy Murray, Novak Djokovic, Marin Cilic and Tomas Berdych. Although all of these players obviously play with HEAD racquets, none of them use Graphene racquets (click the name to find out what older models they really use). It does say that as well in the fine print of the advertising, but to me it is still a form of deception to the end consumer.
What is then Graphene 360? The 360 means that they have increased the distribution of graphene around the frame. So it is still in the shaft, but also at 3, 9 and 12 o'clock which is typically where you want to add weight to your racquet to increase power, stability and swing weight. This is not rocket science, but makes a lot of sense to me and that is why I like it.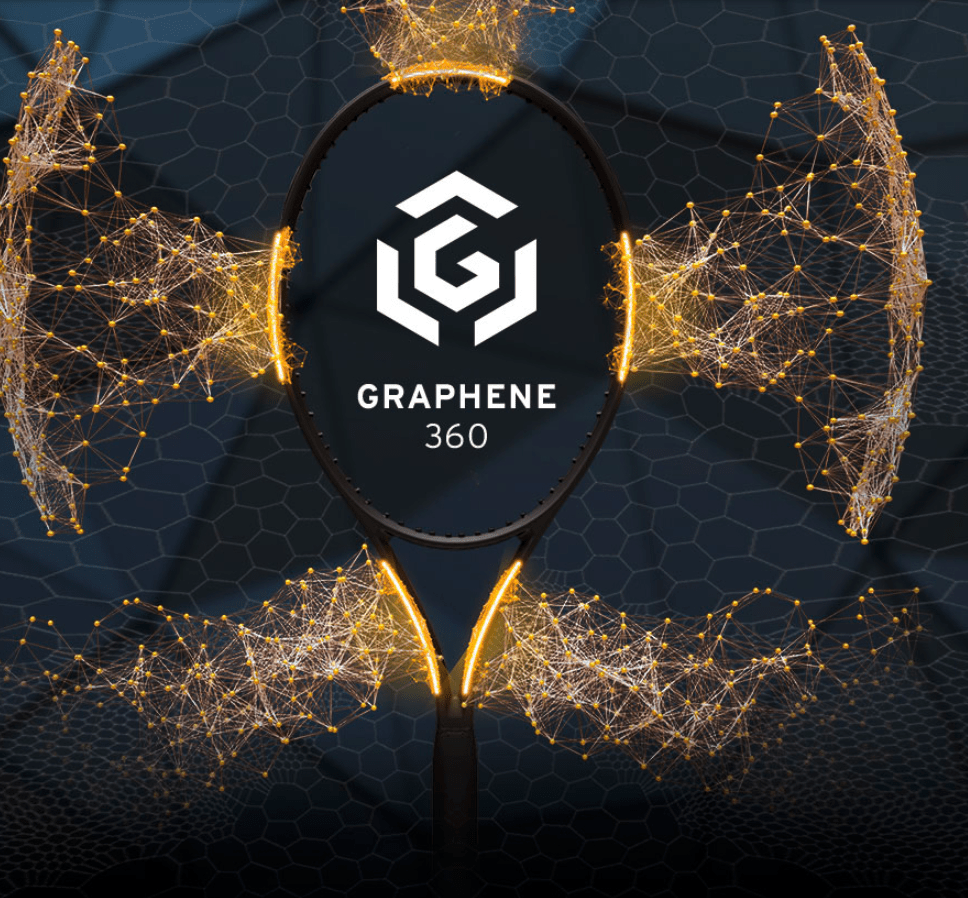 HEAD Graphene 360 Speed Pro Racquet Review – How does it play?
The idea is that the racquet will play more stable and it does not take long for me to tell that the technology actually seems to work. The racquet is remarkably stable for a frame that starts at 310 grams unstrung. I predicted that it would be the case too, but I feared that they might not have solved the issue of finding a direct, yet arm-friendly feel.
Feeling connected to the ball is a cliché often used to describe tennis racquets, but it actually works, because you need your racquet and strings to transfer information to your hand and mind. If you have a good feeling of the ball hitting the string bed, you will be able to play more freely and with more touch and confidence.
This is where I felt the Graphene Touch series ironically failed, but in the case of the HEAD Graphene Speed Pro, I notice a vast improvement in this area. On volleys and touch I definitely feel a lot more direct feedback from the frame.
They have also worked on the aerodynamics of the racquet, making it swing faster, which I really enjoy. With the tight string pattern I really feel I can go all-in and still expect a controlled response from the racquet. I thought the specs with the 18×20 string pattern, the 100 sq inch head and the 23 mm beam was a good blend to be able to hit hard and generate both spin and power.
HEAD Graphene 360 Speed Pro Racquet Review – Specs and performance
These are the advertised specs from HEAD's official website:
| | |
| --- | --- |
| Weight (unstrung): | 310 g / 10.9 oz |
| String pattern: | 18/20 |
| Head size: | 645 cm² / 100 in² |
| Grip size: | 1-5 |
| Balance: | 315 mm / 1 in HL |
| Length: | 685 mm / 27.0 in |
| Beam: | 23 mm |
I did not really find any weaknesses with this racquet and that is a rare thing for me. I enjoyed it from both the back and the front of the court. It was nice and stable on volleys, I felt like I could hit with plenty of spin despite the tight pattern and that same string pattern allowed me to go for the lines on approach shots.
The slice skids nice and low, once I had dialled in my first serve I also felt it was relatively easy to hit solid serves. Not the most powerful serves ever, but with good placement. The fast feel of the racquet also allowed me to hit with a lot of spin thanks to the racquet head speed. I really enjoyed this racquet with Solinco Hyper-G
at 23 kg, but it does not at all strike me as a string sensitive racquet.
I ended up customizing the racquet slightly with 2 grams of lead at the throat and 2 grams at 12 o' clock. This increased the swing weight a bit but still maintained the fast feel. I also tried with lead at 3 and 9, but the higher twist weight did not feel right for this kind of fast frame.
HEAD Graphene 360 Speed Pro – Is it switchable?
I really like the HEAD Graphene 360 Speed Pro
and do not have a lot of bad things to say about it. The only thing that I has bothered me since I started playing with it is a slight, perhaps imagined, twinge in my right arm. I hope it is not vibrations from the frame that is bothering me, because it feels like a comfortable racquet and the RA of 62 strung, but maybe it is something that comes afterwards (I have only been playing this racquet with a stiffer poly so this might of course be mitigated with a hybrid setup). Sometimes it is not apparent what kind of shock the racquet transfers to your arm. I really hope this will not be a problem later on, because I want to keep playing with this racquet for a while more.
Is it a racquet I would switch to? Yes, perhaps. After playing with the Soft Drive, this racquet offers a more predictable response from the 18×20 pattern and I really like that as it allows me to swing out more freely. I get easier spin and a slightly softer feel with the Soft Drive, but when I am on my game and going for my shots, the HEAD Graphene 360 Speed Pro
gives me the kind of racquet head speed yet control that I need.
I will definitely keep playing with it for a while more and see what happens. Will of course keep you posted here if the switch would happen. And if it ends up in the For Sale-section, you would know that too! :)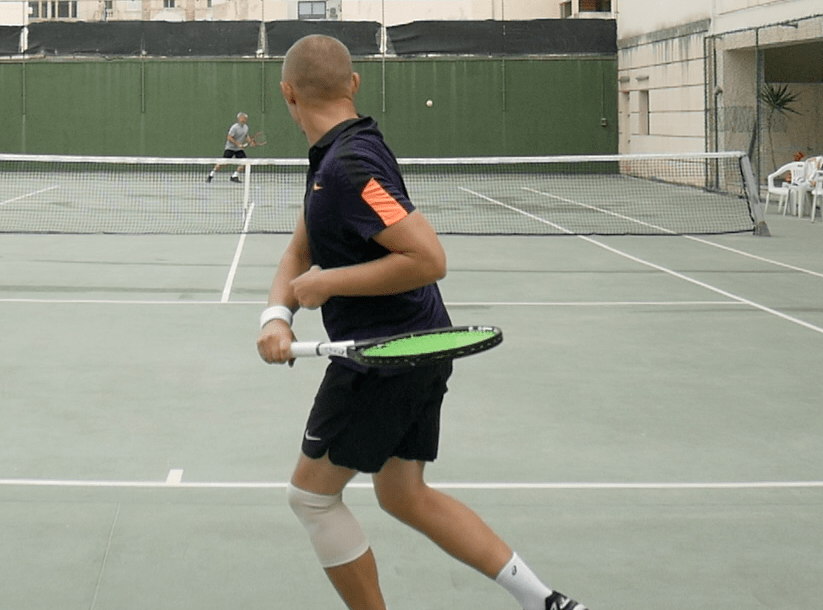 What do you think of the HEAD Graphene 360 Speed Pro? Is this a racquet you would consider trying? Please comment below!