There is a lot of buzz online about Novak Djokovic's new racquet setup. Here is what we have found out.
What is then Novak Djokovic's new racquet setup? Well, he's still using his HEAD pro stock PT113B mold (based on an old Radical racquet from early 2000) but he is now playing with an extended racquet (27.1) with slightly less weight and an 18×19 string pattern. He applies a bit less lead tape than before to make it more maneuverable. If you want to find out more about Novak Djokovic's old racquet setup, read this post.
Novak Djokovic's New Racquet Setup – What Djokovic has to say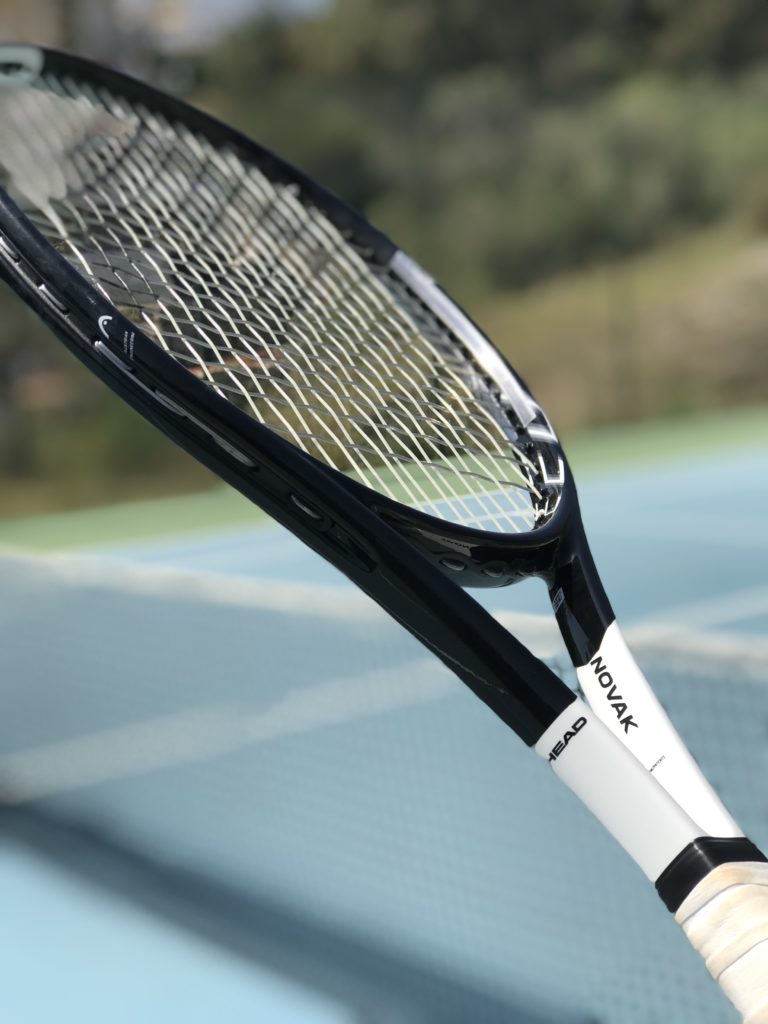 "[I] changed the racquet earlier this year," said Djokovic. "I made some small minor changes that actually in our world are quite significant."
"Obviously it takes a little bit of time," said Djokovic. "I think Roger some years ago also had that racquet change, and it took him a little bit [of time], some months, to get comfortable with it."
"If you think about certain parts of your game you maybe want to improve, maybe the technology, the racquet can help you with that. Why not? It was a big call," expressed Djokovic.
Novak Djokovic's New Racquet Setup – Let's have a closer look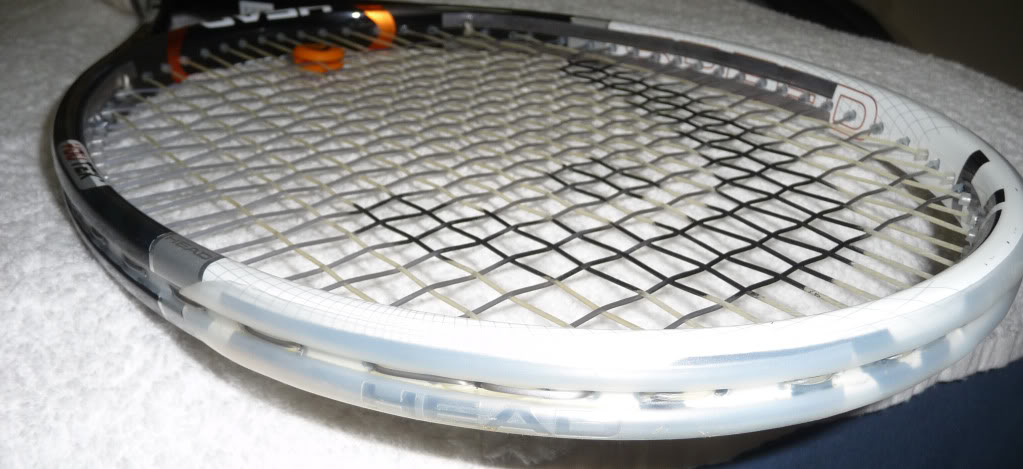 The top pic is from when I played with Novak's new racquet in Marbella. The pic of the old Speed Pro is of his old lead setup.
Here are the specs of Djokovic's "old" tennis racquet:
Strung Weight: 359g (plenty of lead – see pic)
Strung balance: 32.8cm
Head size: 95 sq. inches
SW: 370
Flex: 60RA strung
Grip: 4 3/8, custom with side bevels extended making it more rectangular. Uses two overgrips over Head Calfskin. First overgrip wrapped with no overlapping, top overgrip normal.
As you can see the swing weight is quite massive. He is using a lighter racquet than Federer, but his swing weight is much higher since there is much more weight in the hoop. This has been a key to Djokovic's game since a lot of it is playing defensive and being able to handle aggressive shots with pace hit at him.
Novak Djokovic's New Racquet Setup – How will the changes affect his game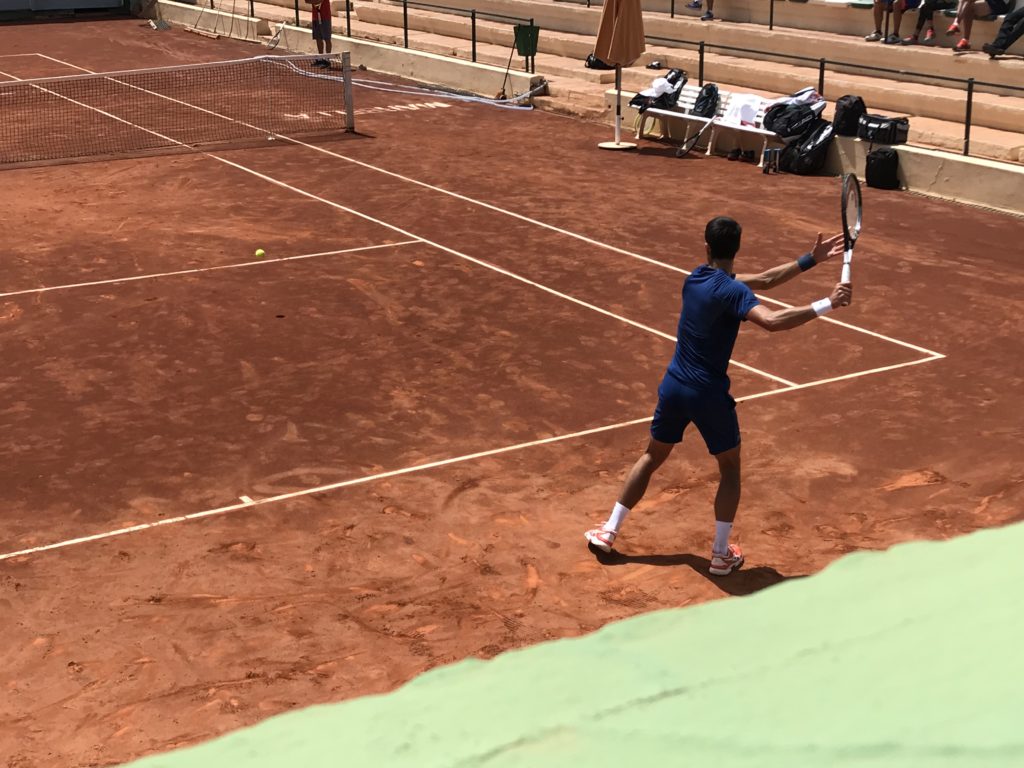 Novak Djokovic's new racquet setup might not seem as drastic has when Roger Federer changed his racquet from the Pro Staff 90
to the Pro Staff RF97 Autograph
 (read my review here), but it for sure will impact his game. Djokovic is said to have decreased the amount of lead tape and gone with an extended length racquet (the mold is still the same PT113B). The extended length will increase the swing weight and give him better reach around the court and on serves. It will also make the racquet more powerful. I also think he has changed the lead tape placement to increase the power of the racquet (with a slight decrease in stability and twist weight). The change from 18×20 to 18×19 is likely to slightly increase the spin potential of the racquet which is going to work well with the increase in power.
Novak Djokovic's new racquet setup is simply a transition for him to become more aggressive and to hit with more power and spin. Not sure exactly how much more comfortable this setup is compared to his old one, but it's possible that the massive swing weight he used to have didn't do wonder for his elbow. I'm not sure if I'm imagining this, but it seems like elbow injuries are more common for players using western to semi-western forehand grips (Djokovic, Wawrinka, Kyrgios, Sock, Nishikori) than for example variations of the eastern grip (Roger Federer, Del Potro or Dimitrov). It definitely looks like that kind of swing puts more strain on the elbow, but I might be biased.
Here is a video of Mr Tennisnerd testing the actual Djokovic racquet.
What do you think of Novak Djokovic's new racquet setup and what impact will it have on his game? Please comment below.
***
Do you like Tennisnerd? Don't miss a word or video by stalking us on social media. Every like and follow is appreciated!

YouTube
Instagram
Twitter
Facebook Page
Amazon Influencer
Buy tennis gear
EU
Racquet Depot
Pro Direct Tennis

Racquet buying guides
Here is a great racquet buying guide to get you started.
What tennis racquet should I buy?
Top tennis racquets to buy right now
The Gear of the Year 2017
The Gear of the Year 2016
Tennis racquets for juniors
Tennis racquets for kids
Popular posts
What the ATP pros play
Questions about pro stock tennis racquets
Is a pro stock racquet better than a retail one?
Do professional players change racquets?
Racquet Commitment Issues