Some months ago I found a used racquet for 15 euro that I had heard Rafael Nadal and Carlos Moya used to play with. Nadal in his teen years and Moya during a large part of his career. It has now also become the current Tennisnerd racquet of choice.
The racquet in question is the Babolat Soft Drive (links to a post of when I first found this racquet), a racquet with a stock weight of 270 grams unstrung which is eons away from the kind of racquet I usually gravitate towards. Meaning control racquets, typically 350 grams strung and with a 95 sq inch head size. It feels strange that a 100 sq inch, light, 90s racquet is now the Tennisnerd racquet of choice.
The racquet was not in very good condition. Lots of marks and crap grip, but for me it was something I could keep in the collection just for fun. First time I took it to the court I had only replaced the grip so it was very, very light and had old gut strings on it that were about to snap. I thought I would hit it with just to snap the strings, it would probably take five shots or so. But instead I ended up playing with this old bruised racquet for the entire session.
The Tennisnerd racquet of choice – The Babolat Soft Drive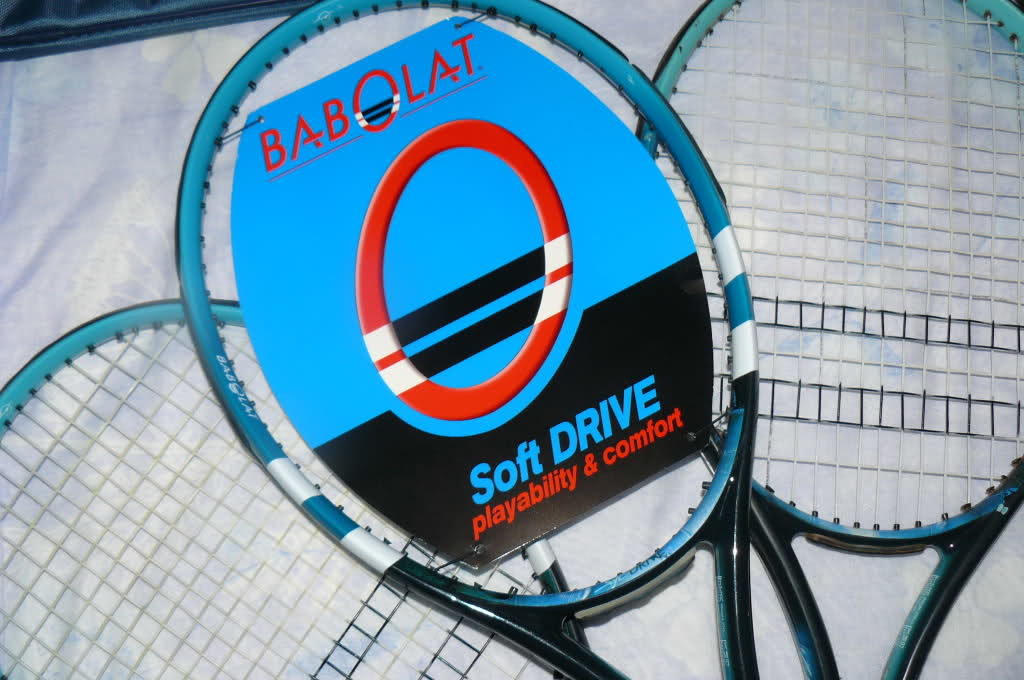 For some reason I just felt I could do what I wanted with this racquet. It let me be more creative with my shots than with my then standard midplus racquets. The spin was intoxicating. The light feel made it easier to swing. The forgiveness with the 100 sq inch head was good too.
But I know all too well about the infamous "honeymoon period" where you think a racquet is…the one for a few sessions and then suddenly you start noticing its weaknesses. All racquets have strengths and weaknesses. Having tested, customized, bought and sold racquets for many years, I should understand this by now.
So I gave it some time. I started playing around with the specs since the ultra light racquet could not really handle heavy balls as well. I added heaps of lead tape, changed to a leather grip, tried different strings. I went back and forth in my mind whether I could really play with this racquet.
The Tennisnerd racquet of choice – Strings and spec
There was also the classic "risk". What if I fall in love with this racquet and I could only find one? What do I do then? Luckily, I managed to find a few Soft Drives online in various conditions (from big-time chipped to brand new)
I settled on a string too. I felt the HEAD Hawk Touch
(read my review) deadened some of the power of the Soft Drive, while maintaining good feel and control. What has always been a worry about Babolat racquwets, the intoxicating power and spin that can easily lead to elbow and wrist pain created by the vibrations from the thick-beamed frame, where not there with the Soft Drive. Maybe it is the construction of 80 percent graphite and 20 percent fibre glass that makes it more comfortable than even lower stiffness Pure Drives, but so far so good in terms of arm pain.
I ended up with the spec of 330 grams and 33 cm balance, a weight and balance that maintains ease of swing, but still packs a punch and offers good stability.
The Tennisnerd racquet of choice – How it performs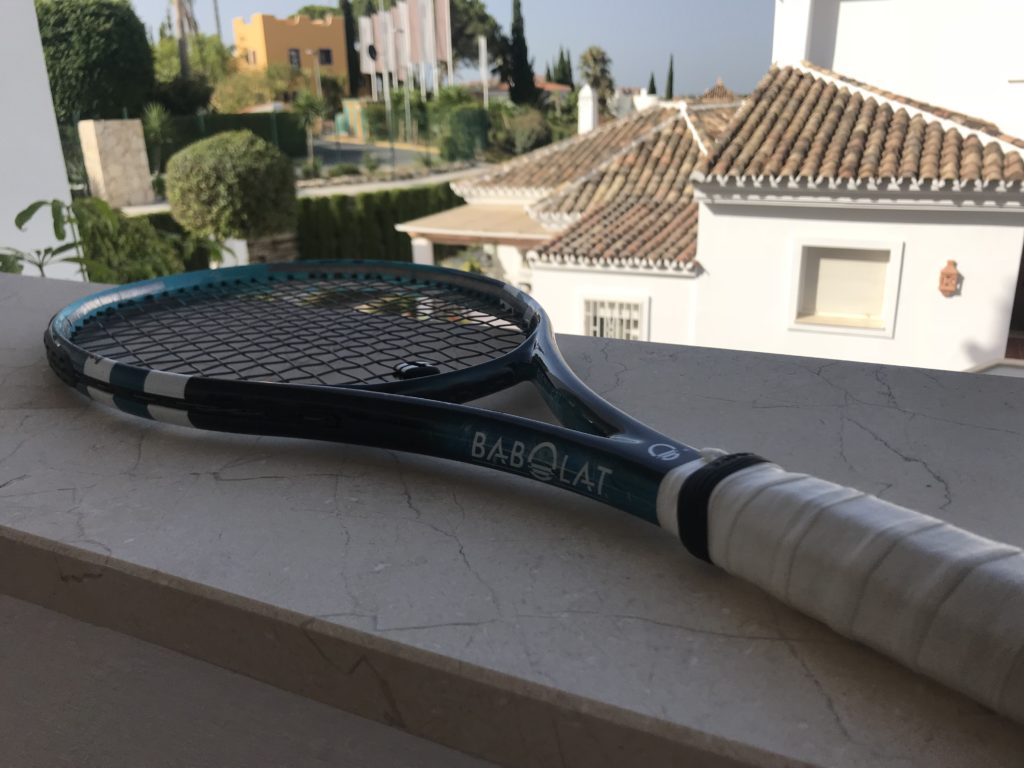 I love the Soft Drive on my forehands, I can really hit flat and with lot of spin and mix up my swings. Backhand works well too, although I prefer midsize frames for my one-hander, but the healthy sweet spot helps my sometimes lazy footwork on this wing.
Serve is not Pure Drive power, and I do serve better with the Prince 93P I reviewed recently, but it is good enough. What I need to work on is my second serve kicker. Right now it kicks up right in the string zone of taller opponents and it ends up costing me a lot of points.
The slice is a little more floating than I want it to be, but I really love the forgiveness on defensive shots. With the Soft Drive I can really dig the ball out of the corners
and hit a good defensive shot. This is where I feel this racquet helps me the most compared to the racquets I used to play with.
Like I said, it is not a racquet without flaws, but for me, this makes tennis a little bit easier than a midsize racquet. And now that I have been struggling with my movement due to a lingering knee injury, that extra power and forgiveness is welcome.
The Tennisnerd racquet of choice – How long will it last?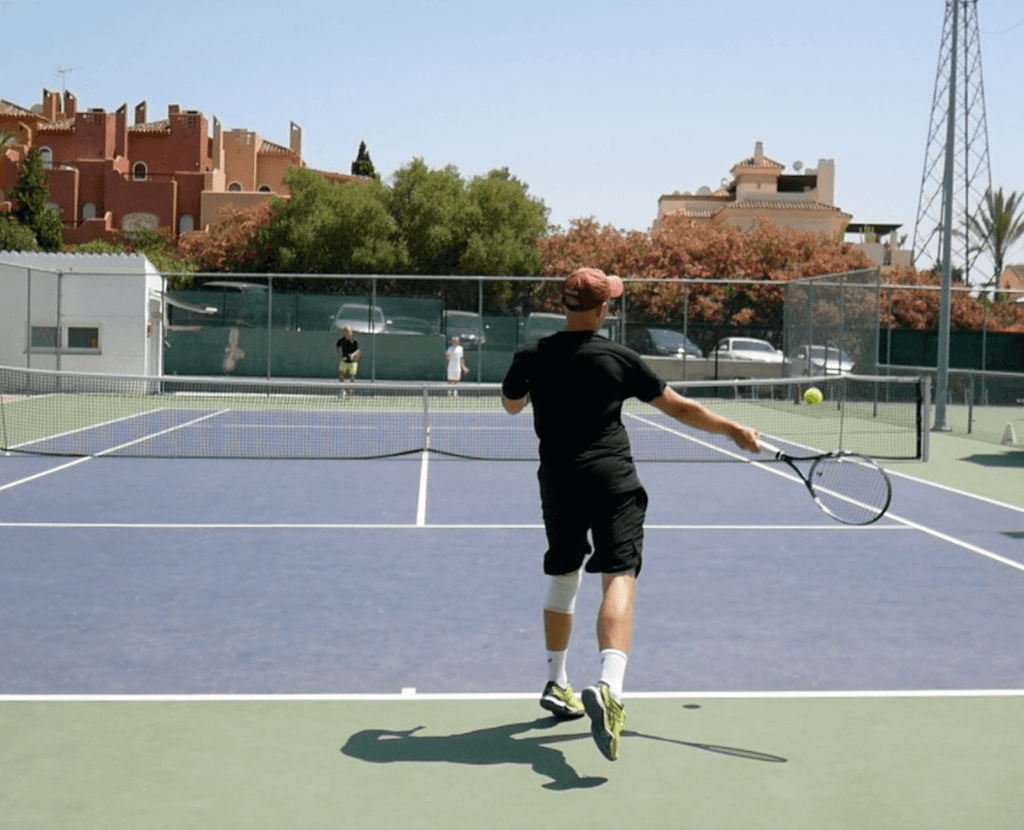 I am not going to say I will stick with this racquet forever, but I hope for my tennis consistency's sake that I at least stay true to it for a year. But more racquet reviews are on the way and who knows how long it takes before I find something that works even better for my game.
That is the life of a true tennis nerd I guess.
On a sidenote, I am looking forward to testing the new HEAD Graphene 360 Speed Pro.
What is your current racquet of choice and how is that working for you? Please comment below!