There is a new Serena Williams Autograph racquet out and it's based on the prototype we wrote about a while ago.
The new Serena Williams Autograph racquet is 102 sq inches and comes in a classy-looking black and gold paint. This is from the official press release from Wilson Sporting Goods:
"The hallmark characteristic of the SW102 tennis racket is its smaller head size – 102 square inches versus the 104 square inches of her previous Blade SW104 Autograph racket. Wilson LABS, the innovation hub at Wilson, spent nearly a year working with Serena Williams playtesting prototypes to create a racket that better supported her signature power while enhancing control.
I love my previous Blade tennis racket, and it's been a huge part of my game, but I knew I needed to make adjustments," said Serena Williams. "A tennis racket is such a sensitive thing. I talked with Wilson about wanting more control and what that could look like, and importantly, feel like. So, we got to work. I am really into technology and trying new things out. And while the process was long, we ultimately designed exactly what I need for my game. I've had this new racket in my hands for most of this year, and it just feels right."
Serena Williams and Wilson LABS co-developed and play-tested nine different 102-inch prototypes before ultimately landing on the final design.
Serena Williams Autograph racquet – Blade SW102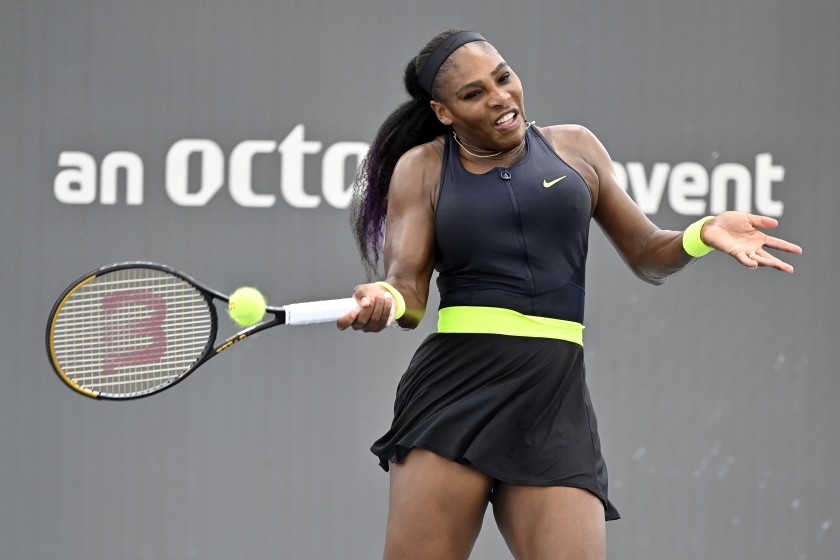 "The decreased head size allowed Wilson LABS engineers to modify the racket's flex points along its string bed and frame to add the level of control Serena Williams was looking for without impacting the power of her play.
"We took the same stiffness and feel she loved in her previous racket and re-engineered it into a smaller geometry. With a smaller frame, you naturally add control," said Rocchi.
The all-new aesthetic of the Blade SW102 Autograph reflects Serena William's legacy in the sport with bold accents in her favorite color – gold.
In continuing the minimalistic design DNA of Wilson high-performance rackets, the Blade SW102 Autograph racket features a stealthy black finish accented with Serena Williams-inspired gold at the racket's hoop. Beautifully detailed, the racket highlights Serena Williams' signature and communicates words of encouragement along the inside throat of the racket. The outside throat of the racket features the classic Wilson script logo.
Fans can sign-up for early access to the Blade SW102 Autograph racket by visiting wilson.com/sw102. The racket will be available for purchase on wilson.com on September 8 and via tennis specialty retailers (in-store and online) September 15. The racket retails for $249 (MRP)."
Serena Williams Blade SW102 Specs
There are no exact specs yet, but if we assume it's the same as the prototype that they issued, they should be:
Weight: 304g
Length: 28 inches
Balance: 32,6 cm
Swing weight: 304
When you add strings and an overgrip the specs will be something like 326g, 33,4 cm balance, and 334 SW.
This is definitely lighter and easier to swing than her previous racquet. Which you can find out more about here.
I hope to be able to play-test the new Serena Williams Autograph racquet in a not too distant future.