As I wrote in my review of the Solinco Whiteout, a denser string pattern could make this racquet better. Here is the Solinco Whiteout 18×20!
Solinco Whiteout 18×20
I had a great time with the open pattern version of the Solinco Whiteout, but in summary, I wrote this:
The Solinco Whiteout 98 is a very competent racquet for a wide audience. I was thinking about switching to it for a while. That's how good it is. In the end, I prefer more dependability from the string bed. Maybe a Whiteout 98 18×20 would be ideal?
Great frame if you want relatively easy power/spin in a comfortable and whippy package.
Will the Solinco Whiteout 18×20 be ideal? I hope so. I am waiting for a demo and will begin the test period once it arrives. Patrons of Tennisnerd usually get first impressions and it is a great way to support the website and YT channel.
There are a bunch of different racquets in the Solinco Whiteout line-up; you can check them out and purchase them from our friends at Tennis Warehouse. Tennis Warehouse Europe does not carry the 18×20 version yet, and neither does Tennis Only in Australia.
So now you can choose a Solinco Whiteout in extended length (27.5 inches), 305g or 290g unstrung weight or 18×20 or 16×19 string pattern. Besides that, you can also customize the weight easily with a weighted buttcap from Solinco. Maybe it is time to bring out some branded and matching weight tape as well?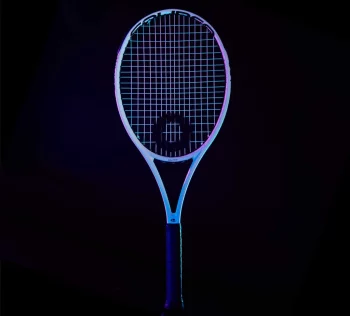 Specifications
Head Size: 98 in / 632.26 cm
Length: 27in / 68.58cm
Strung Weight:11.4oz / 323g
Balance: 13in / 33.02cm / 4 pts HL
Swingweight: 324
Stiffness: 66
Beam Width: 21.7mm / 21.7mm / 21.7mm
Composition: 40T Carbon/Graphite
Power Level: Low
Stroke Style: Full
Swing Speed: Fast
Racquet Colors:White
Grip Type: Solinco Synthetic
String Pattern:
18 Mains / 20 Crosses
Mains skip: 8T,10T,8H,10H
Two Pieces
No Shared Holes
Technology
The technology used is the same as in all the Whiteout racquets.
40T Carbon Fiber at 3/9 o'clock, which is supposed to give a larger sweetspot and greater torsional stability.
Liquid Crystal Technology which is added to the layup in order to reduce hash vibrations and lighten the load on your tendons.
Foam Technology in the head, giving it a more dampened and solid feel through impact.