Henrik Wallensten is in testing mode and has been trying the new Wilson Shift, the Babolat Pure Drive 98 and…drumroll…the HEAD Ti.S6.
The legend of the HEAD Ti.S6
You have probably seen a HEAD Ti.S6 somewhere where you play tennis. It's become an icon in veteran tennis. Why? Because with its insanely user-friendly specs, you get a light racquet with lots of power that is still relatively comfortable (especially when strung with a synthetic gut strung). So why have Henrik bought a HEAD Ti.S6 to try? Well, you have to listen to the podcast to find that out. We also talk about the Babolat Pure Drive 98, the Wilson Shift and why modern racquets are so dampened and muted compared to 10-20 years ago.
Specifications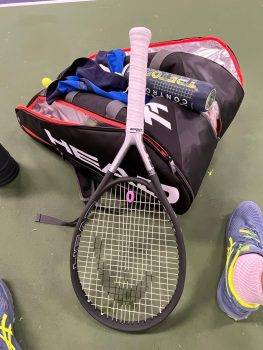 The specifications come from Tennis Warehouse, where the racquet is for sold at the budget-friendly price of 99 USD. It actually has an aggregated review rating of 4.7 starts out of move from 9 reviews and is listed as a "top seller".
Head Size: 115 in / 741.93 cm
Length: 27.75in / 70.49cm
Strung Weight:8.9oz / 252g
Balance: 14.9in / 37.85cm / 8 pts HH
Swingweight: 318
Stiffness: 75
Beam Width: 27mm-28mm
Composition: Graphite / Titanium Composite
Power Level: High
Stroke Style: Compact-Medium
Swing Speed: Slow-Moderate
Racquet Colors: Silver & Blue
Grip Type: Head Cusion Grip
String Pattern:
16 Mains / 19 Crosses
Mains skip: 8T,7H,9H
One Piece
No Shared Holes
String Tension: 57-66 pounds
How does it play?
Henrik first tried it with the pre-strung synthetic gut string. And he loved the ease of use and power that the Ti.S6 provided. He quickly understood why this is such a hit among beginners and veterans. You will do well to shorten your swing a bit when you hit with this rocket launcher of a racquet. But if you do you are rewarded with decent control, maneuverability (this racquet is ultra-light at 240g unstrung!) and massive power.
It's not going to be feasible to use this racquet against advanced players due to the lack of control, but Henrik wants to see what happens if you string it with a polyester setup and add some weight to the handle. He will report back with a review.
Let me know if you have tried the legendary HEAD Ti.S6 and what you think of it. You can purchase it at Tennis Warehouse or Tennis Only.