My friend Henrik who writes for Tennisnerd and the Swedish tennis magazine, has received a prototype racquet called Wilson Shift.
Wilson Shift
The Wilson Shift Henrik received was strung with Luxilon Alu Power, and these were the strung specs: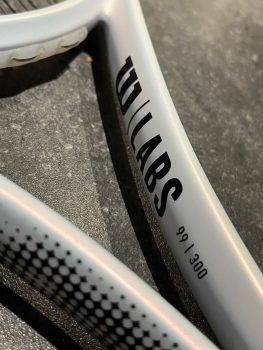 Strung Weight: 322.6 grams (Unstrung, most likely 305 grams)
Strung swing weight: 308 (Unstrung, approx 278).
Head size: 99 sq inches
Beam width: 22-23 mm (estimation)
String pattern: 16×20
Henrik has described the racquet as powerful, but not quite Wilson Ultra level of power. It swings fast (no surprise, considering the swing weight), and he described it as especially strong on slices and serves.
I have not tried the Wilson Shift, nor know the intended player category. I guess it will compete with the HEAD Speed line, a balanced blend of power and control.
I hope to test the racquet in December when I meet Henrik in Marbella.
Watch the video
Wilson will reveal more information about their new Shift racquet in the coming weeks. I have no idea about a release date, but early 2023 seems like a logical guess. It will be a new line in addition to Wilson's tennis racquets like the Pro Staff, Blade, Ultra, and Clash.
It's always exciting when a new racquet line gets released. Earlier this year we saw the Boom from HEAD, but it's a quite rare event in general. The Shift is also added to the string of racquet releases: Babolat Pure Aero 98/Rafa, Yonex VCORE, HEAD Radical/Gravity, etc.
A source has told me that Sebastian Korda is testing the Wilson Shift and not a new string pattern version of his Wilson Blade 98. I cannot confirm this information, but it doesn't sound implausible. The mold of the Shift doesn't look a lot different from a Blade from afar, but I am sure it will play quite differently and land somewhere in between an Ultra and a Blade. For more information, subscribe to Tennisnerd on your favorite social media network!