I have received many questions about the new Babolat Pure Aero so I will try to answer them here alongside a podcast with Henrik Wallensten.
The new Babolat Pure Aero 2023 is making the tennis world buzz. You can check out my Pure Aero review here. The racquet will be launched on Aug 25, but you can already pre-order it our affiliates Tennis Warehouse, Tennis Warehouse Europe, and Tennis Only.
In the podcast with Henrik, we talk about what's new with the Pure Aero 2023, what we like and dislike. Things to think about while stringing it and we also compare it older generations of the Aero line.
Listen to the podcast
We recorded the podcast while Henrik was waiting for his first doubles match in the men's 40+ Swedish championships, so it's a bit shorter than our previous podcasts. Henrik actually ended up reaching the final in the tournament coming back from an injury, so well done to him (on the right in the picture).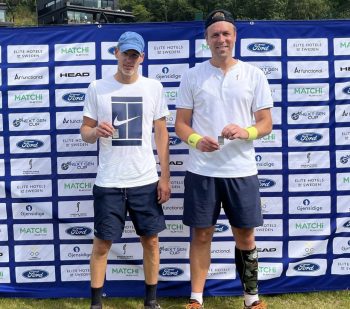 Other Pure Aero racquets
What other models will be released? I don't know about a Pure Aero Tour or a Pure Aero +, which is the extended version. I'm assuming they might come at a later date. However, since the Aero Tour has a smaller target group and its specs can be reached through customization, I'm not sure they will keep that model.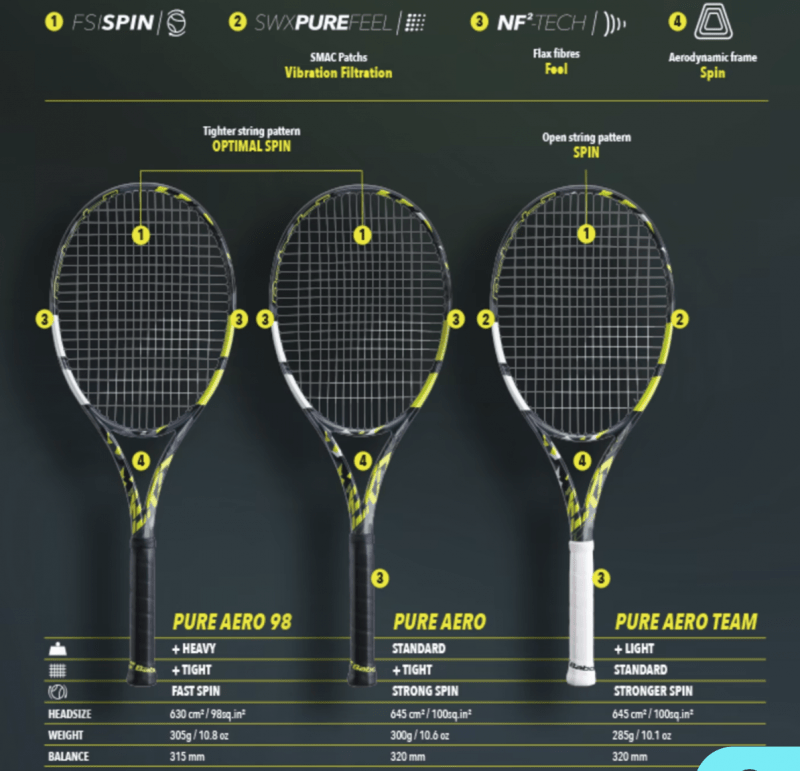 The more open string pattern of the Babolat Pure Aero 2019, will be kept for the Aero Team racquet. The Pure Aero VS will now be called the Aero 98. Again, the Aero 98 is not included on the Tennis Warehouse pre-sale page, so I'm not exactly sure when it will be released. If you know, please comment below. They usually stack the release so certain models are published later, so you might have to wait a few weeks for the 98.
It will be interesting to follow the reception of this new Babolat Pure Aero. Some players might love the denser string pattern and added control, others might prefer more power and spin for free. I think Babolat are smart to keep the more open string pattern for the Team version, so players can go for that one instead.
Babolat Pure Aero Team specs
Head Size: 100 in / 645.16 cm
Length: 27in / 68.58cm
Strung Weight:10.6oz / 301g
Balance: 12.85in / 32.64cm / 5 pts HL
Swingweight: 302
Stiffness: 67
Beam Width: 23mm / 26mm / 23mm
Composition: Graphite
Power Level: Low-Medium
Stroke Style: Medium-Full
Swing Speed: Medium-Fast
Racquet Colors:Yellow/Black
Grip Type: Babolat Syntec Pro
String Pattern:
16 Mains / 19 Crosses
Mains skip: 7T,9T,7H,9H
Babolat Pure Aero 2023 specs
Head Size: 100 in / 645.16 cm
Length: 27in / 68.58cm
Strung Weight:11.2oz / 318g
Balance: 12.99in / 32.99cm / 4 pts HL
Swingweight: 322
Stiffness: 65
Beam Width: 23mm / 26mm / 23mm
Composition: Graphite
Power Level: Low-Medium
Stroke Style: Medium-Full
Swing Speed: Medium-Fast
Racquet Colors:Yellow/Black
Grip Type: Babolat Syntec Pro
String Pattern:
16 Mains / 19 Crosses
Mains skip: 8T,8H