Although he got the US Open Women's Final prediction wrong 🙂 Alex Mann is back with a US Open Men's Final Prediction. Alcaraz or Ruud?
US Open Men's Final Prediction 2022
With the world number 1 ranking on the line, will Carlos Alcaraz or Casper Ruud capture their first major title? The bookmakers pick Alcaraz as the clear favorite, but is it really that simple?
Recently, the last major of the year has signaled breakthrough moments for many players. Juan Martin del Potro, Andy Murray, Marin Cilic, Dominic Thiem and Daniil Medvedev all won their first major title in Flushing Meadows. Carlos Alcaraz will be hoping to add his name to this list.
Carlos Alcaraz is a beast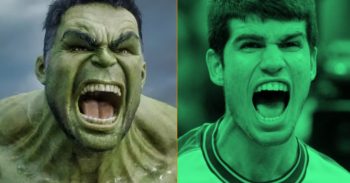 You can read Coach Evan's post Carlos Alcaraz the Incredible Hulk here or find out more about Carlos Alcaraz racquet here.
The 19-year-old's run to the final has been extraordinary. The Spaniard has played three consecutive five-set matches, in the fourth round against Marin Cilic, a five-hour quarter-final thriller against Jannik Sinner, and a semi-final win against the home favorite, Frances Tiafoe.
The mental and physical fatigue from playing this amount of grueling tennis would be a cause for concern for some. However, in every match the charismatic Spaniard has played this fortnight, he's looked fresh despite the hours he's spent on court.
With time on his side, the teenager is bidding to become the youngest world number 1 in ATP history. If he lifts the title, he will break Lleyton Hewitt's record, who reached the top spot as a 20-year-old in 2001.
If Alcaraz can overcome Ruud, he will also become the youngest men's major winner since Rafael Nadal won the French Open in 2005.
What is most impressive about the young Spaniard's game is his confidence and composure. Throughout the season, Alcaraz has consistently come back from the brink of defeat to win.
He came back from a set down to beat Novak Djokovic in Madrid. He saved a match point in the fourth round of the French Open against Albert Ramos-Vinolas, and also against Jannik Sinner in the quarter-final stage of this US Open tournament.
Having the experience of winning when down is something many players would cherish at such a young age and something which he will most certainly use in the final.
With his attacking style of play, he possesses explosive power on both wings. Add in an immaculate net game and exceptional movement. Alcaraz has all the shots to win.
But Casper Ruud should not be underestimated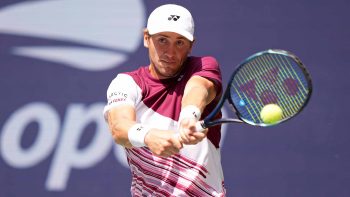 The Norwegian Casper Ruud is standing on the other side of the net. The French Open finalist's run to the final has been equally impressive, beating the likes of the big-hitting Matteo Berrettini and Karen Khachanov.
If Ruud, currently ranked 7th in the world, were to lift the US Open trophy, he would be the lowest ranked player to jump straight to number 1 in ATP history.
The Norwegian's forehand has been impeccable this tournament. In his quarter-final match, he out-hit Matteo Berrettini, who has arguably the biggest forehand on tour.
Having said this, Ruud's serve has been just as impressive. In the second set of his semi-final match against Khachanov, he won 100 percent of his first serve points.
This has helped him set up his forehand and win points quickly rather than battling it out from his favored baseline rallies. Once again, Ruud will need to have a high percentage of first serves, given the strength of Alcaraz's return and defensive skills. If Ruud can do this, he will pose a real threat to Alcaraz.
The Norwegian also has the added experience of being in a major final, losing out to Nadal at this year's French Open.
Prediction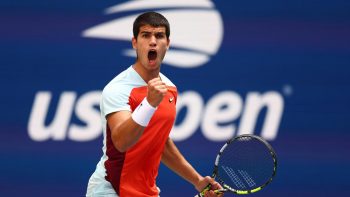 Having said this, I don't see Alcaraz being overwhelmed by the occasion. He seems to thrive off the New York crowd's energy, and I'm sure he'll use this to his advantage.
The Spaniard will look to target the Norwegian's backhand, which has sometimes been a liability for Ruud, pushing him back behind the baseline to open up the court.
I wouldn't be surprised if Alcaraz implements the drop shot frequently.
Alcaraz has already beaten Ruud earlier this year, in the final of the Miami Masters 1000 event, so this will give him confidence.
Overall, Alcaraz's game will be too strong for Ruud. Although the Spaniard has played considerably longer this fortnight, Alcaraz's all-round game is simply better.
Ruud could win a set, but the 19-year-old will lift the trophy.
Prediction – Alcaraz in 4 sets