The Wilson Burn has been a more spin-focused line next to the Ultra, which is all about power. The Wilson Burn V5 is now here.
Wilson Burn V5
The Wilson Burn V5 is not a hyped-up launch like the Pro Staff V14 or the new Wilson Shift. It came into life quietly, without much fanfare. It is one of Wilson's lower price point racquets, which makes it almost half the price of the new Pro Staffs!
That does not mean that the Wilson Burn V5 is a bad racquet. It packs a good blend of power, spin and playability. Most intermediate players could be happy with a racquet like this. However, the high stiffness rating (72 RA) can be a concern if not used with the right string setup. A higher stiffness usually provides more power and stability, but at the cost of rapid vibrations traveling to your hitting arm, sometimes resulting in a sore arm or, later down the line, tennis elbow.
Maybe the racquet has adequate dampening or a layup that mitigates this stiffness, but it is worth noting.
Let's look at the other specifications of the Wilson Burn 100 V5.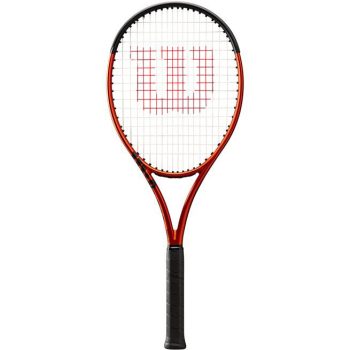 Wilson Burn 100 V5 Specs
Head Size:
100 in / 645 cm
Length:
27in / 68,5cm
Strung Weight:
318g / 11,2oz
Unstrung Weight:
300g/10,6oz
Balance:
33,02cm / 4 pts HL
Unstrung Balance:
32cm/7 pts HL
Swingweight:
320
Stiffness:
72
Beam Width:
23,5mm / 25mm / 23,5mm
Composition:
Carbon Fiber Graphite
Racket Colours:
Orange
Grip Type:
Wilson Pro Performance
String Pattern:
16 Mains / 19 Crosses
Mains skip: 7T,9T,7H,9H
Tension:
22-27kg / 50-60lb
Looking at the specs, this is pretty standard for a power/spin racquet. I like that the swing weight is 320, which should reduce the need for customization for most players unless you get one that is lower on the quality control scale.
The Wilson Burn 100 V5 looks like a solid performer for intermediate players looking for a racquet to give them some extra power and spin without being excessive.
You can buy the racquet from our friends at Tennis Warehouse, Tennis Warehouse Europe or Tennis Only. There are also lighter racquets in the Burn family like the Burn 100 LS or the Burn 100 ULS. For players looking for even more spin and power, there is also the Wilson Burn 100S V5.
Wilson Burn 100 S V5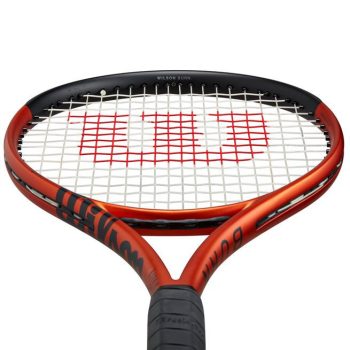 This racquet has a more open string pattern and slightly more weight for an even more powerful and spin-friendly response. I know a few fans of the previous Burn 100S, so I am sure this one can sell as well as the regular Burn 100.
Head Size: 100 in / 645.16 cm
Length: 27in / 68.58cm
Strung Weight:11.3oz / 320g
Balance: 13.35in / 33.91cm / 1 pts HL
Swingweight: 325
Stiffness: 73
Beam Width: 23.5mm / 25mm / 23.5mm
Composition: Carbon Fiber Graphite
Power Level: Low-Medium
Stroke Style: Medium-Full
Swing Speed: Medium-Fast
Racquet Colors:Orange
Grip Type: Wilson Pro Performance
String Pattern:
18 Mains / 16 Crosses
Mains skip: 9T,8H,10H
One Piece
Shared: 7T,8T
String Tension: 50-60 pounds
Check out the Wilson Burn V5 racquets here.
Are you a Burn fan?