Wilson have announced their Wilson US Open racquets showcasing new paint jobs of the new Wilson Blade V8 and the Clash 100.
It feels a bit strange to see Wilson US Open racquets featuring the new Blade V8 when the racquet is not officially announced and released yet. However, I am waiting to receive my demo and to commence my play-test and review. You can check out the US Open paint job of the Blade V8 on the official Wilson website here. The description of the new Blade reads:
The Blade 98 (16×19) v8 US Open Edition sports the same features and specifications as the Blade 98 (16×19) v8 within a unique New York City map design to celebrate the remarkable aura and history of the US Open's night sessions. The headlining innovation, FORTYFIVE°, manages to increase both the flexibility and stability of the frame to lend supreme feel for the ball on every shot. Still characterized by its superior presence in the hands of the best players in the world, this evolution of Blade rewards aggressive, precise ball-strikers with a top-tier blend of connected-to-the-ball feel, torsional stability and innovative design to wow teammates and opponents alike.
The Wilson Blade V8 US Open is also available on Tennis Warehouse and Tennis Warehouse Europe.
The US Open edition of the Wilson Clash 100 is just a paint job update of the original Clash 100 though. As you have read on this blog before or seen on my YouTube channel, the Clash is an excellent choice for players looking for power and spin but suffer from arm issues that can occur with stiffer racquets. Check out my post about arm-friendly racquets here.
Features of the Wilson Blade V8 US Open Edition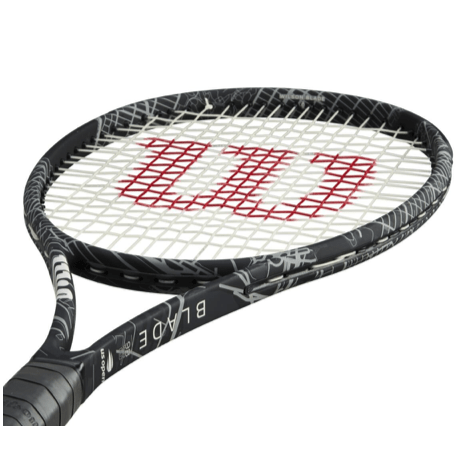 US Open Edition racket features unique matte design of "Night Session" New York City map with same specifications as in-line Blade 16×19 v8
FORTYFIVE° increases flexibility and stability to produce a more connected-to-the-ball feel while better complementing the modern, vertical swing path used by most competitive players
DirectConnect extends the carbon fiber handle to connect directly to the end cap for improved feel and enhanced torsional stability
Top Grip Taper provides better feel for top-hand grip placement
Ergonomic End Cap yields improved comfort and playability
Braided Graphite + Basalt composition improves the flex of a racket to produce enhanced feel and control
Parallel Drilling provides a consistent, more forgiving string bed response
Wilson Blade 98 V8 Specs
Head Size: 98 in² / 632.26 cm²
Length: 27in / 68.58cm
Strung Weight: 11.3oz / 320g
Balance: 12.85in / 32.64cm / 5 pts HL
Swingweight: 320
Stiffness: 61
Beam Width: 21mm / 21mm / 21mm
Composition: Braided Graphite
Racket Colors: US OPEN!!
Grip Type: Wilson Pro Performance
String Pattern:
String Tension: 22-27kg / 50-60lb
How will the new Blade V8 play? Stay tuned and wait for my review. And if you want my very first impression, please join my Patreon page here.