The updated Yonex VCORE Plus racquets are here. For fans of extended length racquets, these should be highly interesting.
Babolat and Yonex both do something that I think makes a lot of sense – they make extended versions of their most popular racquets: Aero and Drive and VCORE and Ezone. Great for players that like a bit of extra leverage, grip space for the double-hander and pop on serve. With an extended racquet you get a higher swing weight without increasing the static weight of  the racquet. The updated Yonex VCORE Plus racquets are the VCORE 98+ and the VCORE 100+ (there will be no VCORE 95+).
If you want, you can pre-order/buy these racquets on Tennis Warehouse. Any purchase through this link will send a small commission to Tennisnerd (for which I am very thankful!). And if you want to check out my review of the standard length versions (including the VCORE 95), check out this post/video.
Yonex VCORE Plus Racquets
Let's take a look at the specs of the Yonex VCORE+ 98 and 100. The main difference between these ones and the standard length is the higher swing weight. Flex ratings and other specs are about the same, so nothing groundbreaking there. If you like the standard version but want to try it in a longer format – Yonex gives you the chance to do so.
Yonex VCORE 100+ (2021)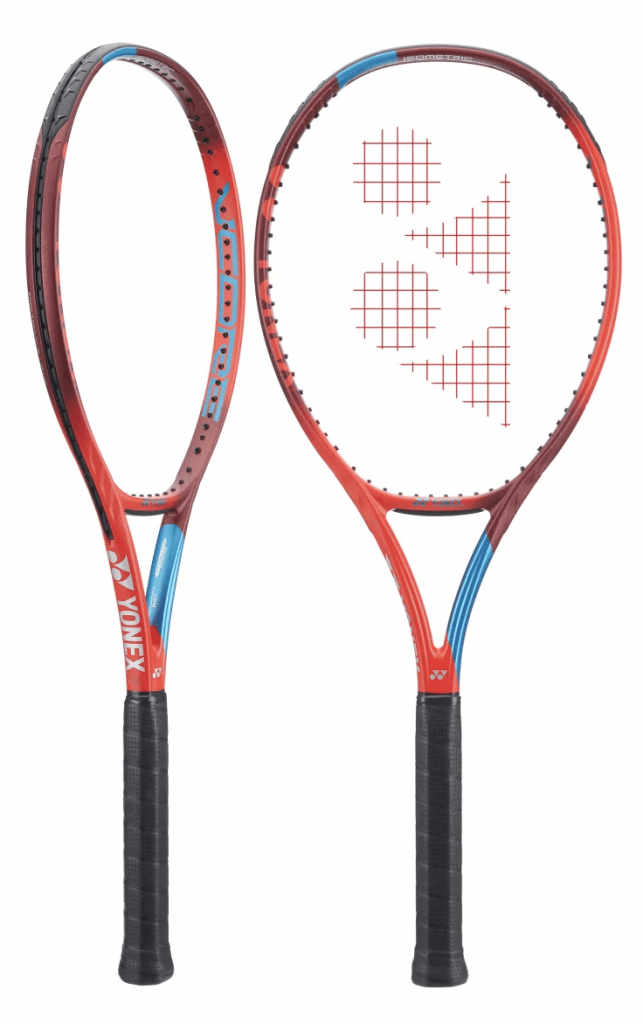 Head Size:100 in / 645.16 cm
Length:27.5in / 69.85cm
Strung Weight:11.2oz / 318g
Balance:13.38in / 33.99cm / 3 pts HL
Swingweight:333
Stiffness:66
Beam Width:24mm / 25mm / 22mm
Composition:HM Graphite/2G-Namd
Power Level:Low-Medium
Stroke Style:Medium-Full
Swing Speed:Medium-Fast
Racquet Colors:Red
Grip Type:Yonex Synthetic
String Pattern:
16 Mains / 19 Crosses
Mains skip: 8T,8H
Two Pieces
No Shared Holes
String Tension:45-60 pounds
Yonex VCORE 98+ (2021)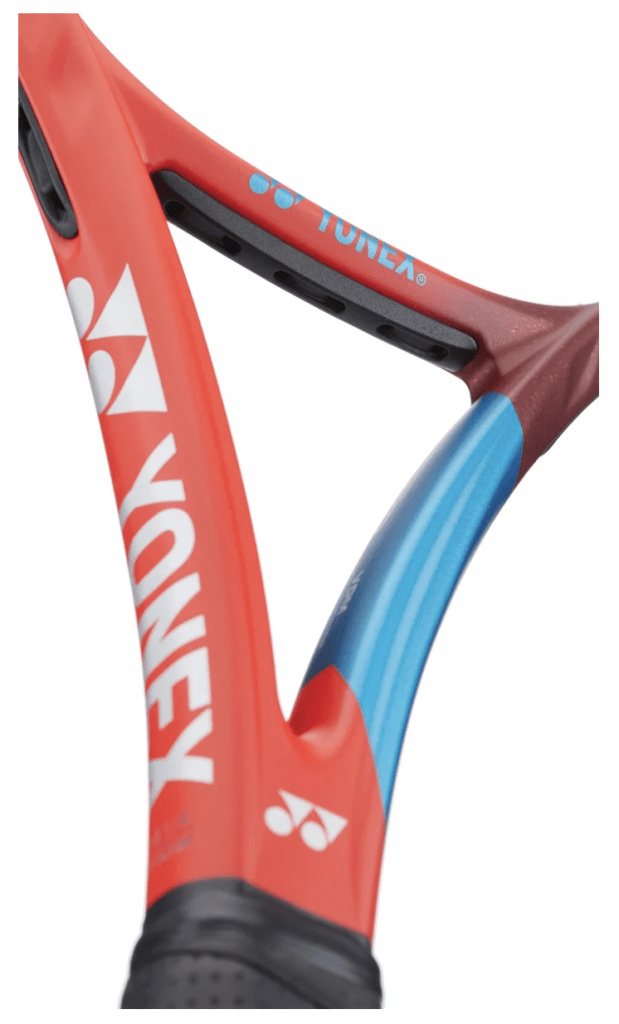 The 98+ will give you more control and a slightly faster feel than the 100+, but bit less power/spin/forgiveness.
Head Size:100 in / 645.16 cm
Length:27.5in / 69.85cm
Strung Weight:11.2oz / 318g
Balance:13.38in / 33.99cm / 3 pts HL
Swingweight:333
Stiffness:66
Beam Width:24mm / 25mm / 22mm
Composition:HM Graphite/2G-Namd
Power Level:Low-Medium
Stroke Style:Medium-Full
Swing Speed:Medium-Fast
Racquet Colors:Red
Grip Type:Yonex Synthetic
String Pattern:
16 Mains / 19 Crosses
Mains skip: 8T,8H
Two Pieces
No Shared Holes
String Tension:45-60 pounds
What's your take on extended racquets? Have you tried Yonex plus racquets before? I hope to review one of these at some point and get back to you with my thoughts…