I have been playing with the Yonex VCORE 2021 racquets for a while now with various hitting partners and feel ready to give my review.
The Yonex VCORE 2021 racquets come with a bunch of technologies that I listed in my first impressions post. I will list them again below so you don't need to go back to that one.
Tech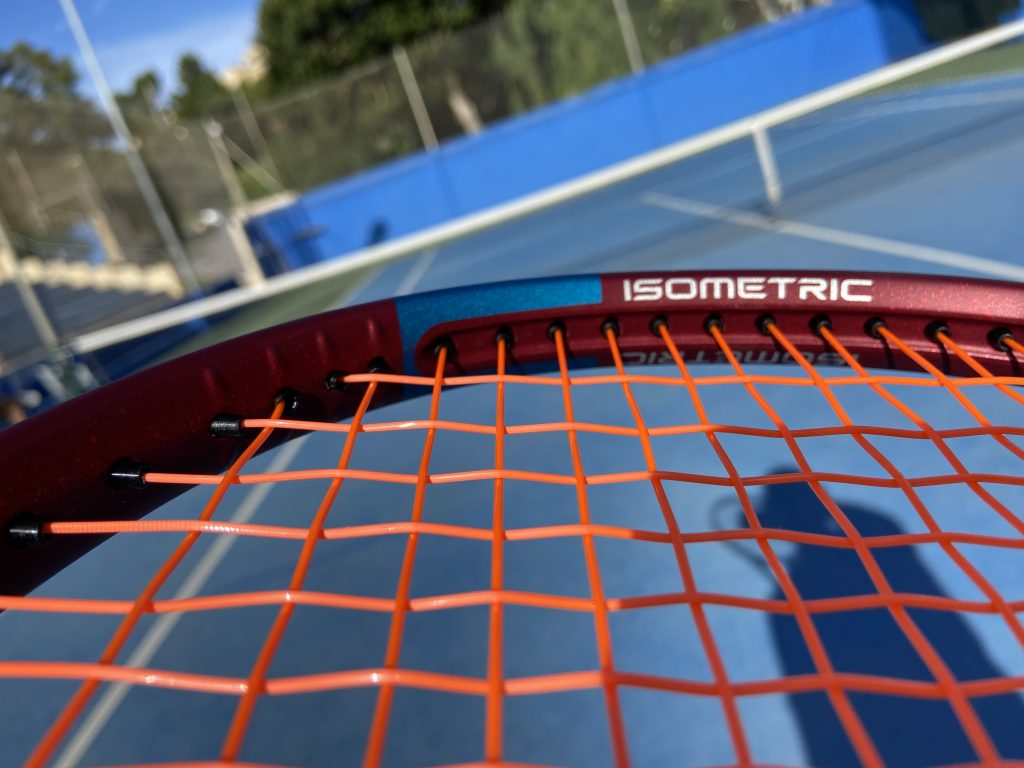 Aero Fins for improved maneuverability.
Aero Trench to reduce drag for faster racquet head speeds and increased spin potential.
Liner Tech straight hole grommets allow for more string movement on off-centered shots.
Vibration dampening mesh (VDM) filters out unwanted vibrations.
The 2G-Namd Flex Force help the racquet bend more optimally on impact (it's positioned in the upper part of the shaft).
String Sync to improve snapback (and spin).
Specs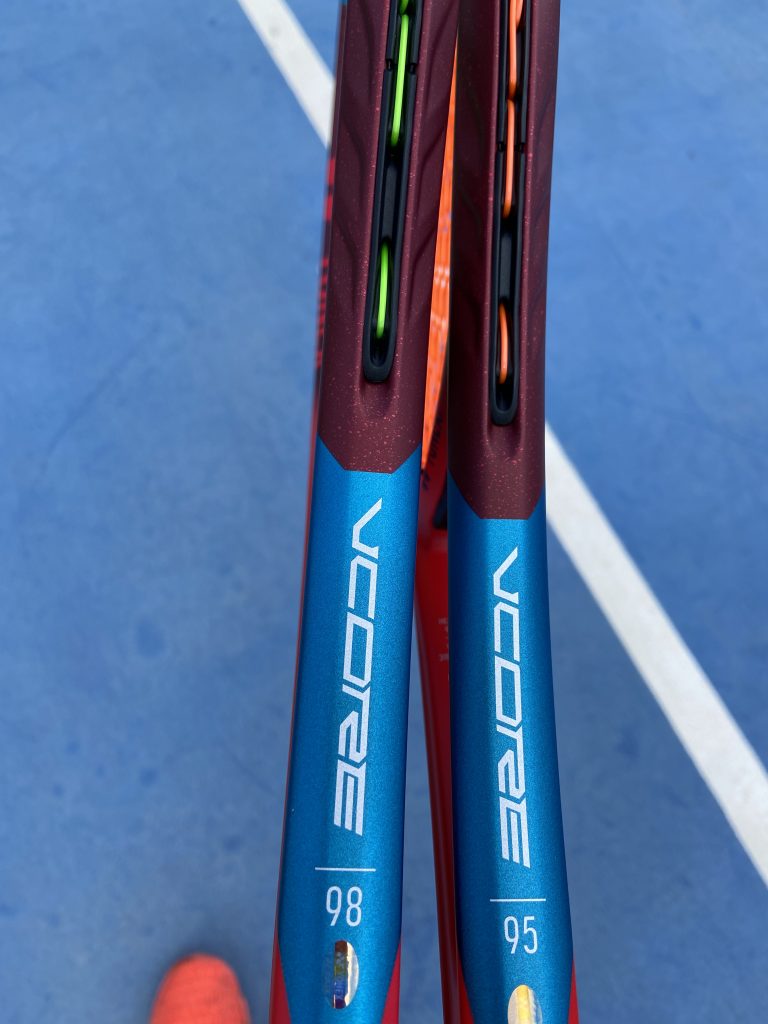 VCORE 95
Head size: 95 sq in
Length: 27 in
Unstrung weight: 310g
Unstrung balance: 31 cm / 10 pts HL
Beam: 21.5/22/21 mm
String pattern: 16×20
VCORE 98
Head size: 98 sq in
Length: 27 in
Unstrung weight: 305g
Unstrung balance: 31.5 cm / 9 pts HL
Beam: 22.5/23/21 mm
String pattern: 16×19
My racquet was 304g, 31.3 cm balance, and 283 SW unstrung
When I strung it with Solinco Hyper-G Soft 1.20 it landed at 322g, 32.3 cm, and 313 SW
VCORE 100
Head size: 100 sq in
Length: 27 in
Unstrung weight: 300g
Unstrung balance: 32 cm / 6 pts HL
Beam: 24/25/22 mm
String pattern: 16×19
The 100 came in at 302.6 grams, 31,7 cm balance, and (unstrung) SW of 286.4 (strung with Yonex Poly Tour Strike
it turned out at 319 SW) for Henrik. My strung specs were: 323g, 32.3 cm balance, and 311.5 swing weight strung with Yonex Poly Tour Rev 1.25 at 54 lbs.
How do they play?
The racquets play pretty similarly. Powerful and spin-friendly. Pretty much what we have come to know from the VCORE line. What is new is the muted and more comfortable feel. The previous generation was rawer and more direct. Some players might prefer that one, while others like this more solid response. If you like a connected feel, I think this one is a step in the wrong direction, but many players who tried it alongside me felt that the more solid and comfortable feel helped the line shine.
I am more in the camp of players who prefer the rawer feel of the previous generation. But for the 98, which was too lively in the previous version, I thought the new one plays better. It feels more solid and predictable. The 95 was a bit too muted on the other hand and I prefer the lower stiffness of the older VCORE 95. On the other hand, my hitting partner Zyad, who is an aggressive player with a big forehand, thinks it is an excellent frame and highly switchable. But I think fans of the older version might not be a hundred percent at home with this one.
The new VCORE 100 has become the main frame of my friend and fellow reviewer Henrik Wallensten, but I see how some players might prefer the older one. Henrik thinks the new one is more stable and comfortable and doesn't need the same amount of customization and for that, he might be right. I think the newer VCOREs are easier to pick up an use in stock form, while the older ones needed some tinkering to shine. But it all boils down to feel in the end, for me the new ones are too muted. But two of my friends and hitting partners are already sold on the new VCOREs, so for them the dampened feel is not an issue.
Pros and Cons
+ Good stability
+ Improved comfort
– Overly dampened feel
–  Too powerful for some
Stroke by Stroke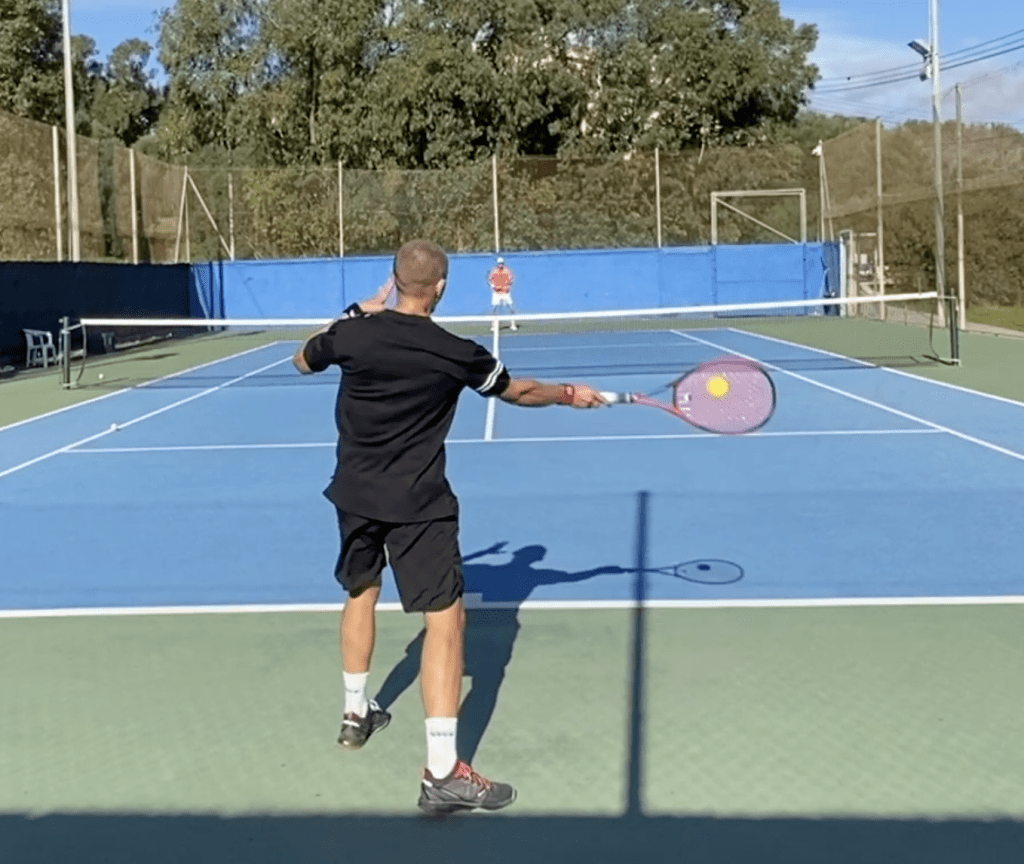 Groundstrokes – These are groundstroke racquets and will give the player some free power and spin with good stability.
Volleys – Good stability, but a bit lacking in feel for me.
Serve – The added power makes them nice to serve with and the maneuverability is great on kick serves.
Returns – I would have liked a higher swing weight on returns, but easily adjusted with some lead tape.
Touch shots – Feel is highly subjective, but I prefer the more connected response of the previous generation.
Who is it for?
The VCORE line is for players who hit topspin and like to generate lots of racquet head speed on their shot. It's more suitable for baseliners than finesse players due to the muted feel. I did not find quite the touch that I was looking for, but feel is subjective. The VCORE line is not quite as powerful as the Ezone and more focused on generating spin. The racquets do that well, but some will long for the more connected feel of the predecessors.
I thought the 98 and 100 felt like an improvement, but the 95 went in the wrong direction. Players looking for more control from a modern racquet will likely enjoy the older version more. On the other hand, aggressive baseliners will appreciate the update of the 98 and the 100. They get more stability and power, without increasing the swing weight.
Summary
After playing with the three Yonex VCORE racquets I can't help but be a little underwhelmed by the 95, but happy about the progress of the 98 and 100. Still, I find it sadly predictable that most modern racquets seem to go in the direction of more power and more dampening. It's not the direction where I would like most racquets to go, but I find it somewhat understandable.
The new Yonex VCORE 2021 racquets are not an obvious buy for lovers of the previous generation. But should be demoed if you like them and if you are looking for increased stability, comfort, and power at the cost of a more detached feel and a little less control.
I was probably the least impressed person with this update, while Henrik switched to the 100 and Zyad was a huge fan of the 95.