I wanted to share my first impressions about the Yonex VCORE 95 and 98 2021 edition. If you are a patron of Tennisnerd you know this already! 🙂
I have so far tested the Yonex VCORE 95 and 98 for a couple of hours. I will need more time to give you an in-depth assessment but have already noticed a few things with these racquets. I am yet to try the VCORE 100 2021.
I wasn't a huge fan of the previous generation of the Yonex VCORE 98. It felt a bit too brassy and lively for me. Quite similar to a Pure Aero 2018 in a 98 sq inch head size. The 2021 version comes with new tech. Let's get to that briefly.
Tech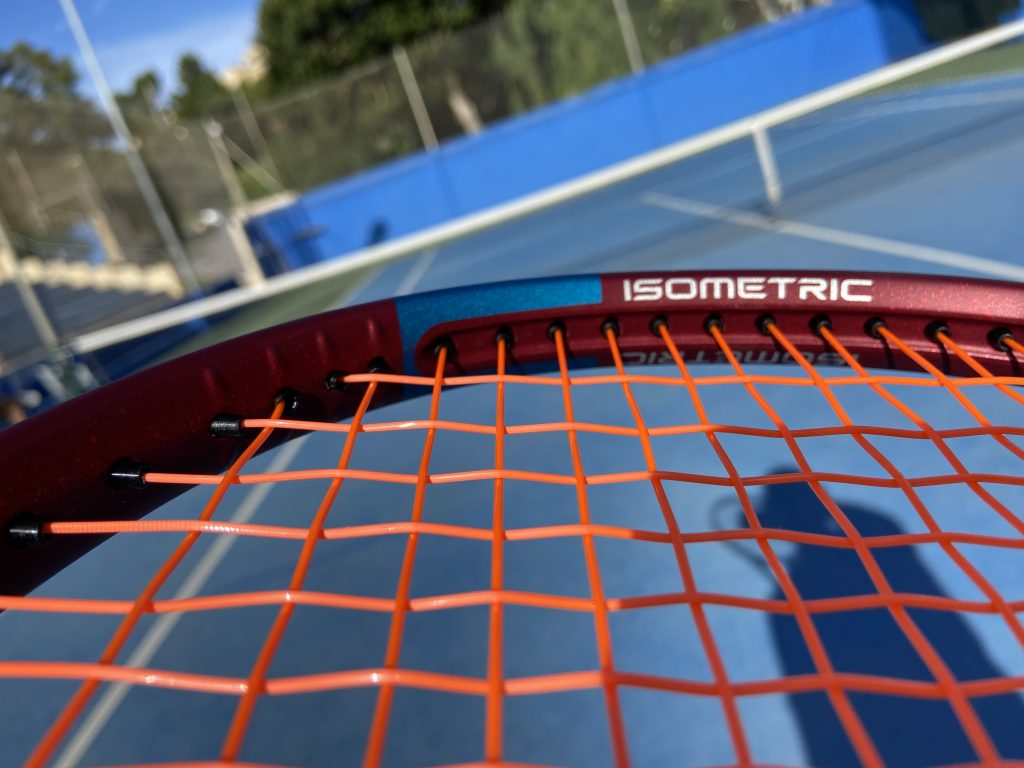 The Yonex VCORE 95 and 98 2021 comes with strategically carved out sections called Aero Fins for improved maneuverability.
There is an Aero Trench to reduce drag for faster racquet head speeds and increased spin potential. It basically hides the grommets at the top of the racquet frame.
Liner Tech means newly engineered straight hole grommets which allow for more string movement on off-centered shots.
Vibration dampening mesh (VDM) is added into the handle (wrapped around the graphite) to filter out unwanted vibrations.
The 2G-Namd Flex Force is a uniquely flexible graphite to help the racquet bend more optimally on impact (it's positioned in the upper part of the shaft). Like all this tech is not enough, the VCORE racquets also come with String Sync which is a grommet design made to improve snapback (and spin).
There is a lot of tech in this racquet and it sure looks the part! It's a bit "spacey" in my opinion, which is a matter of taste whether you like it or not.
Specs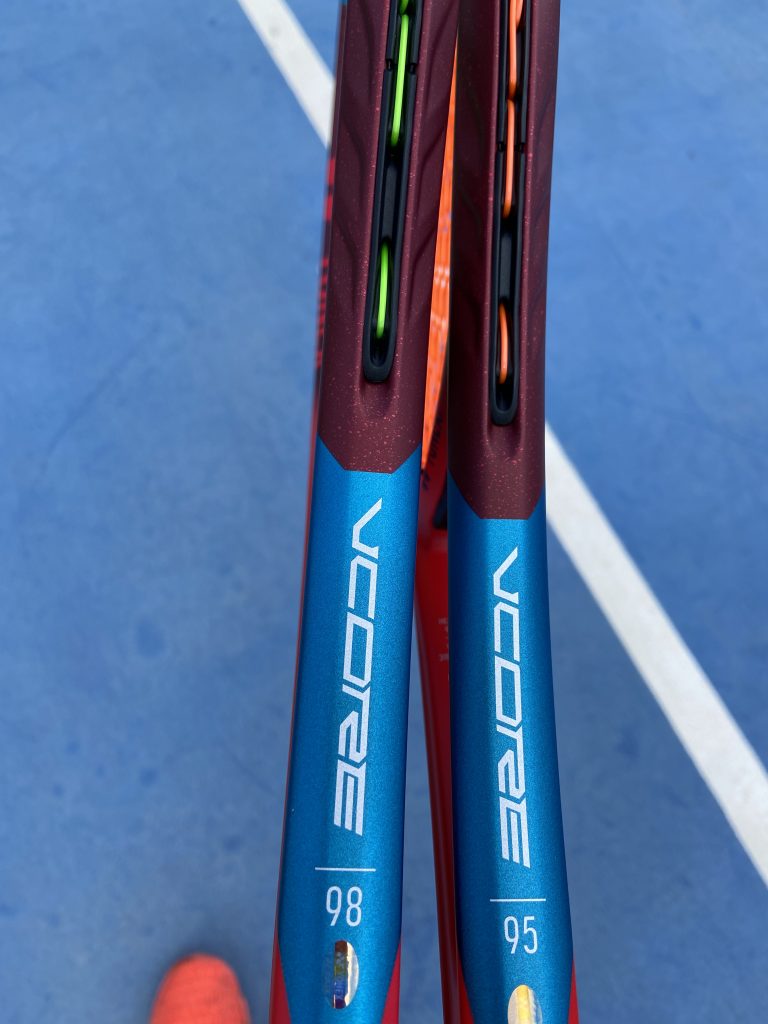 VCORE 98
Head size: 98 sq in
Length: 27 in
Unstrung weight: 305g
Unstrung balance: 31.5 cm / 9 pts HL
Beam: 22.5/23/21 mm
String pattern: 16×19
My racquet was 304g, 31.3 cm balance, and 283 SW unstrung
When I strung it with Solinco Hyper-G Soft 1.20 it landed at 322g, 32.3 cm, and 313 SW
VCORE 95
Head size: 95 sq in
Length: 27 in
Unstrung weight: 310g
Unstrung balance: 31 cm / 10 pts HL
Beam: 21.5/22/21 mm
String pattern: 16×20
My racquet was 308g, 30.6 cm, and 282 SW unstrung
I strung it up with Yonex Poly Tour Rev 1.25 and got it 333g, 31.3 cm, and 312.5 SW with an overgrip
Both racquets were close to on spec when it comes to weight and balance, but the low swing weight was a bit disappointing for the famous Yonex quality control.
How do they play?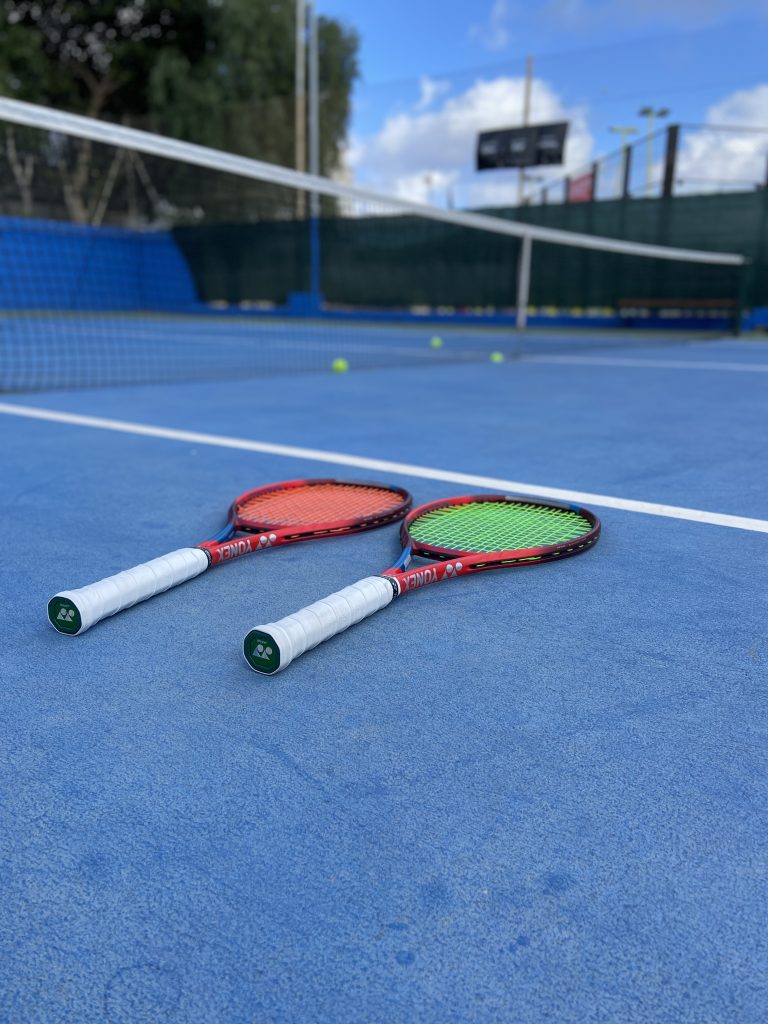 The racquets play pretty similarly. Muted, pretty comfortable, and powerful. Pretty much what we have come to know from the VCORE line. What is new is the more muted and more comfortable feel. The previous generation was rawer and more direct. I didn't like it so much in the 98, but really enjoyed the 95 then.
I think the 98 feels better this time around. Less brassy, more comfortable. I felt like it wasn't as lively and erratic as the previous version. The power level is pretty high though, a bit too high for my liking. But if you want to transition from the Pure Strike then this racquet is worth checking out.
The launch angle and spin potential are a bit more generous over the Ezone line. Think of Ezone as power (Pure Drive and Instinct) and VCORE as power/spin (Extreme and Aero), while the VCORE Pro is all about control and feel (Prestige and Pro Staff).
I need more time with the frames, but I felt like the 98 was an improvement and the 95 a step in the wrong direction. Players enjoying 95 sq inch racquets usually want more control, but the VCORE 95 felt a bit too powerful for my liking. They raised the stiffness a few points which felt unnecessary and made the beam slightly thicker. I thought it was nice as it is and could have done with a more minor update, but sadly it always seems to go down the road of more power.
Summary
These are early impressions, but the VCORE 98 feels more refined and muted, still powerful, more comfortable, and a true weapon in the hands of the right player (you need to play with a lot of topspin for this one). The VCORE 95 on the other hand is more muted in a way that you don't feel the ball as well as with the previous version and it's very powerful for a 95 sq inch racquet. The sweet spot is nice and generous on both of these frames and the spin and power level pretty high. The 95 probably has the biggest sweet spot and highest power level of a 95 sq inch racquet in the marketplace, while the 98 rivals Pure Strike and HEAD Extreme Tour.
I hope to bring you more in-depth thoughts and an idea of the new VCORE 100 in full-size review. If you have hit with these frames, I would love to hear your opinions below.