The third generation of the Babolat Pure Strike has been out for a while, but I have not gotten around to reviewing the 98, 16×19 version until now.
The Pure Strike is Babolat's line of racquets for the more flat-hitting attacking player. What the French company does well is not to introduce too many racquet lines in their range. You can read about the different ones on my page of Babolat tennis racquets. The Pure Strike came out in 2014 in the Darth Maul-inspired black and red paint job and had both Tsonga and Thiem as poster boys. Tsonga went on to the Aero Pro Drive (which later became the Pure Aero), while Thiem remained with the Babolat Pure Strike 98.
The new Babolat Pure Strike 98 continues the white paint job that was introduced with generation 2 (Project One Seven) but makes it bolder with black and red lettering across the frame. It is clear that this racquet is made to communicate towards the daring, aggressive player.
Thanks to All Things Tennis for sending me a demo racquet. It is hard to get the brands to ship things to Malta and we don't have much of a tennis racquet market here, so I really appreciate it. Use the code TENNISNERD and get 5% off on all racquet purchases and a free stringing. You can buy the Pure Strike 98 from All Things Tennis.
Specs and tech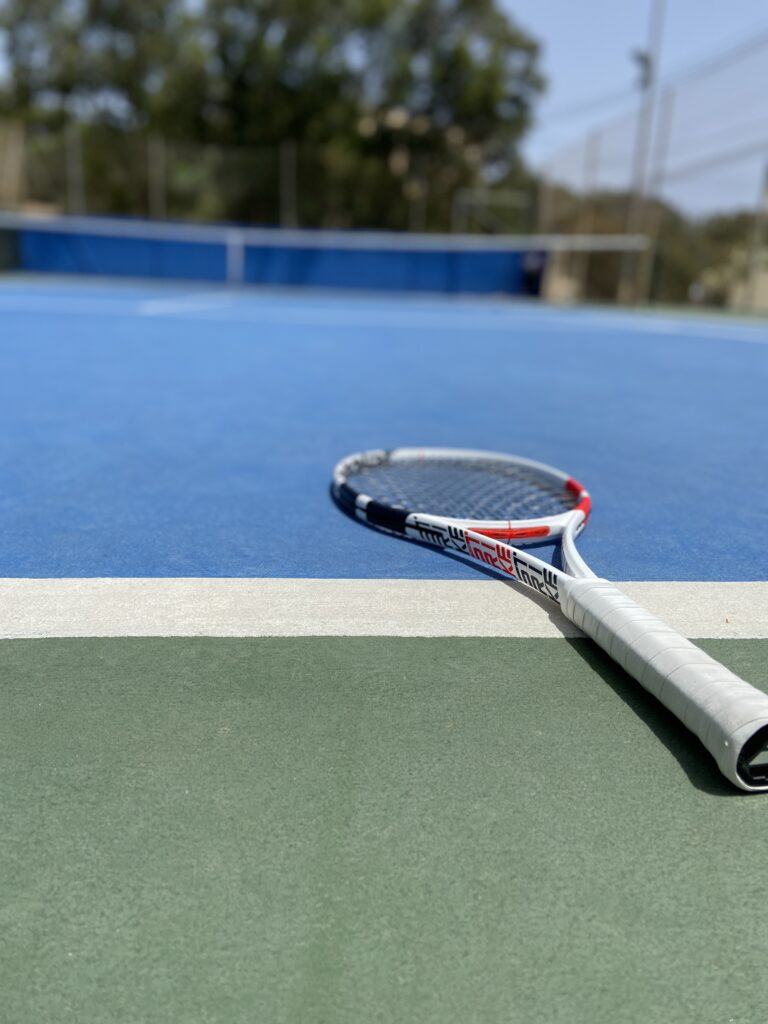 The new Pure Strike comes with Cortex Pure Feel which Babolat describes like this:
"Better vibration dampening thanks to a new material integrated into the graphite of the racket that provides an incredible sound and a pure feel."
The racquet also comes with FSI Power technology "which features wider spacing between the upper cross strings for easier access to spin and pace."
What we can learn from all this is that the racquet is supposed to be more muted and comfortable than the predecessor and offer a bit more spin and power.
If this is what they intended to do, they really succeded. The new Babolat Pure Strike 98 16×19 is definitely more powerful, muted, and offers a higher launch angle than the predecessor. Personally, I enjoy the improved comfort, but the power is often too much and I struggled to control my shots at times.
My strung specs (one overgrip) were on the heavier side
Head size: 98 sq inches
Beam: 21 / 23 / 21 mm
String pattern: 16×19
String: Solinco Confidential 1.25 at 54 lbs
Weight: 336g
Balance: 32.5 cm
Swing weight: 342
How does it play?
Like you can read in the first sentence, the Pure Strike 98 is all about power. More advanced players might find it to be a bit too much and long for the more connected feel of generation 2. I prefer the 2017 version over this one, but I find this racquet to be ultra-stable, powerful, and very easy to generate depth with. The muted feel is not my cup of tea, but I still managed to hit touch shots with it, so it's not as disconnected as I felt at first.
My racquet felt pretty heavy with those specs. Not sure what happened in the QC department, but the TW review demo was 323g strung and had a 327 SW. So I definitely got a racquet at the top of the range in specs. I have talked about the issue before, so no need to dwell on it. Most manufacturers fail to offer decent quality control, especially considering that a tennis racquet is not cheap – if you pay more than $200 for a product, you need to expect something more.
Despite the heavy specs, I enjoyed hitting with the Pure Strike 98. When I was in the zone and playing well it was a huge weapon and allows the player to blast winners left, right and center. The issue is that the power might be overbearing when you're not playing and moving well.
Stroke by Stroke
Groundstrokes were POWERFUL. You definitely need to add some spin on your shots to get the ball to land in. This is definitely the racquet in the Babolat range that requires the most from the user. This generation is definitely more spin-friendly than the previous generation. For my game, I enjoy a really controlled launch angle and would probably play better tennis with the improved control of the 18×20 version. If you hit with some spin and want to come at your opponent "all guns blazing", this is a must demo.
Volleys were STABLE. This racquet performs really well at the net. I was very impressed by the rock-solid stability of the Pure Strike when directing the pace from my opponent. Yes, I had a high spec racquet, but the high stiffness and the higher swing weight of gen 3 will make volleys easy.
Hitting Serves was a BLAST. Yes, serving with this racquet was another area I enjoyed. It is definitely a racquet for the player who wants to win the point and not wait for the opponent's mistakes. You get a lot of free power and spin and the racquet comes through the air faster than with a Pure Drive or Aero.
Decent on Touch shots. It took some time to get used to the muted feel, but once you do, you can actually hit with pretty good touch as well. I was actually positively surprised in this area.
Comfort is still a bit of an issue. Despite the dampening tech, it is not going to be your elbow's best friend. It is more comfortable than gen 2, but it is still a stiff racquet, so it cannot really be recommended to players who suffer from tennis elbow or wrist issues.
Who is it for?
The Pure Strike 98 is for advanced players who like to play aggressively and go on the attack. The high swing weight makes it more suitable for players ranked NTRP 4.0 or above. If you have arm issues, there are more suitable frames. Using a full bed of multifilament or gut strings in this racquet will make it into a rocket launcher.
Final verdict
This is a nice racquet for players who are looking for power to finish off a point from anywhere on the court. You need to have quite good footwork and technique to harness all that power though and that is where I struggled. I preferred the previous version and felt like the Tecnifibre TF40 plays somewhat similar but with better comfort and feel. Still, there is no denying that this racquet can be quite intoxicating to use when you're on your game. It could be a very interesting frame for advanced doubles players as it worked great on both serves and at the net.
Video review