I reviewed the Tecnifibre Tfight XTC 305 some months ago and really liked it. This is why I was excited to do this Tecnifibre TF40 racquet review.
The Tecnifibre TF40 is called TF40 to celebrate Tecnifibre's 40 years in business. And what a way to celebrate! This racquet really does everything well. It reminds me of a softer, Pure Strike 2017 18×20 or a Wilson Blade 2015 18×20. I think it actually beats those two racquets in feel, which is a good review in itself.  But more about how the TF40 plays after we go through the specs and the tech.
Tecnifibre TF40 Racquet Review – Specs and Tech
This racquet is, like its brother, the XTC 305, made with XTC tech and has a soft Dynacore braid and the Xtense BG grommet system, which is supposed to increase string movement and comfort. There is nothing fancy about the tech, it just seems like a well-designed racquet with a wide group of intermediate to advanced players in mind. The racquet, like the XTC 305, feels very stable thanks to the weight distribution towards the head. Players who enjoy the Wilson Blade will find much to like here.
TF40 Unstrung specs 
Head size: 98 sq in / 632 sq cm
Length: 27 in / 68.6 cm
Weight: 305 grams / 10.75 ounces – mine was 325 with strings
Balance: 6 pts HL (around 2-3 pts HL strung or 33,4 cm)
Beamwidth: 22 mm throughout
String pattern: 18×20
Stiffness rating: 67 RA (drops down to 64-65 strung)
Swing weight: 295 (or around 325 strung)
As you can see the specs will appeal to intermediate to advanced players looking for control and who can generate their own spin.
Tecnifibre TF40 – My setup
Strings – String low
I strung this racquet up with Tecnifibre Ice Code 1.25
(read the Tennisnerd review) at two tensions (with two different racquets of course 🙂 ), one at 21 kg and one at 24 kg and took it out for a play-test. I would recommend stringing it at around 22 kg or lower to open up more pocketing.
Customization – Not really needed
I did not feel the need to customize this racquet by adding lead tape in the head (as it is plenty stable), but I would consider adding a leather grip or lead tape on the handle to make it more head-light.
Skill Level – Intermediate (4.0+ NTRP) to Pro
This racquet has a hefty swing weight and you need good technique to be able to swing it properly. The sweet spot is relatively generous for the head size and string pattern.
Tecnifibre TF40 – Strengths and weaknesses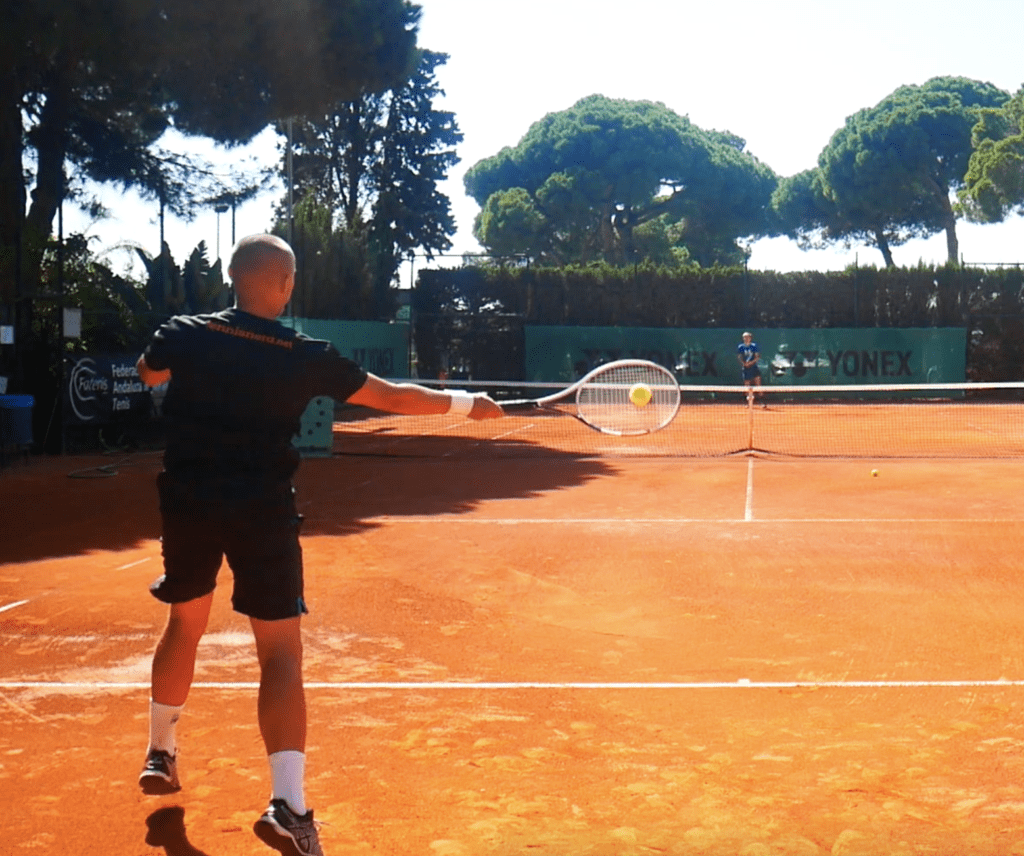 Playing Style – a Versatile Racquet
The TF40 works for both baseliners and net-rushers. It offers great feel but also packs some power on groundstrokes.
Comfort – Above average
I did not sense any discomfort while playing with this frame, despite an occasionally sore wrist. I would recommend you to string it fairly low to open up some more power and spin.
Strengths – Pretty much everything
I found that the TF40 did pretty much everything well. Slice, touch shots, volleys, power, and spin from the baseline and so on. It is simply a really nice racquet that a lot of players will like.

Weaknesses – The string pattern?
If I would complain about anything, it would be the 18×20 string pattern. You can still generate plenty of spin with this racquet, but I just appreciate a bit of extra lift on my shots these days. 18×19 or 16×20 would have been spectacular. I also think some players might find the close to head-heavy balance a bit hard to maneuver.
Comparisons
This racquet plays very similarly to a Wilson Blade or the 2017 Pure Strike. But it does offer a bit more pocketing and comfort than the Pure Strike. The new Wilson Blade 98 V7
(read my review)is a bit plusher still, but not quite as rock-solid as the TF40. Both those racquets are great, it really depends on if you like the plush feel of the Blade or the crisper, stable feel of the TF40.
Tecnifibre TF40 Racquet Review – Summary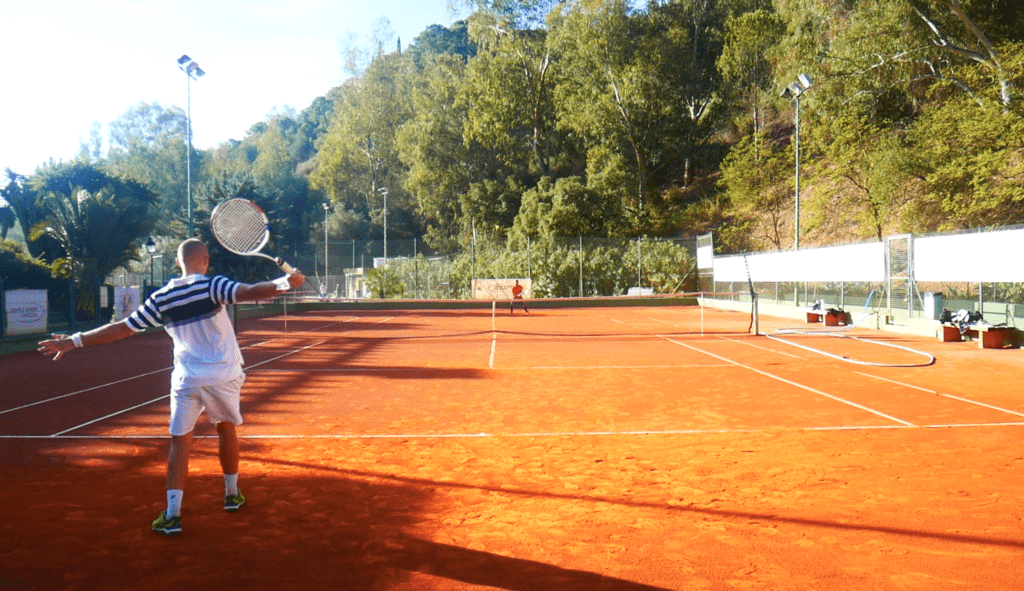 The Tecnifibre TF40 is a worthy celebration for Tecnifibre's 40 years in business. It is a racquet that does pretty much everything well.  It is stable, gives you some good power, offers nice touch at the net and overall connects you to the ball really well. The balance is more towards the head which might make it feel sluggish to some, but you can, of course, make it a bit more head-light if you don't mind a higher stock weight.
The one practical thing I would have liked is the possibility to open up the butt cap to inject silicone or add Blu-tack in the handle. I think this could have been easily fixed and is something I hope they think about for their next frames.
All-in-all, great frame from Tecnifibre. Definitely worth a demo if this is the kind of racquet you like!
If you buy a racquet from our friends at All Things Tennis, you will get 5% off and a free string upgrade if you use the code: TENNISNERD at checkout.
Here is my Tecnifibre TF40 Video Review.
PS. If you are interested in buying the Tecnifibre TF40. Check out one of our affiliates below. DS.