The Wilson Blade 98 is one of the most popular racquets on the market. The blend between power, control and that slightly head-heavy feel is favored by both pros and amateurs. The 2019 update does not disappoint. Here is my Wilson Blade 98 V7 Racquet Review.
I have tested every Wilson Blade since the nBlade version and it has always been one of my favorite racquet lines on the market thanks to its close-to-perfect blend of abilities. I like to flatten out my shots and the 18×20 Blades have always reminded me of more traditional frames with a modern feel. The Blade V7 takes another step in the direction of old-school racquets when it comes to the flexible feel. Due to the new FeelFlex tech from Wilson (similar to FreeFlex from the Clash series), this racquet has a pocketing sensation reminiscent of some true racquet classics and is a lot more responsive than the muted Countervail version.
Buy the Wilson Blade V7 at TennisTopia.
Wilson Blade 98 V7 Racquet Review – Specs and tech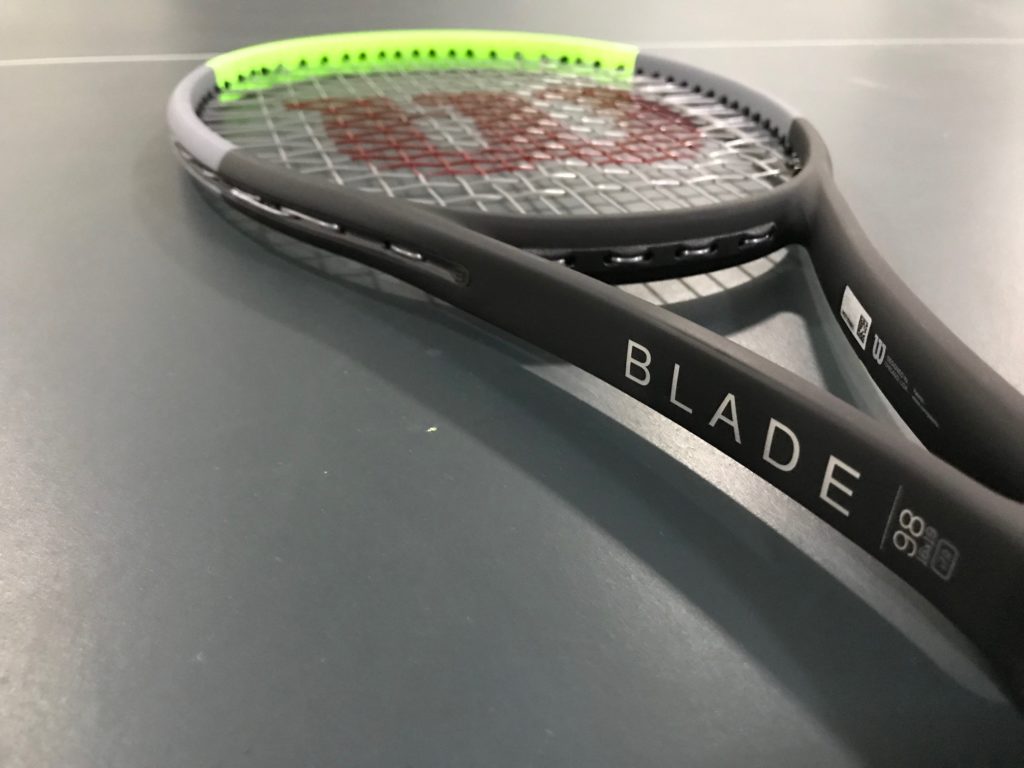 Length: 27 inches / 69 cm
Head size: 98 sq inches / 632 sq cm
Weight: 329 grams / 11.6 oz with thick overgrip (305 grams / 10.7 oz unstrung listed weight)
Balance point: 12.8 in / 32,5 cm / 5 pts head light
Beamwidth: 21 mm throughout
String pattern: 16×19 (relatively tight)
Flex: Low 60s
Swingweight: 326.5 strung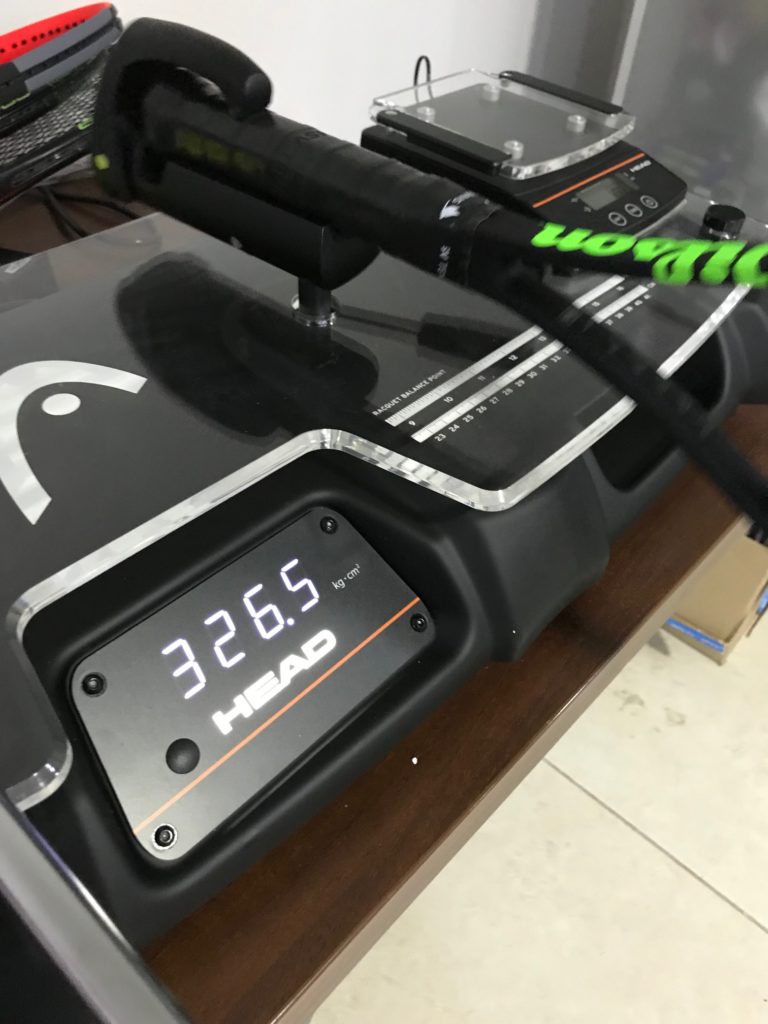 This is how Wilson describes FeelFlex: An evolution of Clash's revolutionary FreeFlex technology, FeelFlex produces a more connected-to-the-ball feel while better complementing the modern, vertical swing path. Proprietary carbon mapping strategically placed throughout the frame provides additional stability and flexibility through the swing.
Flex is suddenly a trend in the industry and that will please a lot of racquetholics and tennis nostalgics. Just look at the number of flexible player frames released recently: HEAD Gravity, Tecnifibre TF 40, Yonex VCORE Pro 97 HD and of course the ultra-flexy Angell K7 Lime. And now the new Blade is another step in the flex direction. It is definitely an interesting development, likely onset by the increasing elbow and wrist injuries in the sport (exacerbated by using stiff racquets and strings).
Check out the Wilson Blade 98 V7 on the official Wilson website.
Buy the Wilson Blade 98 V7 on Amazon. (For other Tennisnerd affiliates check here).
Wilson Blade 98 V7 Racquet Review – How does it play?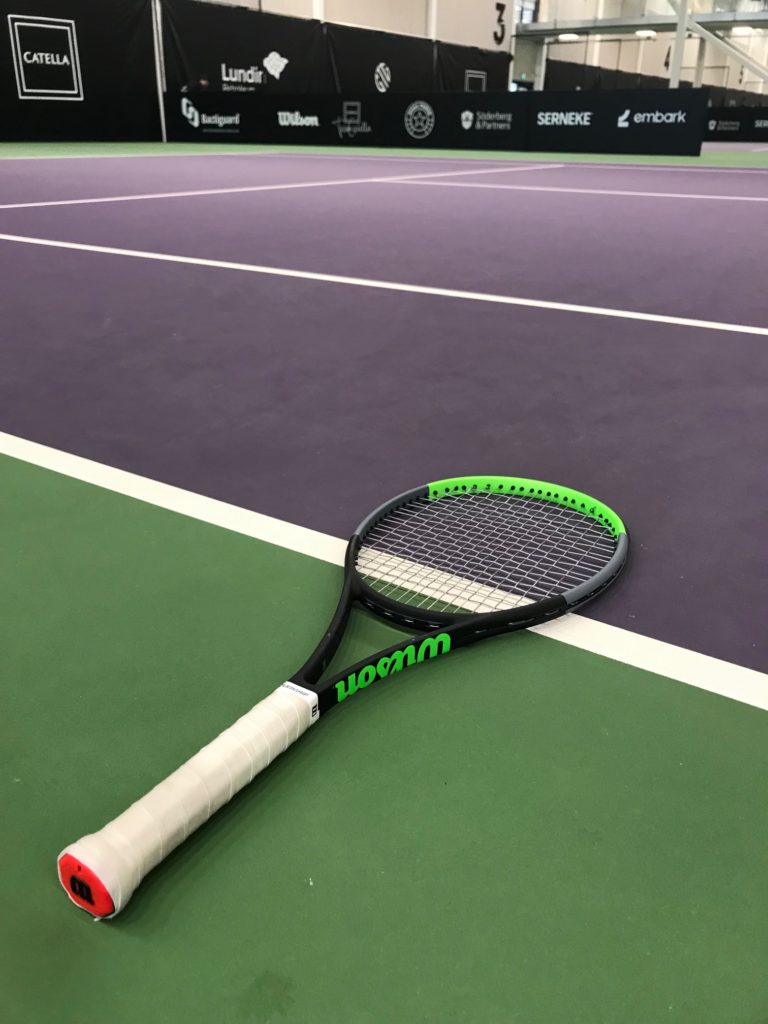 I strung up the Wilson Blade 98 V7 16×19 (there is an 18×20 version as well, not sure it is needed since the 16×19 pattern is quite tight, to be honest) with Luxilon Alu Power at 21 kg / 48 lbs. I also tried it at 24 kg (52 lbs), but it felt a bit too low-powered at that tension. The lower tension opened up some more pocketing, which made the racquet feel a lot better. Especially on flatter shots, I felt the racquet "cupping" the ball. What I also noticed compared to previous editions of the Blade 98 was that the feel on drop shots and volleys were improved. I really felt a strong connection to the ball with this racquet.
This racquet is definitely an upgrade when it comes to the feel compared to the CV version, but the Countervail version is a bit more stable on slightly off-center shots. The crisper feel of the CV version will still appeal to a lot of players, especially since most players today are used to stiffer racquets with some kind of dampening. I think this racquet plays better than the CV that felt a bit board-like to me, but I am still not sure if I prefer the 2015 version or this one. I did play them side to side for this review and the 2015 Blade is crisper, gives you a bit more power and stability, while the V7 edition is more comfortable and slightly sweeter feeling.
Wilson Blade 98 V7 Racquet Review – This one or the Clash 98?
I am often asked to compare racquets and so I played this one side to side with the Clash 98, as this is a natural decision to make if you are a Wilson guy and you're looking for a 98 sq inch racquet. If you want to know more about the Clash and haven't read my Clash 98 racquet review, I suggest you do that.
The Clash 98 offers even more flex than the Blade 98, so if you prefer a crisper feel, go with the Blade. The Clash 98 is still slightly more powerful thanks to the thicker beam. It is also more spin-friendly as the 16×19 pattern is more open than on the Blade 98. If you like to hit with spin from the baseline but prefer a smaller head size than 100 sq inches (for improved maneuverability for example), I think the Clash 98 is a natural choice. If you are a player that value directional control, feel, and like to move towards the net, I think the Blade edges the Clash. Two nice racquets, but for slightly different player types.
Wilson Blade 98 V7 Racquet Review – Summary
The new Wilson Blade 98 V7 is an improvement to me over the Countervail version. I am still not sure if it is my favorite Blade, both the kBlade and the 2015 Blade offer more power and stability. But this version is probably the sweetest feeling Blade yet with a plushness and pocketing that reminds me of the nBlade 98 and older classic racquets. I especially enjoyed picking up low balls and hitting volleys with this frame, but I do miss the crispness of the earlier Blades at times.
If you like to slice and dice, play creatively and value control and feel over power and spin – this Blade could be your new best friend. If you like to bash topspin balls from the baseline, there are other racquets that do that better. Another impressive racquet and I must say I like this new "flex direction" that the industry is moving towards.
If you buy a racquet from our friends at All Things Tennis, you will get 5% off and a free string upgrade if you use the code: TENNISNERD at checkout.
Wilson Blade 98 V7 Racquet Review Video
What do you think of the new Wilson Blade 98 V7? Too much flex or just enough?