My friend and fellow tennis nerd, Henrik Wallensten, is back with his first impressions about the new Yonex VCORE racquets – both 98 and 100. Word over to Henrik!
Ps. I also look forward to play-testing the new Yonex VCORE racquets. They should be on their way, so I will keep you posted. If you want to be the first to read or watch my impressions, please consider becoming a patron. DS.
Specs
After the initial shock of the new design (that actually starts to sink in – in a good way), it was time to take the 98 and 100 to the Head 3 in 1 machine and see the unstrung specs. The 98 came in at exactly 305.0 grams, a balance-point of 31,4, and an (unstrung) SW of 286.0. The 100 came in at 302.6 grams, 31,7 cm balance, and (unstrung) SW of 286.4 (strung with Yonex Poly Tour Strike
it turned out at 319 SW). Both frames strung with black Yonex Poly Tour Strike 1.25 mm. The 98 at 21 kilos or 49 lbs and the 100 at 22 kilos or 50 lbs.
How do they play?
Both frames feel more solid and muted than the 2018 Vcore. Not so "raw" in the feel and also with better control, especially in the 100. Personally, I "need" a higher swing weight to get a stable response and help against big hitters. When I used the 2018 Vcore 100 I had a strung SW of 331 (lead at 3 and 9) and silicone inside the handle.
At the first initial hit, it was at a team practice with used balls (about 3 hours of use in them) and they were very slow. With the slow balls, the strung SW of 319 felt too low to be able to generate enough oomph in the ball. When I today played games against a player I normally play very tight matches with and we used brand new RS balls (white tube) the Vcore 100 felt spot on! It was actually a true hallelujah-moment. I just could not miss! I used the 2018 Vcore 100 for about 8 months (for me – that is an eternity!) and with the updated Vcore 100 2021 it feels very much like home straight away with a tad more control!
The 98 version was mostly tested by Alexandra Viktorovitch (a young Swedish player on the ITF/WTA level and currently at US college) and she liked it so much she will start to use it in tournament play. She normally uses the Ezone 100 but found the Vcore 98 to fit her game much better. More control and easier to dominate with big strokes and not be afraid of over-hitting as can be the case with Ezone 100.
One thing worth noticing though is that both frames had squeaking butt-caps already from the start. Even when installing new staples with a real staple gun powered by compressed air, it was still a bit squeaking. I presume it needs some thin tape between the handle and butt-cap. I have seen HEAD do this on the latest frames, a very thin tape under the butt-cap to make it fit better and eliminate a big part of the squeaking.
To Yonex's "defense" I must say I wrapped two layers of thin strips of sports tape to make a bigger flare at the end. Maybe that created a bigger energy-return into the butt-cap and made them squeak? I will, however, fix this and for me, this is a 5-minute job all in all but for someone who doesn't have the right tools, this can be a problem so a shoutout to Yonex to check it up when they do the install of the butt-caps to look at a solution with some material with better friction that makes the butt-cap have a tighter and better fit.
Up next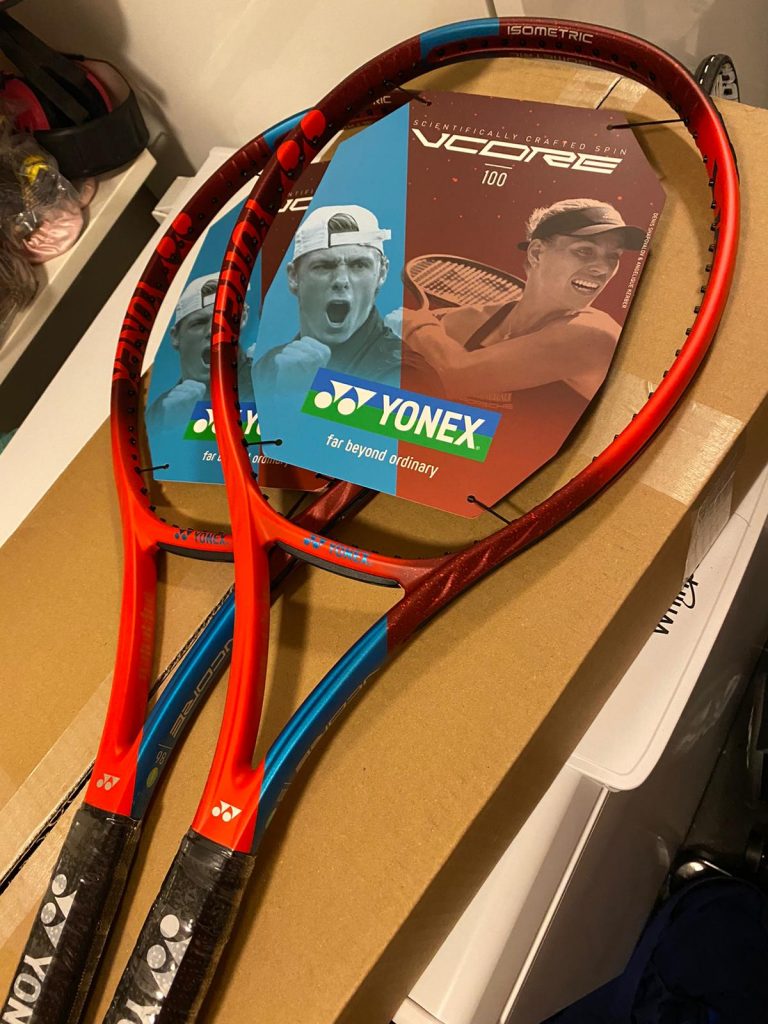 What I will do next is to install some lead and silicone and make the 100 same specs as my old Vcore 100 and see how it feels. These frames need some more weight to perform at their best, at least what I feel at the moment after this first hit with the frames. It depends on the balls as well! With brand new balls, the SW of 319 is enough but with used, slow balls and on a slow surface, some lead tape will do good things to the Vcore 100.]
Thanks, Henrik for your first impressions! I am really keen to test these frames myself now,