There are many fans of the iconic Adidas Barricades. And now they're back after a hiatus. Here is my Adidas Barricade review.
This Adidas Barricade Review was made possible thanks to Tennis Warehouse Europe who sent me a pair to review. You can also purchase these shoes from my two affiliates Tennis Warehouse and Tennis Only. If you purchase anything through my links, I get a small commission at no cost to you (which helps Tennisnerd pay electricity bills, etc).
Specifications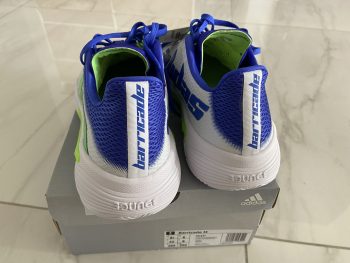 These Barricades are lighter than you might remember from this tennis shoe franchise. They're still stable and durable though and I would still not call them a fast or light shoe. This shoe is made for stability and support. The below description is from the Tennis Warehouse website.
Upper: One-piece textile upper material, with an asymmetric lacing system, neoprene tongue, and hidden laces on the medial side. Medial side features tough RPU to protect from foot drag, and toe-cap equipped with Adituff for added durability. Primegreen – 50% of the upper is recycled content.
Midsole: Full-length BOUNCE 2.0 midsole, with Torsion System TPU midfoot shank to maximize lateral stability.
Outsole: New ADIWEAR rubber compound for high wear durability. Herringbone Reload tread design for enhanced abrasion resistance in high wear areas, and lateral edge caters to hardcourt sliding.
Color: White / Green / Sonic Ink (there are other colors).
| | |
| --- | --- |
| Length: | True |
| Width: | Medium |
| Arch: | Medium |
| Break-in: | Slight |
| Weight: | 14.2 ounces (size 10.5) or 403 grams (size 44.5) |
| Durability Guarantee: | None |
| Surface: | Hard (All Court) |
How do they perform?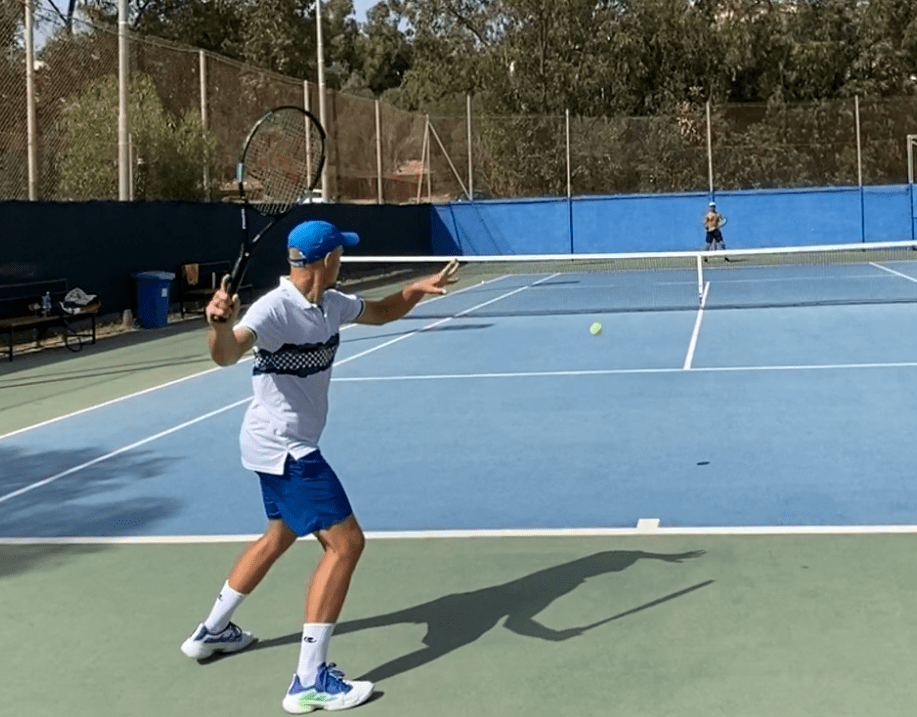 Anyone who has tried an Adidas Barricade shoe knows that it requires a break-in period. These shoes are solid and somewhat hard at first and the heel tongue did cut into my Achilles. My feet actually ached a bit after the first couple of sessions. This is when many consumers and tennis players want their money back.
But, as a seasoned tennis reviewer, I persisted. You need to have this mindset with all products because it takes some time to get to know the product well. Luckily, the Adidas Barricade got better as time wore on and now they've become one of my favorite tennis shoes in my shoe wardrobe (which has about 12 pairs or so). As a player with an aging body and sometimes aching knees, I really enjoy the support that these shoes provide. Yes, they are not the fastest shoe, but you feel really secure around your ankles and stable as you move around the court. For me, that's more important these days (I'm not going to be that fast anyways :))
The durability is also impressive. Malta hard courts are grainy and rough on any shoe, but the soles have held up impressively well during the time I've been testing them. It definitely scores high on durability.
The heel tongue took a few sessions to stop bothering me and now it's just kind of hugging my foot, which is nice and adds a layer of support. I think this is an issue that has been bothering a few players, but for me, it got better as I kept playing with it.
Summary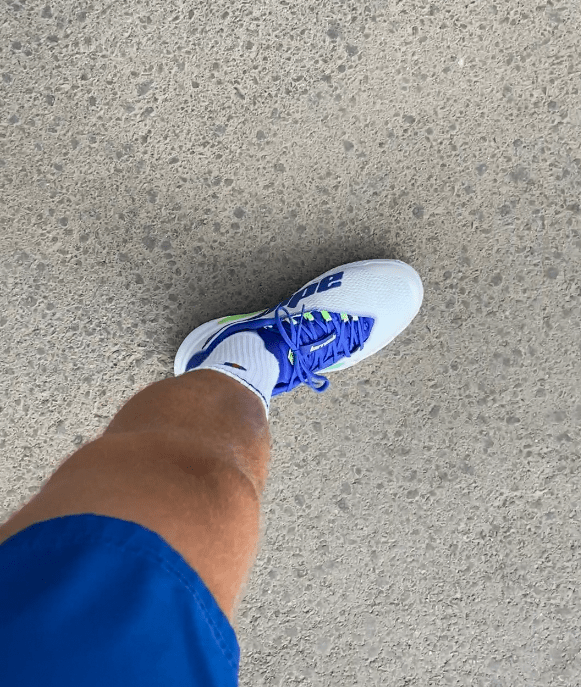 A tennis shoe is a very personal thing. We have different feet, different needs, and movement patterns. I need stability and comfort and although the latter took a little while to arrive with the new Barricades (you probably need 8-10 hours on the court for that to happen), I am now very happy with these shoes.
I have been testing a few different shoes this year and these are probably the ones that work the best for my needs. If you need a faster shoe, you can check out the Nike Vapor Pro, but for a snug fit and a solid feel, it doesn't get much better than the new Adidas Barricade for me.
Keen to hear what you think about these shoes if you've tried them.