Thanks to Tennis Warehouse Europe, I've been able to test and review the Nike Air Zoom Vapor Pro tennis shoes.
This Nike Air Zoom Vapor Pro Review deals with the latest generation of Vapor Pros. Which used to be Roger Federer's shoe choice, before he signed with On Running. The Vapor was always a great-looking shoe with a comfortable fit, but the durability was something I noticed many players complained about. What has changed for this update?
First of all, the Nike Air Zoom Vapor Pro is a lightweight shoe endorsed by Nick Kyrgios and Andrey Rublev. What they really wear is another story as top pros often have custom shoes based on an older model. This is the replacement of the Vapor X shoe with some changes.
I quote Tennis Warehouse Europe: The upper has been redesigned and offers dual layers of support with a sock-like inner sleeve and a layer of durable mesh to assist in support and breathability. The asymmetrical lacing system has been strategically added for even more support when moving laterally. Players who have worn the Vapor X will recognize the midsole and outsole as a Zoom Air unit in the heel that offers responsive cushioning underfoot while the generative outsole pattern enhances explosive directional changes. While not the most durable shoe in Nike's lineup, the outsole has been engineered with added tread in high-wear zones and suits well for those players who slide into their shots!
The fit
The length is true to measurements, the width of the shoe is medium, the arch is slightly low, it does require a slight break-in period (took me a couple of hours of play) and it weighs 365 grams in a size 10.5.
The first time I used these shoes, they felt stiff, but about two hours in, they started feeling more comfortable. The fit is somewhat narrow in my opinion, so players with wide feet might want to look elsewhere.
The design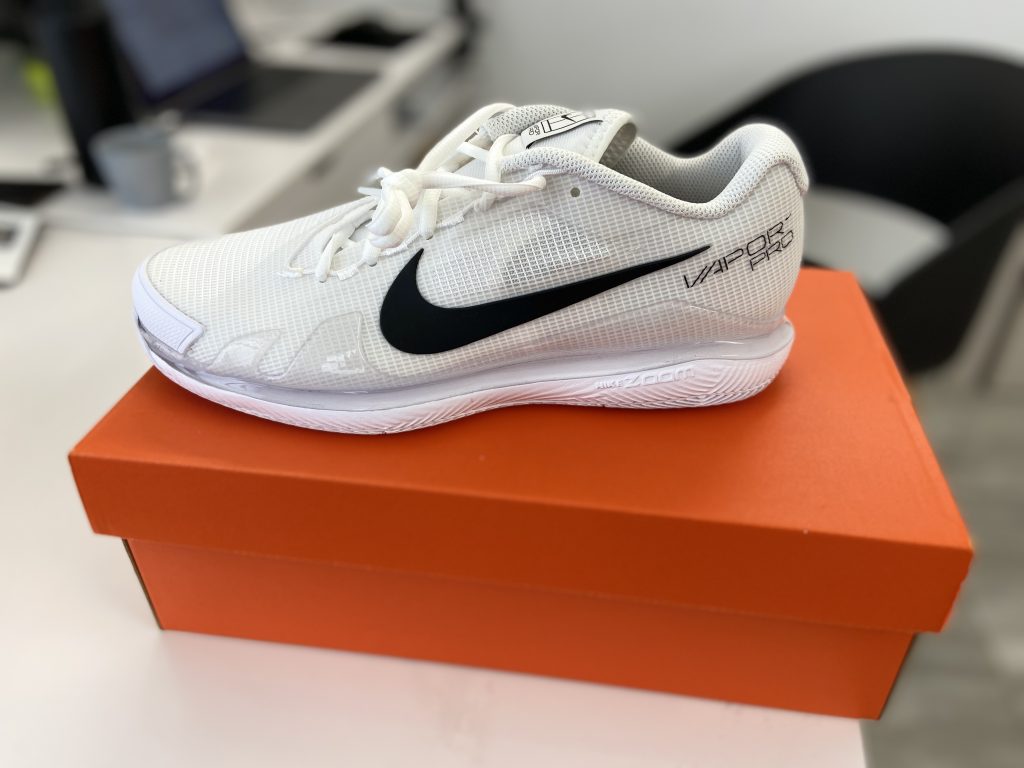 I have many pairs of tennis shoes that I switch in between and these are the most visually appealing ones of the bunch. They look and feel fast and elegant. I do notice that a good-looking shoe will make me feel better on the court (maybe because I record myself all the time).
The details of the design are:
Stretchy internal sleeve
Durable mesh for a second layer of support
Asymmetrical lacing
Low profile cushioning
Low-to-the-ground feel
Soft foam midsole
Generative design outsole for traction works okay for hard-court sliders
Thicker tread in high-wear zones for better durability (this actually seems to work)
How do they move?
The Nike Air Zoom Vapor Pros feel fast and lightweight and it made me almost feel like a better mover. I did lack some stability for my aging knees, so if you play on harder courts (rougher hard courts with less give for example), you might want to get a shoe with better dampening. I also felt like the fit was a bit narrow and tight at times. And this is where I preferred the React NXT Vapors, which I will get to shortly.
But if you have are not looking for above-average stability, these shoes are excellent. I've used them quite a lot and I've noticed no issues with durability (this did bother me with the previous generation of Vapor Pros). The shoes did soak up some dust easily though (more than the NXTs for some reason) and got discolored after playing a bit on sandy hard court. This should be easily washed away though, so not to worry.
Summary
This was an enjoyable tennis shoe review (link to my vlog about tennis shoes). It's not a hundred percent what I'm looking for personally, as my aching knees need a bit more dampening and support. Faster-feeling shoes rarely offer maximum support and dampening, so this is to be expected. But if you don't mind a narrow fit and want a shoe that looks and moves great, the Nike Air Zoom Vapor Pros should be on your list.
My favorite part of these shoes was the design and how fast they felt on court. But I also appreciate the improved durability. I thought previous Vapor Pros have had some serious durability issues, but these ones felt stronger and better built, which should help them last a long time on average.
Have you tried the new Vapor Pros? What are your thoughts about them? Also, what are you looking for in a pair of tennis shoes?
Buy the Nike Vapor Pros at one of our affiliates and you send a small commission to Tennisnerd at no cost to you.
Tennis Warehouse
Tennis Warehouse Europe
Tennis Only (not yet available at the time of writing).