You will likely never be able to hit a tennis ball like the mighty Fed, but you can always be a Fed fan and look like Roger Federer!
Do you have any die-hard Roger fans in your club or group of tennis friends? I have a few. It's understandable, Roger's position in the game of tennis and in sport in general is close to mythical. And now that he returns to the Tour (today!) I am sure there will be more people watching tennis streams than in a long time. There is something special about Roger Federer and his fans. Many club players try to imitate Roger's technique and movement, because they simply want to play and look like Roger Federer. Sadly, it's not the easiest and most suitable style to copy. Roger's impeccable timing is what makes his game so special and it's not easy to imitate that!
I think most coaches agree that there are easier players to copy than Federer, but if you want to look like him, you can do what a lot of other players do and get his gear.
Roger Federer's Gear
Most players relate Roger to two brands: Wilson and Nike. Wilson for his racquets, the Pro Staff RF97 Autograph and Nike for his apparel and shoes. When it comes to the clothing, I'm sure you're familiar that Roger signed an incredibly lucrative deal with Uniqlo a few years back, but you might not be aware that Roger has switched shoes to Swiss brand On Running and will reveal a new tennis shoe when he takes to the court against Dan Evans later today.
His new tennis shoes have already been spotted in practice and looks like this (I assume it's a "car dazzle" design so as not to reveal the design yet).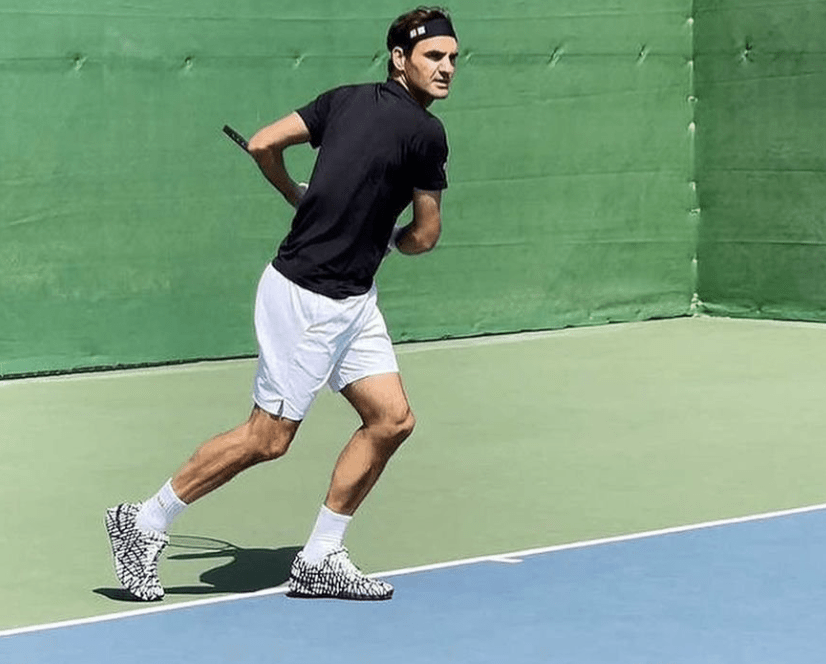 You can buy his casual ON sneakers, racquet and bag (the bag looks amazing in my opinion) from Tennis Warehouse, Tennis Warehouse Europe or Tennis Only. (Any purchase sends a small commission to Tennisnerd).
What do you think of Federer's new shoes?