What tennis shoes should you get? The choice is seemingly endless. But this Babolat Propulse Fury 3 review impressed me.
Babolat Propulse Fury 3 Review
I am always on the lookout for a shoe with great comfort and stability. My knees are a bit worn down after playing tennis on hard courts for most of my life and many years of running, including marathons. So I am often looking for max support.
The Babolat Propulse Fury 3 impressed me with its comfort. They have increased the EVA Foam in the midsole, which, in addition to the Ortholite comfort foam insoles, creates some great cushioning for your foot.
I also could move fast in these shoes with good stability thanks to the Michelin premium rubber formula on the outsole that offers great traction. The durability also seems excellent and a six-month outsole durability guarantee backs the shoe.
Technical details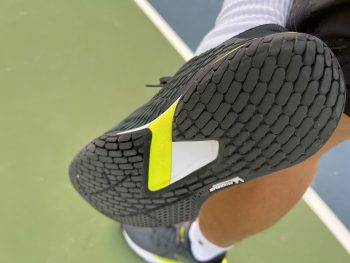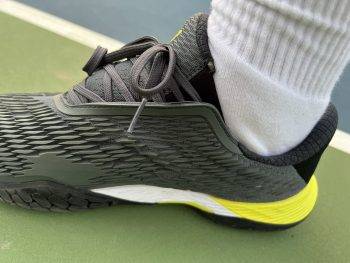 Upper: Power Belt technology locks in the heel and midfoot with an external shell for stability.
Midsole: EVA midsole has been increased from previous versions for good cushioning, support, and responsiveness under the foot.  KPRS-X offers increased shock absorption.
Outsole: Michelin's premium rubber formula, with dense zones in high-wear regions and less density in strategic areas to cut down on weight.
Fit Details
Length: True
Width: Generous Medium
Arch: Medium
Break-in: Slight
Surface: Hard (all court
Durability Guarantee: Yes
Weight: 14.4 ounces (US size 10.5)
Summary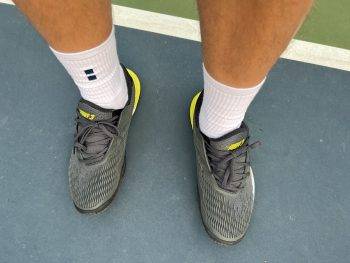 The Babolat Propulse Fury 3 has become my new favorite hard court tennis shoe. The cushioning is excellent. I get good grip on the tennis court and even after a two hour session my knees does not hurt. This shoe surprised me with awesome playability and fit for my feet. The break-in was pretty immediate and they also look great.
I don't have anything negative to say about the new Babolat Propulse 3 all-court tennis shoes. They are just top notch for my feet and allow me to play pain-free.
You can purchase the Babolat Propulse Fury 3 tennis shoes at our friends at Tennis Warehouse, Tennis Warehouse Europe, and Total Pickleball.
Check out other new and exciting tennis shoes here. More tennis shoe reviews to come!