I've been testing a new string exclusive to Tennis Warehouse Europe. Here is my Babolat RPM Blast Orange Review.
Babolat RPM Blast Orange Review
Babolat RPM Blast is an iconic string. This is how Tennis Warehouse described it in their first review:
When Rafael Nadal showed up at the 2010 Australian Open with a black octagonally shaped co-polyester called RPM Blast, few could have predicted the hype to follow. Indeed, calls poured into Tennis Warehouse from around the country. Everybody seemed curious about this mysterious new string with seemingly magical powers.
RPM Blast is one of those strings that you see everywhere. It's partly the Rafa Nadal effect, but it's also a good string. The only downside with RPM Blast for being a polyester is that the durability is somewhat below average. Otherwise, its slick surface offers grand snapback and spin potential, it's firm and controlled, and the comfort is decent for a stiff string.
Although it plays great when fresh, it goes dead quickly for big hitters. This is not a problem for Nadal or Wawrinka, who re-string racquets before every match, but for the average club player.
What's new in Babolat RPM Blast Orange?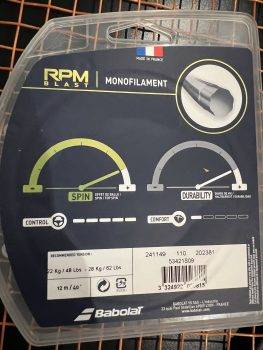 It's not just a color. Strings play differently when you add certain colors to them. The rule of thumb is that the livelier and more vibrant the color, the more lively the string. But in this case, I felt like RPM Blast Orange lasts longer and holds tension better than the standard RPM Blast.
Not sure how because black strings are usually slightly stiffer than neon green or orange strings. I recommend going for a yellow or white polyester string if you want a softer polyester. They are generally relatively arm-friendly.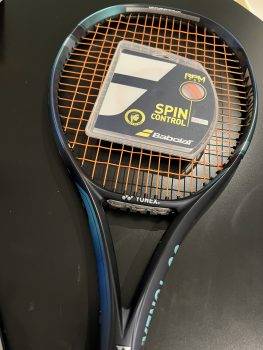 Summary
RPM Blast Orange is not a soft string, but I didn't find it harsh. I have played it at 24 kg or 53 lbs in my customized Yonex Ezone 100 for quite a while and it has remained playable more than ten hours in. This is more than I get out of the regular RPM Blast.
On the other hand, it's a firm string and as such, doesn't provide a great sensation on impact. This is where I prefer slightly softer strings. It doesn't hurt my arm, but it feels board-like and boring in my Ezone. In that racquet, I prefer a Yonex Poly Tour Pro.
Still, fans of Babolat RPM Blast who want better tension maintenance and a slightly softer feel (somewhat of an oxymoron, but it seems to be the case!) should check out Babolat RPM Blast Orange at Tennis Warehouse Europe. I have enjoyed it so far, and it has been better than expected, but perhaps it offers a better feel in slightly more flexible racquets. That's what I'm going to try next. Watch this space for updates.
Have you tried Babolat RPM Blast Orange? Please share your thoughts below!