The Yonex Ezone 100 2022 is here and it's packed with power. If you want a racquet that is easy to generate depth with, look no further.
I strung my Yonex Ezone 100 2022 with a hybrid of Yonex Poly Tour Pro 1.25 (new shade of blue launched together with the racquet) and Toroline Caviar 1.20. Why? Well, I like the look of the Swedish flag. Nah, I'm joking. The problem is that my stringing machine stopped working in the middle of stringing the crosses and the string broke. When I got it working again (temporarily), I managed to finish the crosses with another string because I had no more sets of Poly Tour Pro.
Specs
There is nothing out of the ordinary here for a power racquet. My strung specs were: 317.1g (11.1 oz), 32.4 cm balance (5 pts HL), 310 SW. So a little lower than the measured Tennis Warehouse specs below.
Head Size: 100 in / 645.16 cm
Length: 27in / 68.58cm
Strung Weight:11.2oz / 318g
Balance: 13in / 33.02cm / 4 pts HL
Swingweight: 317
Stiffness: 67
Beam Width: 23.8mm / 26.5mm / 22.5mm
Composition: 2G-NAMD SPEED/HM Graphite
Power Level: Low-Medium
Stroke Style: Medium-Full
Swing Speed: Medium-Fast
Racquet Colors:Blue
Grip Type: Yonex Synthetic
As you can see the beam is thick and the stiffness rating is relatively high (not too bad for this type of racquet though as many are in the 70s strung), which means a lot of power on tap.
Swing weight is low, which makes it easy to swing and maneuever, but the racquet maintains stability at the net and when picking up low balls.
How does it play?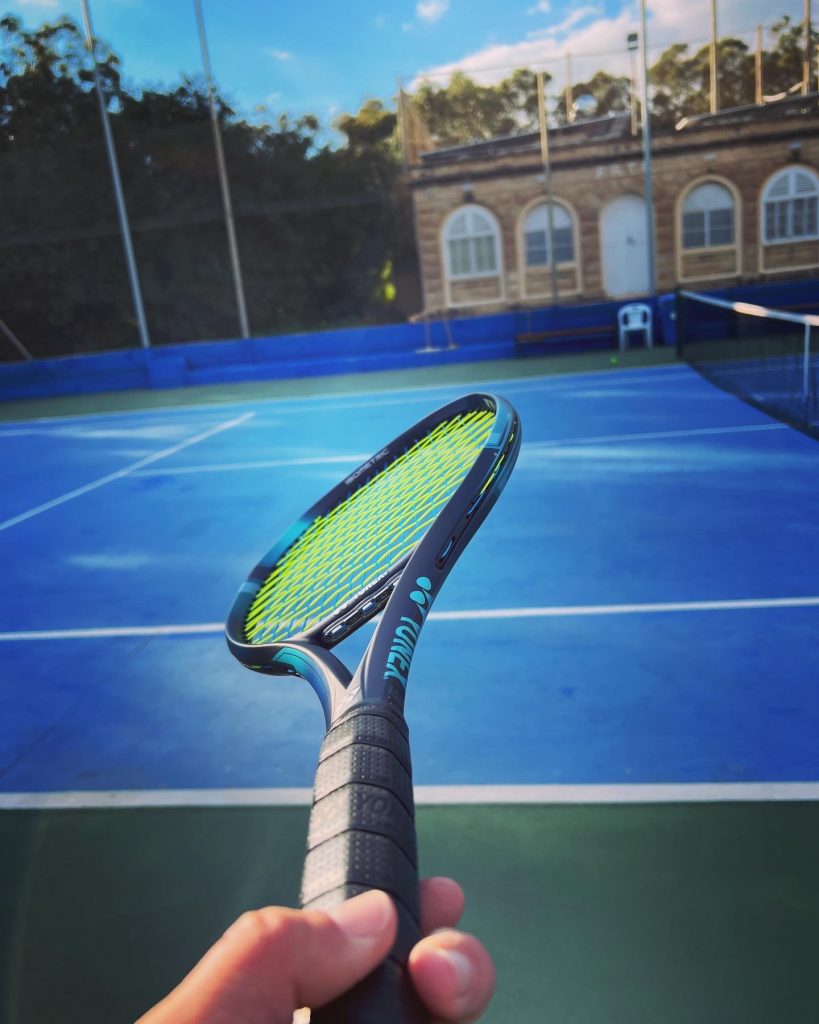 Easy power, pretty good spin potential, large sweet spot. All to be expected. I found the control and the comfort to be better with this Ezone 100 than the 2020 version. They have made the beam slightly thicker here but reduced the stiffness. I immediately noticed more confidence, both while using the latest Ezone 98 and this racquet.
Yes, the feeling is slightly muted, possibly due to the VDM, but you still get a sense of where the ball is going. This is where the added control comes in. Not sure how they did this, but it works well. This is definite improvement over the 2020 version (as was the 98 sq inch).
If you want control and feel, this is not a racquet for you, but anyone who wants easy power (lower-level intermediate up to advanced) should check out this new Yonex Ezone 100 2022.
It's not typically a racquet that I gravitate towards, but for a player looking for power, it's one of the best ones out there.