The strings are at least half of the racquet. So when you see pros change strings, it's significant. These are Ben Shelton's new strings.
Ben Shelton's new strings
Ben Shelton's new strings are what you might think just by seeing a picture: Yonex Poly Tour Pro (yellow). It's difficult to say which gauge he uses, but here is a link to Yonex Poly Tour Pro 1.30. Yonex Poly Tour Pro is one of my favorite poly strings, because they have a softer feel without being too soft (mushy) and unreliable quickly. They provide good spin and feel and hold tension pretty well. They are a favorite among pros using Yonex racquets, with players like Nick Kyrgios, Marton Fucsovics, Frances Tiafoe and now also Marcos Giron using the string (recent switch).
I think it's a very good fit for Ben Shelton's Ezone 98 (check out my Yonex Ezone 98 review here) and I do believe he will stay with this string now, despite a lot of changes recently. When he used the Yonex VCORE Pro 97 HD, he strung with Yonex Poly Tour Fire, then he tried the orange Yonex Poly Tour Rev and then the lavender color of the same string, not quite finding the performance he was looking for.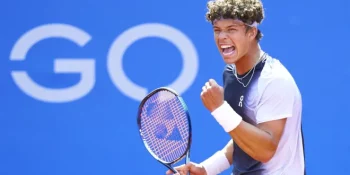 Now, with Poly Tour Pro, which pairs fantastically well with the Ezone 98, I think the search is over. When pros start experimenting with their equipment, it risks taking too much space mentally. As a professional athlete, you want to be able to focus on your performance and not the equipment.
Yonex Poly Tour Pro
If we look at a comparison of the Yonex Poly Tour Pro and Poly Tour REV strings: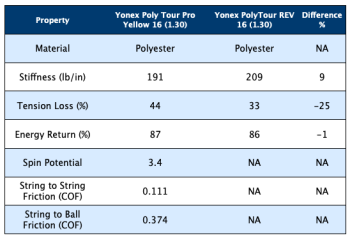 Sadly, the Spin and frictional values are not there, but as you can see from Stiffness, even in a pretty thick gauge like 1.30, Poly Tour Pro is sub-200. If we compare it to another flag-ship poly string, Babolat RPM Blast, we get the following: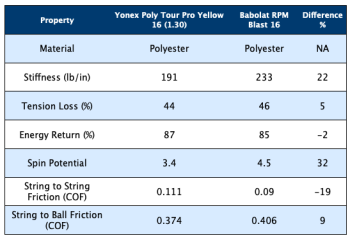 As you can see, RPM Blast is a much stiffer string but offers a bit better spin potential and about the same power and tension loss.
To get these tables, I used Tennis Warehouse University compare strings tool.
How important is the string to you? And how much do you experiment with different strings and tensions?