This string is made from 90% recycled PET bottles and other plastic packing materials. But how does it play? Read my Luxilon Eco Power Review.
Luxilon Eco Power Review
Luxilon Eco Power is a 6-sided string (hexagonal) and comes in what I would call PET-green. It's a pretty cool green that stands out in the racquet. The string is medium firm and is somewhere between 4G and Luxilon Alu Power in stiffness in my estimation. For now, it is only available in 1.25 gauge.
How does it play?
First of all, this is a string I struggle to pinpoint. I feel like it has multiple identities. It is a shaped string, but the spin potential is not that great. The feeling is somewhat dampened, but not overly so. The sound as you strike the ball is pretty good.
Overall, it feels like a middle-of-the-line poly. Nothing is outstanding, but nothing is particularly bad either. It holds tension about average and gives you good control, but without lots of bite on the ball, so if that is what you are looking for, it might not be the string for you.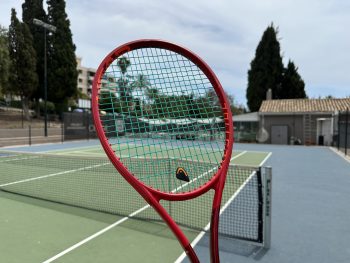 I think it might depend on what racquet you put it in. I strung it in a few different racquets but tried it most intensely in my 2019 Prestige MP and the first-generation Tecnifibre TF40. The launch angle was pretty low in both racquets, which is great if you want a dependable response.
For a six-sided poly, this is better than many options out there, but I personally prefer the feel and performance of Solinco Hyper-G and HEAD Lynx Tour over this one. I miss that bite that helps the ball dip in at the last second. But I am keen to hear what your experience with Luxilon Eco Power has been, so please comment below.
Summary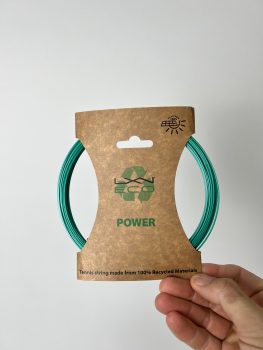 It's great that tennis companies are starting to take the environmental impact of tennis materials (balls and strings) seriously, but although this string is not bad, it doesn't quite make the cut of a string I'd put in my bag regularly. It does most things well or decent, but I miss the spin potential and a little bit more action from the string. Eco Power felt rather dead to me, which is not what I like in a string.
You can check out Luxilon Eco Power from our friends at Tennis Warehouse, and Tennis Warehouse Europe.