Solinco has been hard at work for a few years on a new string, and it has finally been released. Here is my Solinco Confidential string review.
Solinco is an American company behind some highly popular polyester strings. They are more known for their control-oriented and spin-friendly poly strings such as Solinco Tour Bite and Solinco Hyper-G (click for my review), but they also make tennis racquets and multifilament strings.
I have enjoyed both Tour Bite, Tour Bite Soft, and Hyper-G and was very curious about their new poly, Confidential. Like their other flagship strings, it is a stiffer poly string with an emphasis on control, tension maintenance, and spin generation. I strung it up in my HEAD Graphene 360+ Prestige Mid and Prince Phantom 100X 305 for this Solinco Confidential string review.
Solinco Confidential Characteristics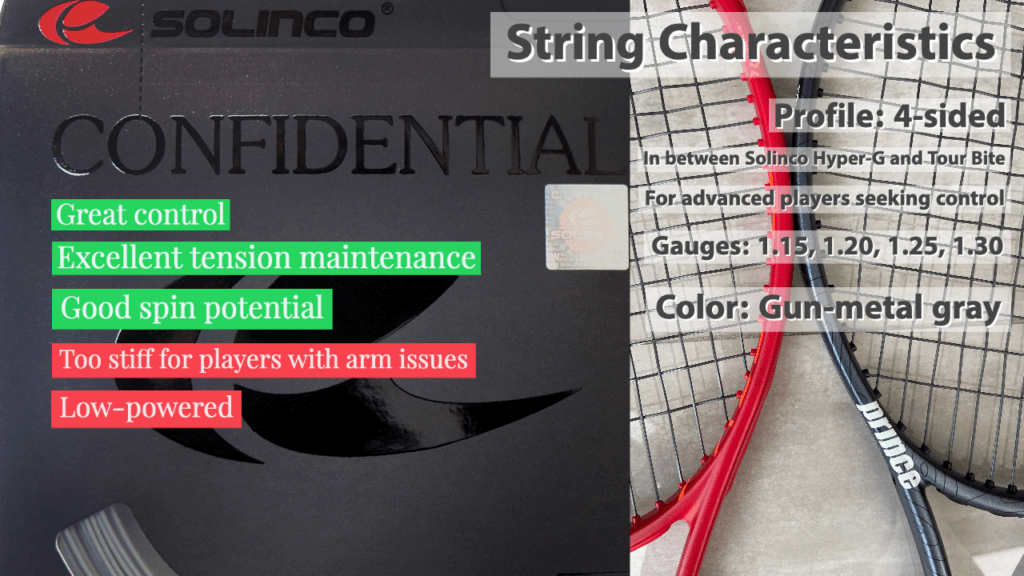 I want to point out that this string is not for beginners or lower-level intermediate players. This string is all about control, so players who are just starting out would be better off with a softer string with a more powerful response.
Gauge: I tested Solinco Confidential in 1.25 gauge.
Stiffness:  The string is somewhere between Tour Bite and Hyper-G. Softer than Tour Bite, but a bit stiffer than Hyper-G.
Player: More advanced players with full strokes and no arm issues. If you like to hit big, this is the string for you.
Test Racquets: I chose a crisper midsize (Prestige Mid) and a softer 100 sq inch racquet (Phantom 100X) to be able to understand what the string does in different racquets.
Profile: 4-sided
Color:  I think it is called gun-metal gray.
Installation: Pretty normal for a stiffer poly. Quite a sharp string so watch your fingers 🙂
Tensions: 50 lbs in the Prestige Mid and 52 lbs in the Phantom 100X
Tension maintenance: After settling in after 1-2 hours, this string holds tension and playability extremely well. Top marks.
How does it play?
My first hour with Solinco Confidential was not great. I thought the string felt stiff and board-like. But after the first hour, the string had settled in and some of the stiffness had gone, and I started to see it differently. It did not take me long to understand that this is another high-quality string from Solinco. It was not harsh on the arm, and I felt like it rewarded you for going after the ball. The spin potential is excellent, but I think the control aspect is even better. It could have been named "Solinco Confidence" instead of Confidential.
At first, I was worried about the stiffness of the string, especially considering my recent arm issues (which are now much better thanks to rehab and regular Flexbar exercises). However, once it settled, it was quite comfortable. I still would not recommend it if you are worried about wrist or elbow pain. Then you should do rehab, rest, and play with a multifilament or gut string.
Summary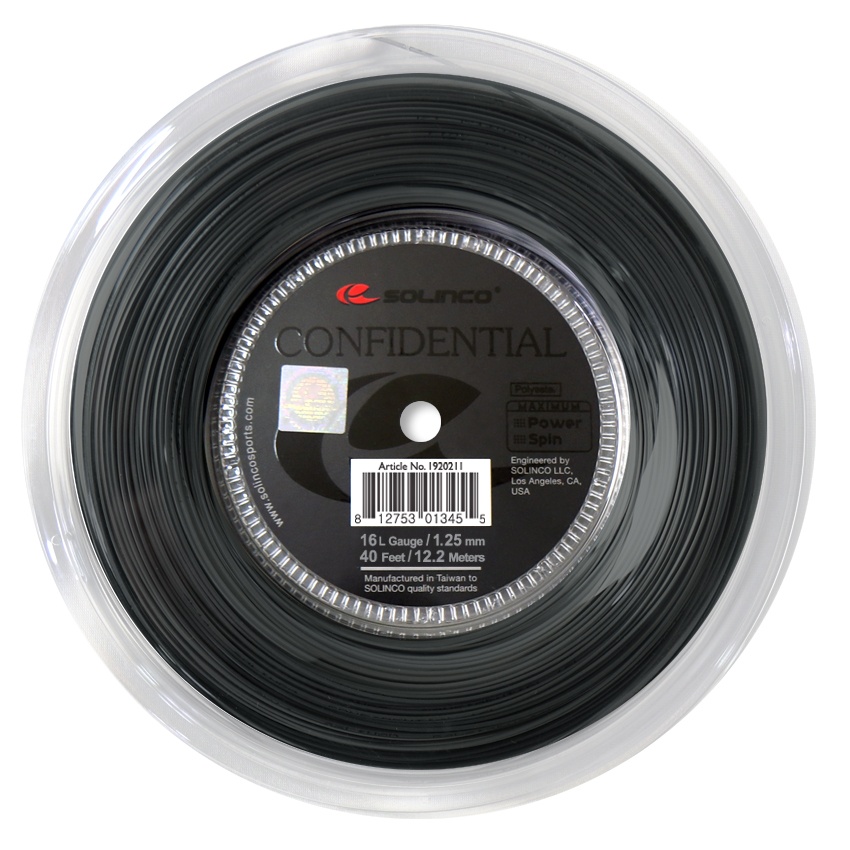 I found control and tension maintenance to be the outstanding features of this string. If you are a string breaker or string abuser – you will definitely enjoy it. Tour Bite offers a bit more spin, but they are quite close in generating spin, and the added comfort of Confidential is a winner.
If you like to rip the ball and want a string that is durable, control-oriented, and spin-friendly without breaking your arm – Solinco Confidential is a good option. It is not a soft poly, though, but relatively comfortable for a stiff, controlled string. I have not tried it in a hybrid setup, but that could be an interesting idea if you want a softer feel.
I think I still hold Hyper-G as my favorite Solinco string, but for more powerful racquets with an open pattern, this is high on my list. Let us say you are using a Clash Tour that makes your string move like crazy; then, I think this string could come in handy!
Have you tried Solinco Confidential? What did you think about it?