Dominic Thiem has struggled since he came back from injury. Today he won his first ATP match in a long time! What are Thiem's new strings?
When I usually post something with the title "Thiem's new strings", I know what they are. But sadly, I'm in the dark at the moment. I posted about his new strings when he won Indian Wells a couple of years ago (2019) and was using another brand than his usual Babolat RPM Blast Rough. After that he went to RPM Power, but at the Swedish Open he has been seen using a new setup.
Sometimes you can get some clues from pictures, but in this case, it's rather tricky. I discuss this topic and other things in my recent "Mixed bag" video (see below).
What is he looking for?
Since his wrist has been a big issue in the last year, he might be looking for more comfort from a softer string setup. Perhaps a gut/poly combo. On the other hand, I find it unlikely that a guy who hits with the amount of spin Thiem does can effectively use gut. He is not going to get the rotations he wants and will likely break strings after thirty minutes (not a huge issue for pros, though).
So I think it's a new poly or perhaps a poly/poly hybrid which he tried back when he won Indian Wells.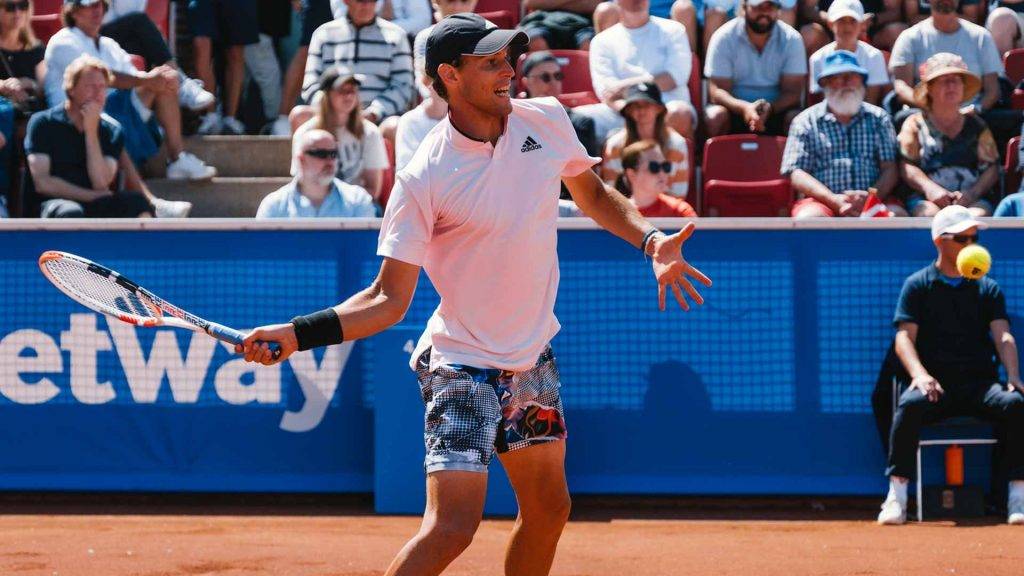 It's a light-colored string. Light gray or white-ish. His shorts have lots more flair than his string setup, hehe.
If it's not the comfort he is looking for, this string might help him with a bit more spin, control, or both.
Does the string matter that much?
Every margin matters for pro players who make a living from tennis. For us club players, the correct string choice can make a difference in control, spin potential and power, but obviously, our strokes are not as good and we can survive with less than ideal equipment since the player who hits the fewest mistakes most often wins.
On the pro level, we're talking centimeters. Some players are exceptionally equipment sensitive while others are not. But it surely makes a difference and we will see much more frequent tweaking of strings and racquets from pros in the future.
Please comment or message if you have any information about what string Thiem uses right now.
No matter what, let's wish the Austrian some solid confidence and a good comeback!